Background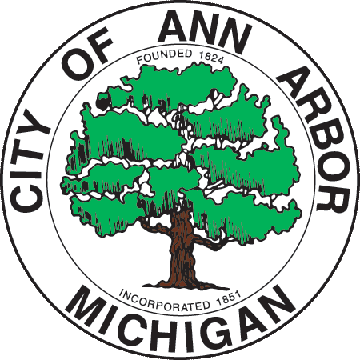 Ann Arbor (pop. 116,121) is home to the University of Michigan, one of the most well-recognized colleges in America, but at its core it is more than just a college town — it's the sixth-largest city in Michigan. The city's curbside recycling service is free (included as part of its refuse collection fee) and is available citywide at every single-family home, apartment building, nonprofit organization and business. Residents may select from 32-, 64- and 96-gallon recycling carts. The first cart is free; a second requested cart costs $50. Ann Arbor's materials recovery facility recycles more than 120 tons of materials every day.
Materials recycled
Paper
Newspapers and inserts, magazines, catalogs, junk mail, office paper, cardboard (including unsoiled pizza box portions), frozen food packaging, paperboard, milk cartons, juice boxes, aseptic containers, Tetra Pak containers and shredded paper (placed in a clear plastic bag) are accepted.
Plastics
Clean plastic bottles, containers and tubs (numbered 1, 2, 4, 5, 6 and 7) and large plastic items (i.e., laundry bins, milk crates, lawn chairs, plastic buckets) are accepted. Everything must fit in the cart.
Metals
Aluminum cans, tin/steel cans and metal lids and caps and scrap metal (up to 1 cubic foot/20 pounds) are accepted.
Glass
Glass bottles and jars are accepted.
Frequency
Ann Arbor recycles at the curb on a weekly basis — same day as refuse and yard waste collection. Carts must be placed curbside by 7 a.m. on collection day and must be returned to property by noon the following day.
Other programs
The City of Ann Arbor maintains a
list of local reuse and recycling drop-off points
for all sorts of everyday household items. Curbside composting is collected on a weekly basis from March to December. Compost carts cost $25 and are available in 32-, 64- and 96-gallon sizes, or standard paper yard waste bags may be substituted. Leaves, grass clippings, garden scraps, crab apples, food waste, uncoated paper plates, untreated lumber/wood and tree limbs up to 6 inches in diameter and 4 feet in length are accepted. Household hazardous waste should be safely collected and taken to the Washtenaw County Western Service Center (705 N. Zeeb Rd.) The facility is open to the public from 9 a.m. to noon the first three Saturdays of the month from April through November and by appointment the remaining months — call 734.222.3950. A user fee per visit may apply. E-waste, automotive waste, construction and demolition materials and household recyclables (listed under Materials recycled) can be dropped off at Recycle Ann Arbor (2420 S. Industrial Hwy.) every weekday from 8:30 a.m. to 4:30 p.m. An entry fee and specific item fees may apply.
More information
Visit the
City of Ann Arbor Recycling website
for more recycling program info.