Background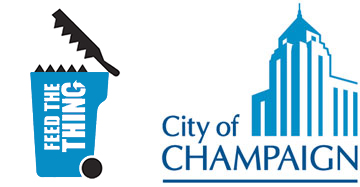 Champaign, IL (pop. 82,517), located directly in between
Chicago
and and
St. Louis
, is a college town at heart. Well, half of one anyway. The University of Illinois' campus straddles the dividing line between Champaign and Urbana to the east. Champaign is also known as the "Silicon Prairie" for its relative remoteness and abundance of tech-derived jobs and businesses. It is also home to a curbside recycling program that serves both single-family dwellings and multifamily buildings. Residents put their recyclables into the blue bin for weekly collection service.
Materials recycled
Paper
Newspapers and inserts, phonebooks, paperback books, paperboard, corrugated cardboard, magazines, catalogs, junk mail, computer paper, ledger paper, other mixed paper types, aseptic cartons (rinsed) and gable-topped cartons (rinsed) are accepted.
Plastics
Plastic #1 and #2 bottles, jugs and containers (rinsed) are accepted. Plastic #3 through #7 narrow-necked bottles (rinsed), six- or 12-pack ring carriers and empty, loose plastic bags are also collected.
Metals
Aluminum cans, aluminum foil, aluminum trays, steel/tin cans and empty aerosol cans are accepted.
Glass
Glass containers, bottles and jars (clear, brown and green) are accepted. Must be rinsed. No lids or caps.
Frequency
Champaign recycles at the curb on a weekly basis. Bins must be placed at the curb with refuse by 6 a.m. on collection day.
Other programs
The Illinois EPA holds periodic household hazardous waste collection events. For the most accurate information, and to see when an event is scheduled in the Champaign area, click
here
. The City of Champaign lists electronics drop-off locations around town on its
website
. Champaign hosts spring and fall yard waste collection periods (three pick-up dates in the fall and two in the spring). Residents can elect to use 30-gallon yard waste bags or bundle branches and twigs with nonmetallic twine up to a diameter of 18 inches. Branches should not exceed 2 inches in diameter or 3.5 feet in length. Residents can also drop off yard waste at the Landscape Recycling Center (1210 E. University Ave. in Urbana). See the
facility's website
for more information, including associated drop-off fees.
More information
Visit the
City of Champaign Recycling website
for more recycling program info.