Do you know what happens with the food that you throw away? I used to think it just decomposed naturally in our local landfill and quietly went back into the earth. Unfortunately, that is not the whole story. The millions of tons of food waste that is generated each year by people across the country releases a greenhouse gas called methane. According to the U.S. Environmental Protection Agency, methane traps 23 times as much heat in the atmosphere as the same amount of carbon dioxide and the release of methane from landfills accounts for 34% of all methane emissions in the U.S. Just over a quarter of the food in the U.S. — that equates to approximately 25.9 million tons — gets thrown away and taken to landfills every year. To make matters worse, the U.S. spends more than $1 billion every year to simply dispose of food waste, per the U.S. Department of Agriculture. One of the best solutions for this problem is to compost your leftover food waste. Instead of throwing those food scraps into the garbage and sending them to rot away in a landfill, you could turn them into high-quality compost. The benefits are numerous, including a decrease in methane gas, a reduction in the need for chemical fertilizers and facilitating soil restoration. If you garden, you know that you need to give your soil nutritious, organic matter to keep it healthy, promote drainage and encourage earthworms. High-quality compost can accomplish all ofthat.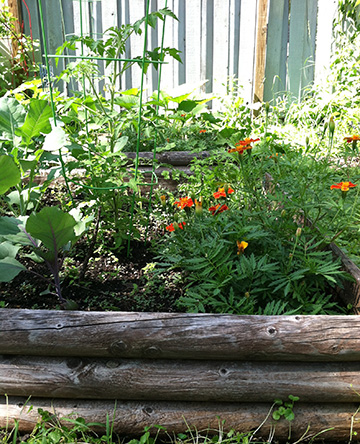 EcoScraps
takes this solution to heart by making products that divert organic waste from our landfills. In fact, each bag of EcoScraps compost and potting mix represents about 37 pounds of produce waste that has been diverted. EcoScraps derives its product from landfill-bound recycled food waste from grocery stores, produce wholesalers, food banks and other suppliers. The company started when two college students, Craig Martineau and Daniel Blake, began to notice how much food was being wasted while they were at an all-you-can-eat buffet. They started to look for a solution. They learned that by composting food waste they could make beneficial gardening products. The idea that started as a dorm room project has turned into EcoScraps. Since the company's first bag of compost in 2010, it has recycled more than 60 million pounds (and counting) of food waste into organic garden products. Here's the scoop:
The blend of fruits and vegetables in EcoScraps' compost and potting mixes yields natural levels of nitrogen, phosphorus, potassium and other nutrients essential to sustained growth.
EcoScraps mixes the fruit and vegetable produce waste with a source of cellulose (generally ground-up bark or wood fines) to provide just the right ingredient ratio of carbon to nitrogen.
EcoScraps adds a unique blend of more than 75 other minerals to its recipes to generate beneficial microorganisms in the soil, which in turn helps plants absorb and use nutrients better.
The compost will help break up tightly packed soils, facilitating better aeration and drainage for plants.
The texture of EcoScraps' compost also aids in water retention.
Purchasing one cubic-foot bag of EcoScraps soils represents a greenhouse gas reduction equivalent to not driving a car for two weeks.
The company only uses sustainable materials or processes in the production of its products. The products do not contain any synthetic chemicals or manures.
EcoScraps products are certified by the Organic Materials Review Institute.
The products:
Organic moisture-retaining compost mix, garden soil and potting mix
Organic plant food (various formulations)
Natural liquid fertilizer (lawn saver and all-purpose)
EcoScraps is a sustainable shortcut to nutrient-rich soil for home gardeners. I used EcoScraps' organic moisture-retaining compost mix to amend the soil in my own home garden and have loved the results.
Find EcoScraps products at Target stores nationwide or at ecoscraps.com.