These days, wine and liquor bottles are nearly a work of art on their own, if not for their design, then for their coloring. Crafters and artists know and welcome this fact. They are using glass bottles more frequently as a medium in their crafty creations. Here are some beautiful examples of chandeliers that were crafted in such a way that shows off the uniqueness of the bottle being used.
1. Chardonnay wine bottles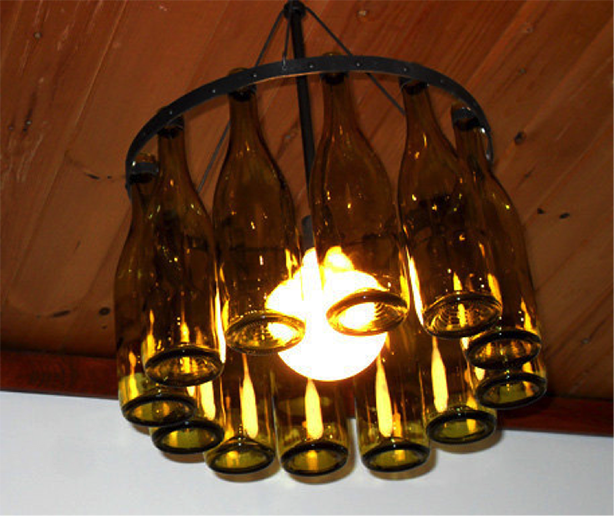 2. Frosted glass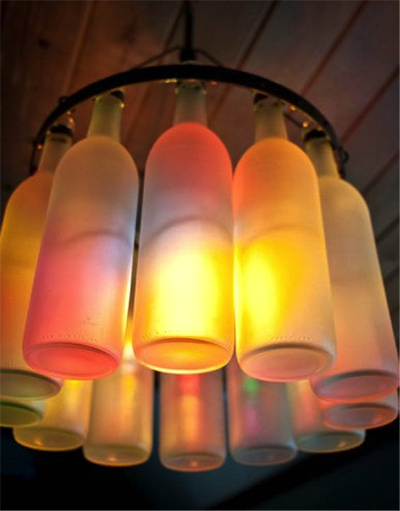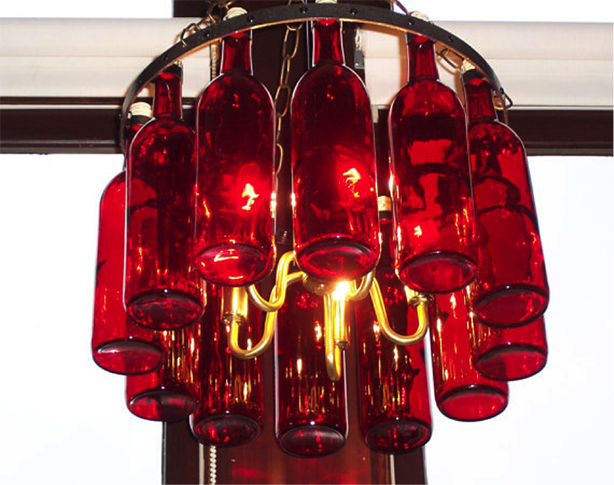 As you can see, switching both the bottle color and the fixture inside gives this piece an entirely different look. This resulting chandelier is both gothic and decadent at the same time. It could work in a room with monochrome fixtures or one of warm, richly colored woods. The original center gold candelabra could easily be converted to another color. A wrought iron one would look great here as well, especially if you wanted to go with a darker hue to your décor.
4. Beachy wine bottles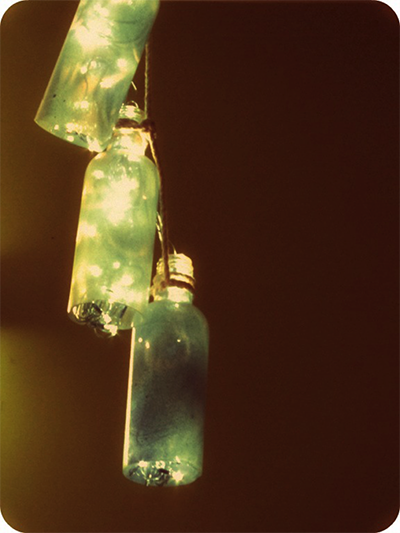 Looking for a cool lighting fixture for your teenager's room, or maybe one for a beach-themed bathroom? Look no further. By taking plain bottles, spray-painting them light blue, filling them with fairy lights and hanging them by twine, you have the ultimate in shabby chic lighting. This striking element would also look great on the lanai or back porch, especially if your property happens to be beachfront.
5. Water bottles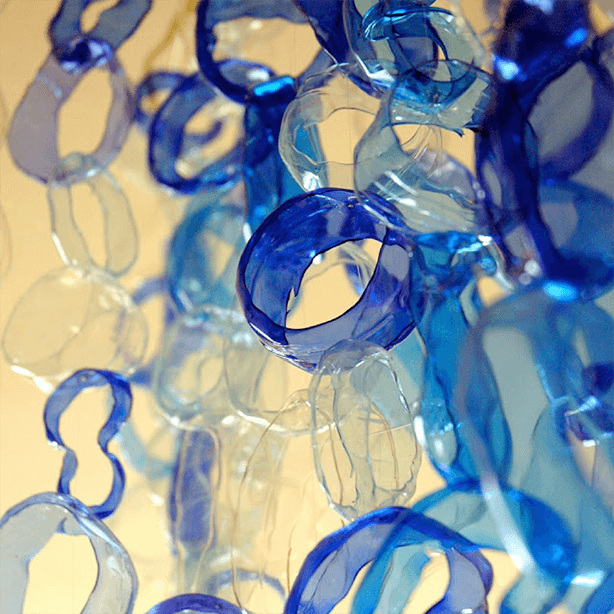 It is not hard to see how this modest mobile design can be simply converted into a chandelier. It is easy to close your eyes and imagine the soft blue and white reflections cast onto the wall. It is as if water is beautifully rippling down your walls. Being that the materials used for this included only a lamp kit, metal frame, plastic bottles and plastic string, the cost of the project is low, making it all the more enticing.
6. Steampunk setup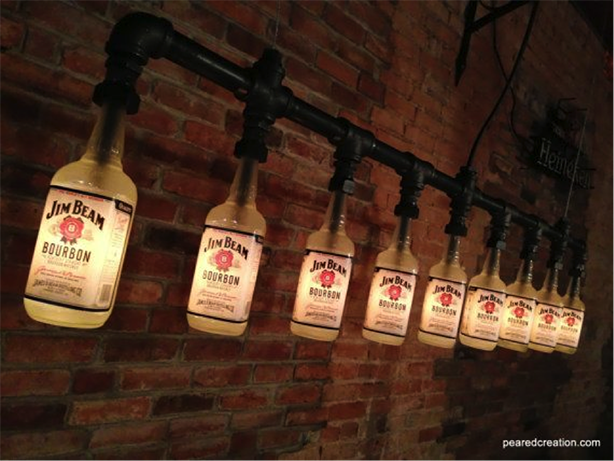 Although this would be the perfect light fixture for a bar, it would look amazing in a game room across a pool table as well. Made with Jim Beam bottles and salvaged pipe, this particular chandelier screams testosterone — words not often paired together. Jim Beam not your bag? Most whiskey or bourbon bottles would work here. Alternate the Jim with the different labels of Jack Daniels or Johnny Walker, or soften the look by using a more feminine-type bottle while retaining the pipe.
7. Hanging hurricane lantern bottles
By simply removing the bottom and adding a hanging candleholder, you can turn your empty bottles into a hurricane lantern chandelier. Using candles instead of electricity, this fixture is wonderfully romantic and cost effective. Hang it in the kitchen, over a love seat or above a hammock on the porch — this piece will bring a romantic element no matter where it goes.
8. Retro Coke bottles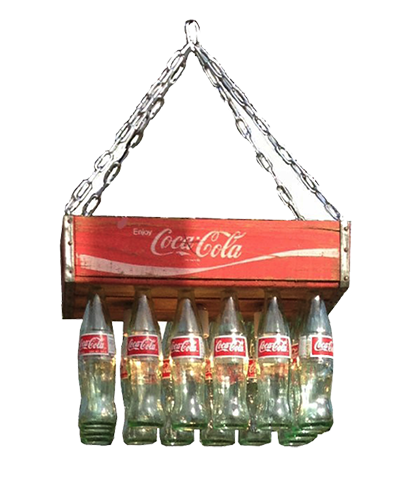 Have a Coke and a smile! Retro is in, and if your décor agrees, then this is the chandelier for you. From the vintage glass bottles, to the aged wooden crate, this piece screams antique. The chains are a nice touch, but if you wanted to go a bit more rustic, this would also look good supported by a heavy rope. With the bulbs being easily accessible, this design makes maintenance and cleanup a breeze.
9. Salvaged liquor bottles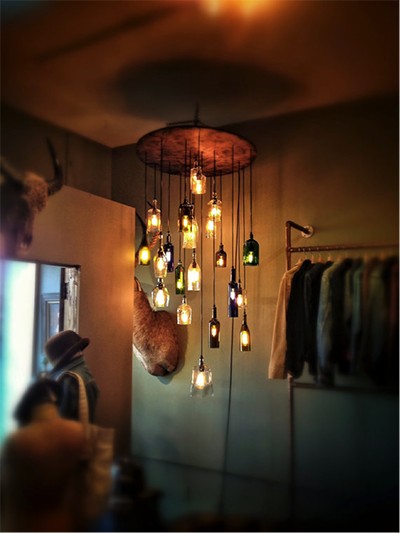 Even if you don't work in a restaurant or a bar, chances are you have come across some empty liquor bottles. This particular beauty is made from light fixtures of varying length, wood, chains and bottles. This design is as effortless as it is brilliant. Because of its uniqueness, it will stand out anywhere you place it. I'm sure it would feel at home in a game room, a den or even a trendy living room.
10. TWIRL light installation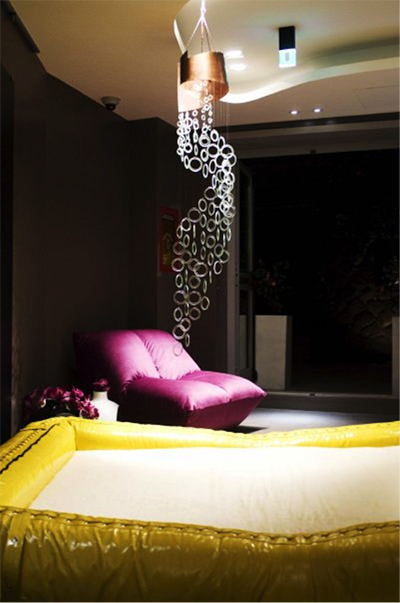 This is one of the most distinctive examples of a bottle chandelier that I have come across. Made by cutting the bottles into sections, fusing the sections together and then carefully hanging them at corresponding lengths, the craftsmanship on this chandelier is nothing short of amazing. Every one of these is an original. The ring consistency, the coloring and the opacity give each one a completely different feel, with each new bottle yielding an entirely different lamp.
All images used are copyrighted and used with permission of the photographers/artists.