In a world always on the go, it is easy to forget that we can find ways to reuse the very things that help us get from point A to point B. From tractors to bicycles, here are some ways to upcycle the tires and inner tubes that move us right along.
1. Wall planter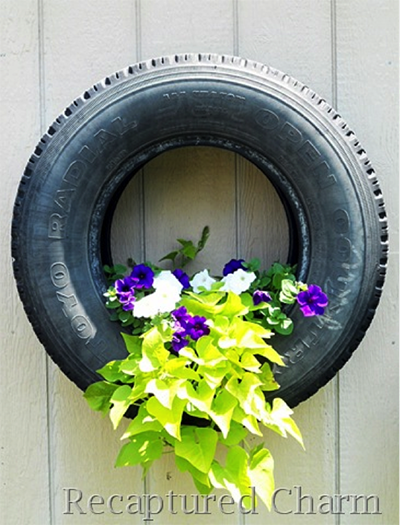 Need a way to spruce up that shed in the back yard? Take an old tire or two, drill a couple of holes for drainage, and add soil and seeds. Then, watch in amusement as your neighbors try to figure out exactly what you are doing. The rubber acts as a natural insulator, so your plants will be protected from the chill at night. If you wish for the opening to be filled with foliage, then simply choose a thick-blooming plant. You can always paint your tire beforehand, to make your back yard even more colorful.
2. Hanging planter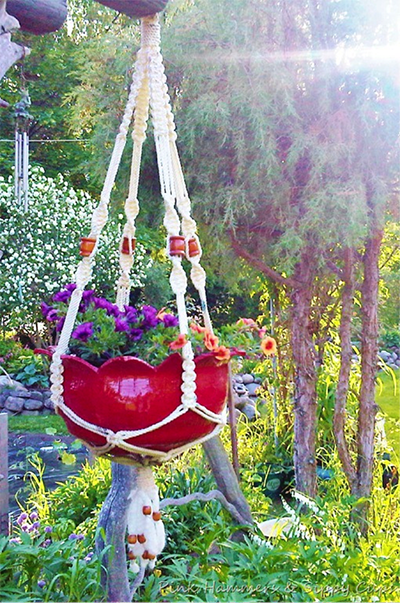 Looking for a way to not only keep a tire out of a landfill, but to also show off your macramé skills? Then this project is for you! Just like the previous project and pretty much any one involving tires, you can paint the tire prior to starting to match your theme. Then, plant matching or even contrasting-colored flowers inside the tire and enjoy your masterpiece.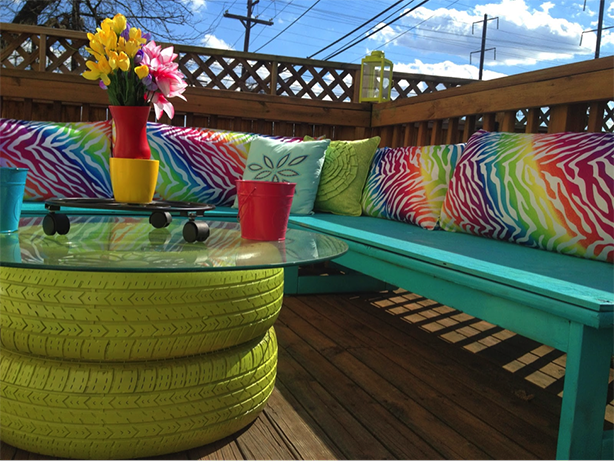 This is a fun and ecofriendly way of decorating your patio. In times of severe weather, you would only need to remove the glass on the top, as the tires are, naturally, weatherproof. Why stop at a solid color? Add even more customization with freehand painting. This would also work in a home setting as well. Use smaller tires for end tables or stack them higher for a bar type setting.
4. Garden house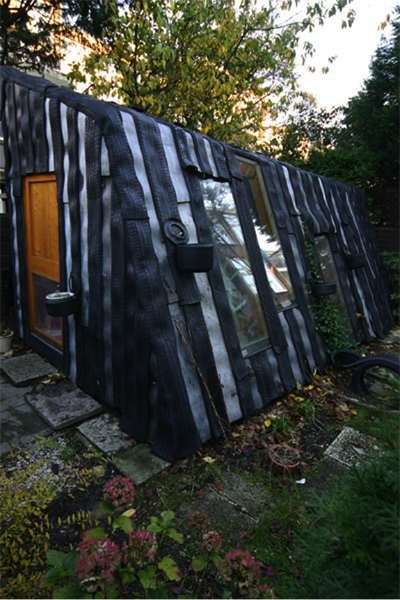 Are you ready to build the ultimate environmentally friendly garden shed? If you have access to quite a few tires, a bundle of reclaimed wood and a few spare windows, then you are not far from it. This building is eco-chic on its own, but if you prefer, it can certainly be painted and decorated. The rubber insulates this building quite well, and it would be a great place to protect plants in the winter. You can add some skylights to the top and make this a hot house to keep the growing season going all year.
5. Toybox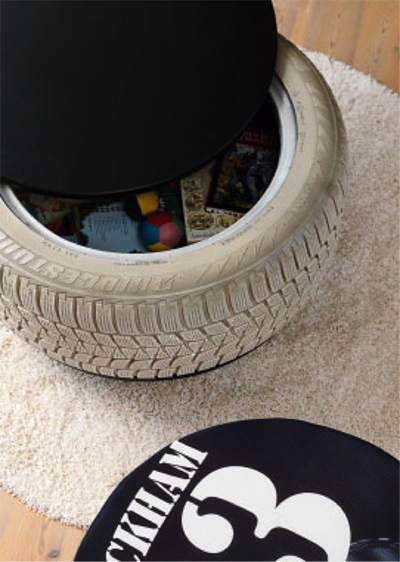 This is an awesome way to declutter your kid's playroom. It also gives your child a place to sit while he or she reads. The colors are customizable, and you can embellish the lid as much as you want. Using different-sized tires, you can create entirely different looks. A small tractor tire would be an excellent place to store larger toys. You could also think about doing this outside to store gardening tools and other backyard equipment.
6. Seating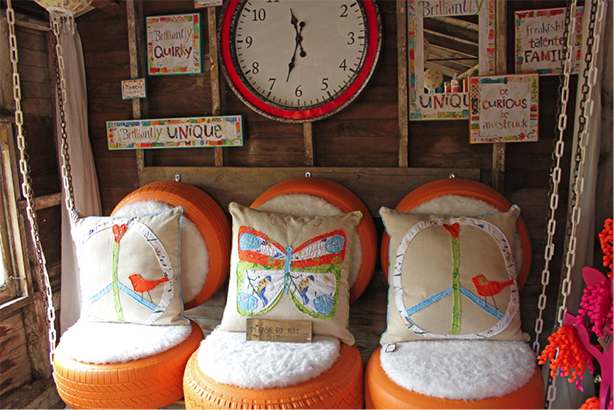 In all the reuses for tires, seating has to be atop the list. It is just plain logical to use them as seats. They are not hard enough that you cannot stand to sit on them for long and not too soft as to sink into them. Plus, as we have previously discussed, the decorating ideas are boundless. The above design is probably the neatest loveseat swing I have seen! Not only do you feel good about having an inventive piece like this in your home, but more importantly, you are also doing your part to help the environment.
7. DIY tire obstacle course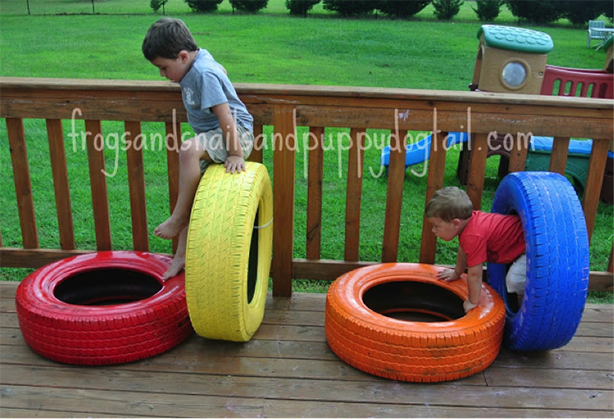 Every day, old tires are being repurposed into new objects and uses. This is a fun yet simple way to do so. There are so many different ways you can arrange the tires to change the obstacle course, that is, once your children announce they are bored with the current course layout. It's no secret that the earth has finite resources. Being aware of this, it is smart to take steps to use reclaimed and repurposed materials safely in your projects. It gives them character and conserves resources.
8. Stamps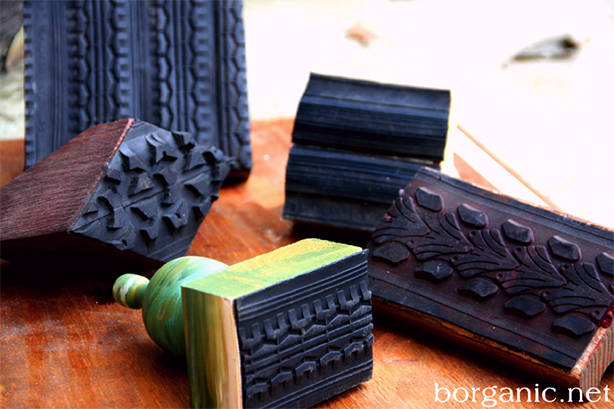 If you scrapbook, these stamps would make an excellent addition to your collection of supplies. Made from old bicycle tires, scrap wood and contact cement, the patterns will look beautiful on any craft you stamp it with. You can use these on plain brown paper for a one-of-a-kind wrapping paper. Work it across the top of parchment paper for unique stationary. Or try combining multiple treads and paint for a border around a room.
9. Mirror, mirror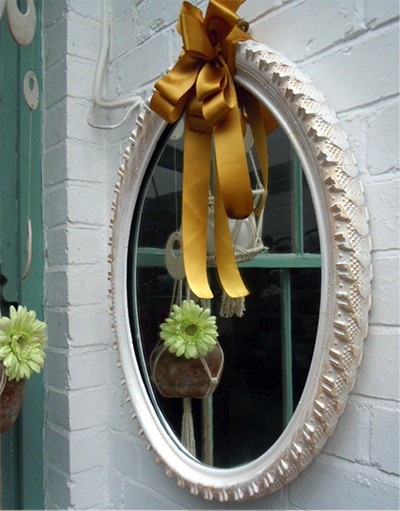 Mirror, mirror on the wall, who is the coolest of them all? Why you, of course! This mirror has the amazing ability of being tough and sweet all at the same time. Decorate it as seen here, or leave it plain and dark for an edgy piece of usable art in your home. As you can see, due to the materials used, you can hang this indoors or out.
10. Inner-tube purse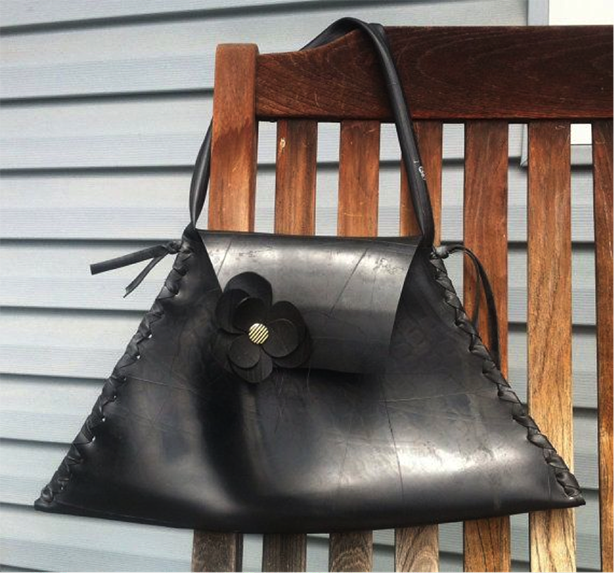 The body to this little beauty is made from a recycled truck inner tube. The lacings and straps come from recycled bicycle inner tubes. Besides being environmentally friendly, it looks like it could kick another purse's butt! It has the ability to stretch ever so slightly to accommodate the tons of things you may need to carry. The best part is that it is somewhat waterproof, making this the perfect motorcycling mama bag. Set it down on the ground without fear of ruining the material. If your kids touch it with sticky fingers, cleanup is a snap. If your lipstick melts inside? Flip this bad girl inside out and just wipe it clean. This bag eats Michael Korrs handbags for breakfast.
All images used are copyrighted and used with permission of the photographers/artists.