Did you know that Germany recycles more than 75% of its organic waste? Sadly, in comparison, approximately 95% of the food waste in the U.S. is currently disposed of in landfills and incinerators. According to the U.S. Environmental Protection Agency, in 2012 alone, more than 36 million tons of food waste was generated, and only 5%, or about 1.8 million tons, was diverted from landfills and incinerators for composting. We as a country can do better. Waltham, MA-based company
Harvest Power
is helping cities across the U.S. do better now. Paul Sellew founded Harvest Power in 2008 to extract the resources found in organic waste to create productive products instead of garbage. According to the company's website, Harvest exists to "create a more sustainable future by helping communities better manage and beneficially re-use their organic waste." Harvest Power has 40 operations in North America that are involved in converting table scraps, restaurant grease, out-of-date supermarket produce, deli goods and yard waste into energy, fertilizer and mulch. In a recent interview with CNN Money, Harvest Power's CEO, Kathleen Ligocki, explained, "The idea is to get rid of waste. Not put the waste into landfills, not incinerate it, which hurts our environment, but really close the organic loop and make productive products and bioenergy out of it. For 100 cubic meters of biogas you can produce about 300 kilowatts of electricity, and that will light a normal home for 10 days." One of
Harvest Power's facilities
is Energy Garden in
Orlando, FL
, which processes all the organic waste generated by Walt Disney World and other local businesses. Harvest Power takes the food waste and biosolids from the wastewater treatment plant and turns it into biogas, which can be converted into electricity and sold back to Disney World.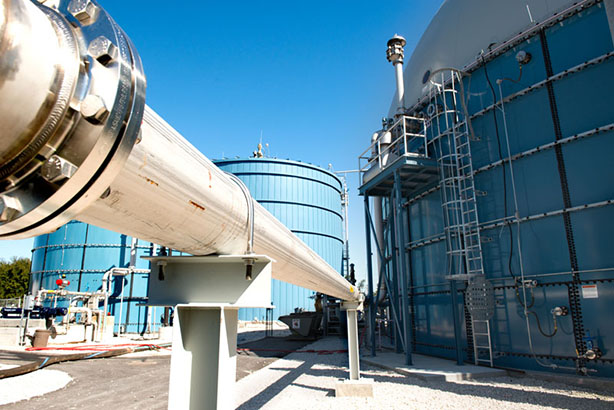 The biogas is created by a process called anaerobic digestion., wherein the food waste and biosolids are commingled in a sealed digestion tank. The American Biogas Council describes it as "a series of biological processes in which microorganisms break down biodegradable material in the absence of oxygen. One of the end products is biogas, which is combusted to generate electricity and heat, or can be processed into renewable natural gas and transportation fuels." The whole process seems like a renewable energy dream come true, and, best of all, anaerobic digestion can occur all the time. It is not dependent on the sun shining or wind power like solar and wind energy. The only downside I discovered while researching the process is some critics object to sewage sludge recycling, saying the biosolids from sewage treatment plants contain "complex mixtures of industrial chemicals, heavy metals, mercury, phthalates, flame retardants, many common drugs and pathogenic agents." So, these biosolids should not be used as a soil amendment. More information can be found at
sludgefacts.org
. Harvest Power is also a
Certified B Corporation
. B Corporations are companies that use the power of business to solve social and environmental problems. Certified B Corporations meet higher standards of social and environmental performance, transparency and accountability.
For more information about Harvest Power and the work it does nationwide, visit harvestpower.com.