Everyone has them: small, barley usable pencils. It is normally instinct to toss this seemingly useless junk. However, why not instead be part of a global movement and upcycle them into something useful?
1. Artwork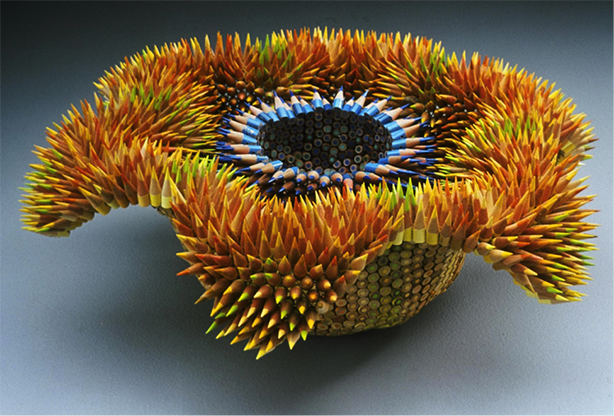 Some people use colored pencils for coloring. Not this artist — she uses them to create amazing sculptures instead. She carefully handcrafts each one to transform them into something entirely different. This is an amazing sculpture made up of a variety of colored pencils. Sculpting has been a part of the art industry for centuries and is a hobby for many. However, I have yet to see anything as unique as this created from pencils.
2. Vase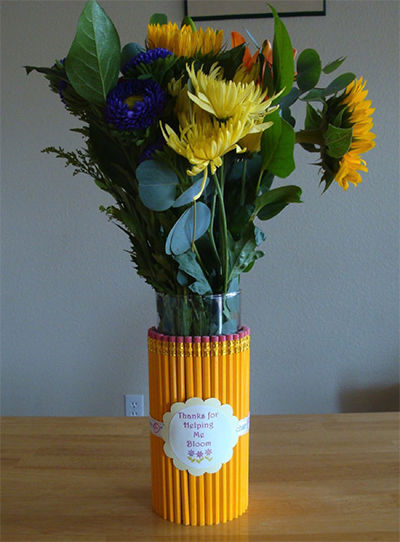 Want to let your child's teacher know he or she is doing a great job? This simple and sweet gift is just the way to do so. It is also a fun way to teach your child a lesson in showing appreciation for someone. Although the one shown here is made with standard yellow pencils, it can just as easily be made with colored ones. Add a personalized tag, some flowers and
violà
, you have something everyone in the teachers' lounge will appreciate.
3. Tape-covered pencils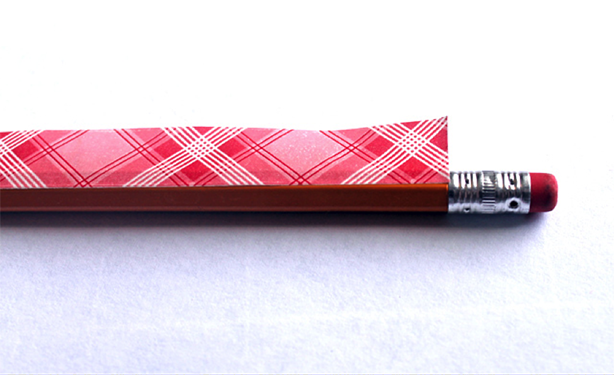 The new school year has arrived, and if your kids are anything like mine, they want the latest trends. Here is a cool, fun way to express their individual personalities in their school supplies: washi tape pencils! This project is easy to do, it's inexpensive and there are so many different colorful designs to choose from. All you need is a swash of washi tape to take your pencils from old and ugly to cool and trendy!
4. Pencil chandelier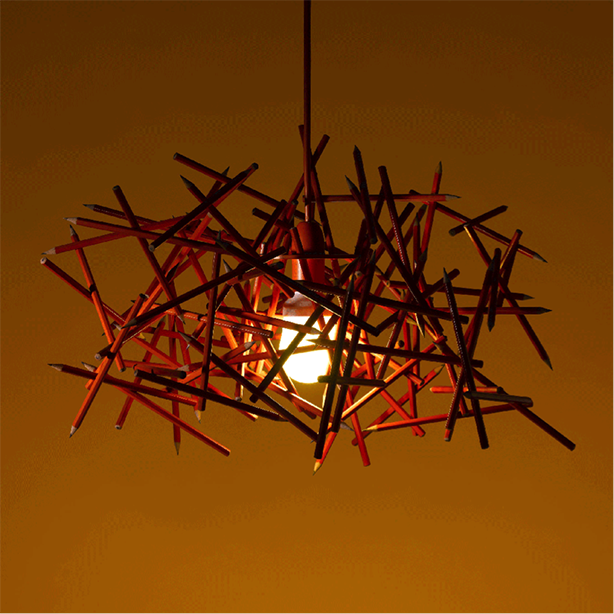 You can use pencils to do homework. However, one entrepreneur took his imagination to the next level and created this bespoke chandelier. Although made from pencils, its distinctive design looks as though it should be hanging in a gallery. Writers, are you looking to take your office décor up a level? If so, this is the perfect light for you!
5. Wind chime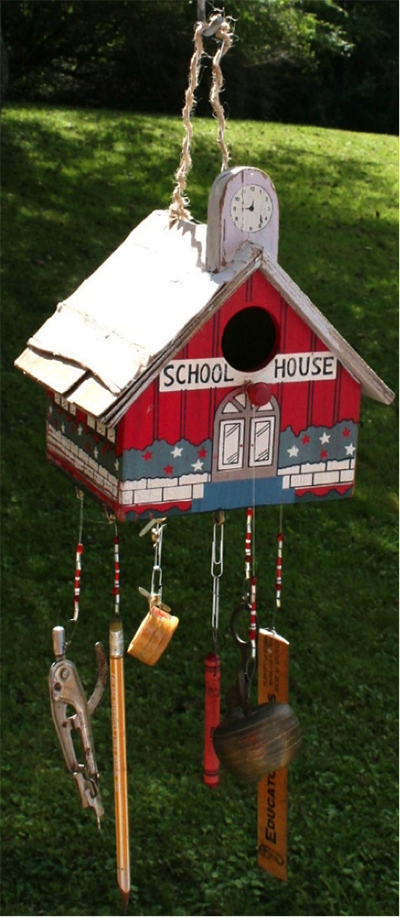 Isn't this sheer splendidness? It is unquestionably a one-of-a-kind wind chime. It has a small wooden schoolbird house on the top and various upcycled writing utensils on the bottom. If you know any schoolteachers, this would make an excellent gift to be cherished for many years to come.
6. Upcycled crayons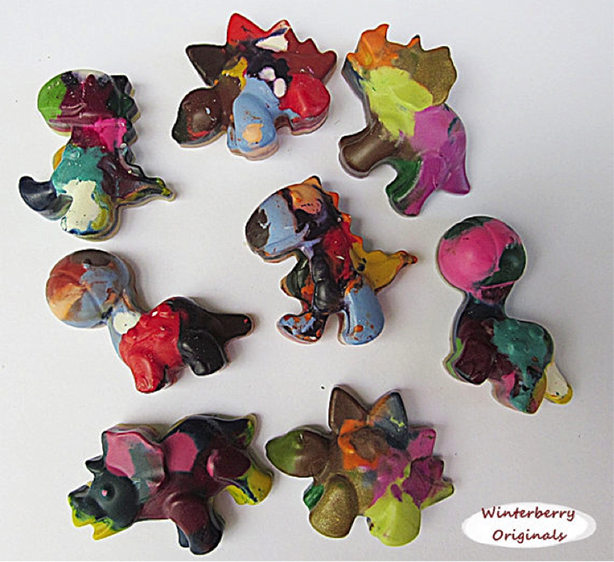 Crayons are a seemingly ordinary item. However, here they have been transformed into something of greater appeal and value. Kids will love these multicolored, upcycled dinosaur-shaped crayons! Each one is carefully handcrafted using only top-quality nontoxic Crayola crayons and they are the perfect size for little fingers. These fun art utensils will be a hit at home or in the classroom.
7. Desk organizer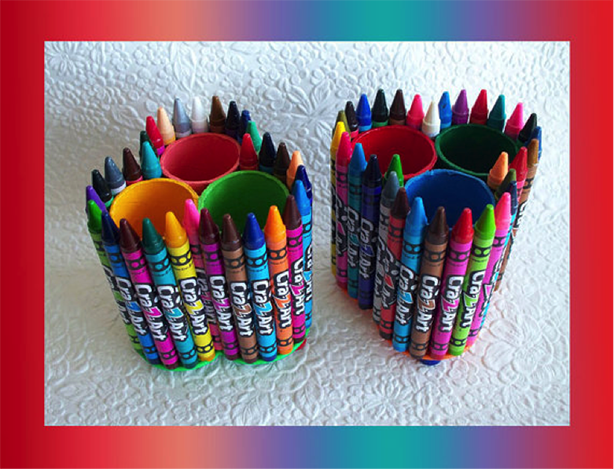 It is back-to-school time for kids. Why not surprise your child or his or her teacher with a special homemade pencil holder? This crayon pencil holder is perfect for your little artist. It is triangle shaped, with three colorful compartments to hold a variety of supplies. Here you have a fun way to organize all those necessary items. Not only would this make a great back-to-school gift for the student or the teacher, but it is also a cute gift bag item, if your child's birthday happens to fall on a school day that is.
8. Upcycled pen nib earrings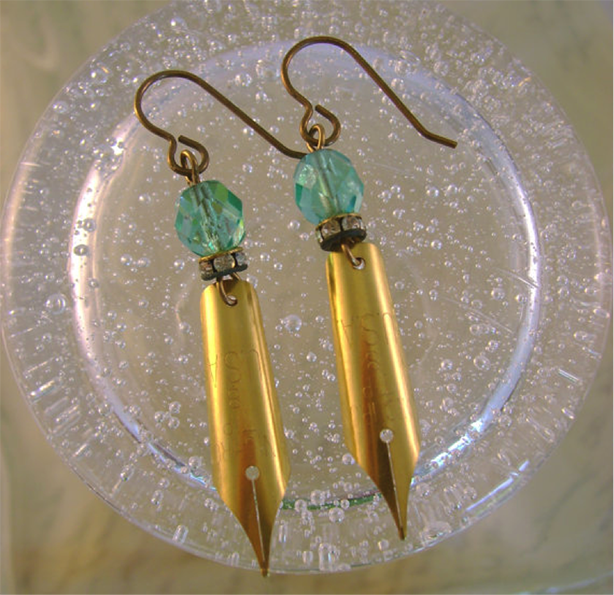 These earrings make a perfect gift for the lady in your life who is a writer, Shakespeare lover, pen collector or craft collector. Here we have upcycled folded pen nibs combined with rhinestones and turquoise beads. These beauties are absolutely breathtaking. I love the idea of the pen nibs as a piece of beautiful jewelry. This is an elegant way to reuse your antique pens.
9. Pencil art tissue cover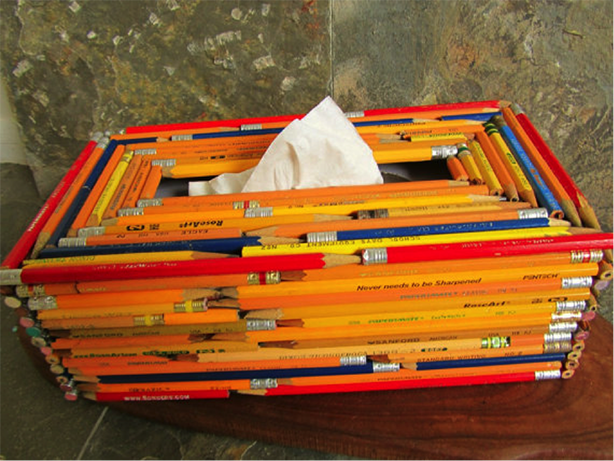 Do not throw away those used-up pencils. Reuse them by making this fabulous pencil art tissue cover. This piece was originally created to show the practicalities of upcycling old pencils to students. However, it is a piece of useful art that you can use at home, in the office or to give as a gift to your favorite teacher as a show of appreciation.
10. Monogram crayon art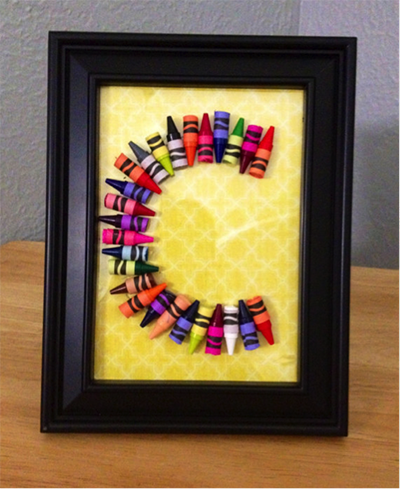 This is such a neat and fun way to personalize the decorations in your child's room. Gorgeous, right? This craft needs almost no explanation at all. Plus, the colors and patterns you can create are practically endless. Crayon monograms are also a huge hit as gifts. They are so simple that you and your child can make a one-of-a-kind work of art at home together.
11. Dish rack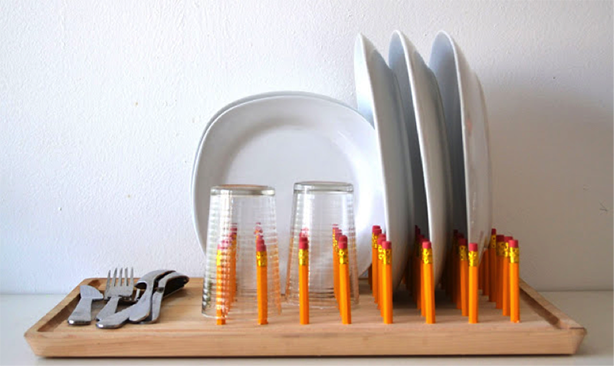 Saving the best for last, you say? It is time to switch things up a bit with this quirky DIY project. What a brilliant idea Samuel Bernier had to upcycle your old pencils. This dish rack is made of a wooden cutting board and more than 30 pencil tops. You can also use this upcycled craft as a convenient mail sorter.
All images used are copyrighted and used with permission of the photographers/artists.