Background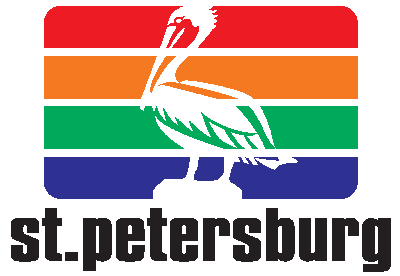 One of the largest cities on Florida's west coast, St. Petersburg (pop. 249,688) is home to a dual-bin weekly curbside recycling program. For $3.75 per month, residents pitch paper materials into the green collection bin and plastics, metals and glass into the blue collection bin. Both bins are emptied on the same day by local hauler Waste Pro, Inc. St. Petersburg takes green living seriously, having been designated Florida's first Green City by the Florida Green Building Coalition while also receiving the Tree City USA award from the National Arbor Day Foundation.
Materials recycled
Green bin (paper products)
Newspapers and inserts, magazines, catalogs, junk mail, envelopes, office and computer paper (all colors), phonebooks, greeting cards, paper bags, wrapping paper, paperboard and corrugated cardboard (must be broken down to fit in bin).
Blue bin (plastics, metals and glass)
Glass bottles and containers (clear, brown and green; rinsed; no lids or caps), all plastic food and beverage containers numbered 1 through 7 (rinsed; no lids or caps), plastic #2 plant pots, aluminum cans (rinsed), steel/tin cans (rinsed), clean aluminum foil, clean aluminum pie pans and empty aerosol cans (no caps or lids).
Frequency
St. Petersburg recycles at the curb on a weekly basis. Bins must be placed at the curb with refuse by 7 a.m. on collection day. A collection day map is available
online
.
Other programs
St. Petersburg features 22 drop-off recycling locations across town. Find a location map and location information
here
. In addition, five of those drop-off sites also accept brush and yard clippings. More than 40,000 tons of yard clippings are recycled in St. Petersburg annually. TVs and computers can be picked up curbside for safe recycling by scheduling an appointment with St. Petersburg's Sanitation Department. Call 727.893.7398 to book. Fluorescent light bulbs can be taken to the Sanitation Department (2601 20th Ave. N.) Monday through Friday, from 7:30 a.m. to 4 p.m. Drop-off is free with proof of residency. Surrounding Pinellas County holds periodic mobile collection events for household hazardous wastes and small appliances. For details on the next event, including date and location, see the
county website
.
More information
Visit the
City of St. Petersburg Recycling website
for more recycling program info.