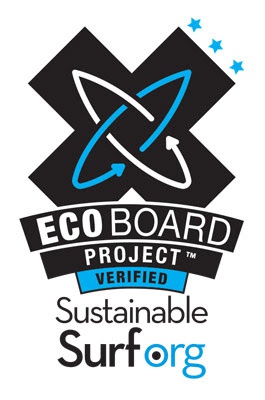 While the surfboard industry is still a long way from being sustainable, there are several companies that have made it their obligation to design surfboards to be eco-friendly. For those of us who are looking to find those companies to purchase our surfboards from, we can rely on the
ECOBOARD Project
, an initiative from the nonprofit organization
Sustainable Surf
. The ECOBOARD Project label is "the first independent 3rd party, consumer facing 'eco-label' for surfboards," and provides a benchmark for sustainable surfboard materials. It helps us as consumers connect with companies that have been verified through the ECOBOARD Project so we can choose a high-performance surfboard (just in time for the September hurricane swell). Through the ECOBOARD website, we are able to find a list of nearly 30
shapers and brands
that have agreed to offer surfboards made using the ECOBOARD benchmarks, including Firewire, one of the largest surfboard manufacturers in the world. "We have a moral, ethical, and, hopefully, a soon-to-be commercial obligation to make our products as eco-friendly as possible, without sacrificing performance," Firewire CEO Mark Price told
Surfer
. But what perhaps is even more important is that ECOBOARD is also making it easier for surfboard builders to source greener materials. To ensure that they can include the label on their boards, specific materials must be used that have been certified by Sustainable Surf. For example, one of the materials used to build surfboards are shaped from foam blanks. Through ECOBOARD, the Benchmark criteria for foam blanks is 40% recycled or biological content. This not only reduces the toxic chemicals that surfboard builders are exposed to, but it also keeps this material out of the landfill. The other two materials that must qualify are resin (the benchmark criteria for surfboard resin is 15% biological carbon content and low volatile organic compounds) and wood (the wood is sourced in a responsible manner). The
first ECOBOARD
that was ever made, bearing the "001" serial number, was shaped for pro surfer Mike Losness and was made from recycled EPS foam. The ECOBOARD Project website states that a surfboard must include these three concepts in order to qualify for a label:
Performance: ECOBOARDs should have equivalent or better performance than boards made from industry-standard materials.
Ease of Manufacturing: ECOBOARDs should ideally require minimal changes in current manufacturing techniques, so that early adoption by the industry is possible.
Environmental Benefits: ECOBOARDs must have a significant and meaningful reduction in environmental impact as measured by factors such as lifecycle CO2 emissions and toxic chemical/VOC emissions. To make the judgment on what constitutes "significant and meaningful," Sustainable Surf analyzes data and reports on the impacts of surfboards, as well as existing and pending government regulations, and the latest environmental science.
If you're looking to purchase a sustainable surfboard, make sure to look for one that has a serial number laminated on it as verification that it was built by ECOBOARD Project standards. Then, go show it off by uploading it into the
ECOBOARD database
!