Silverware is to some a valued possession passed down through generations. However, it is not easy to keep up with every piece after so many years. So, what to do with all of those pieces which are now an incomplete set? Allow me to be your muse using this list of neat repurpose ideas.
1. Corn-on-the-cob holders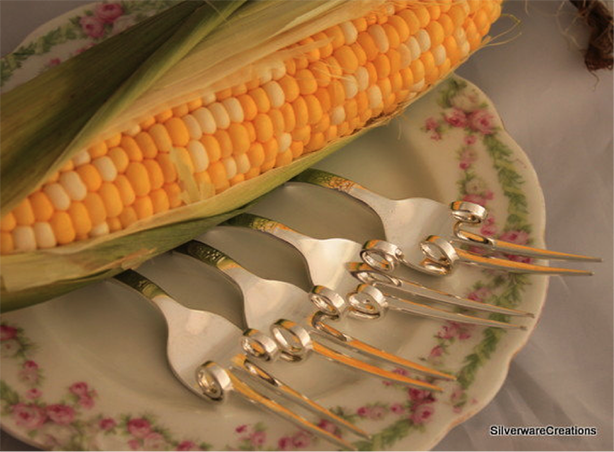 We all know the consequences of eating fresh cooked corn on the cob without using holders. The ones pictured above are not your run-of-the-mill plastic cob holders. They are made from vintage silver-plated forks. You can use them to add sass to your cookout, or they can be used to dress up a rustic dish for an elegant dinner party. Whichever way you decide to use them, they are definitely a conversation starter.
2. Upcycled fork plant stake garden labels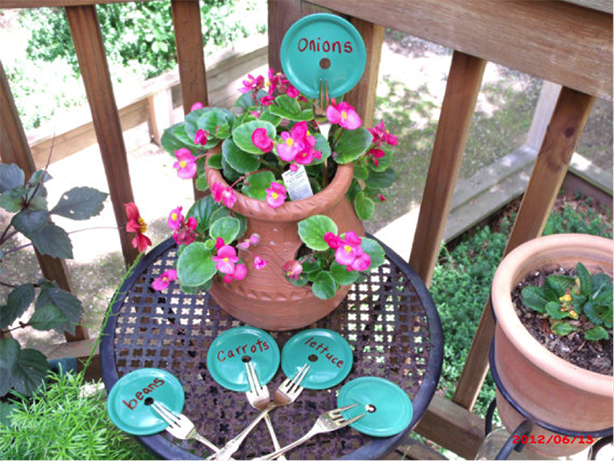 These upcycled fork plant labels are made from recycled materials so they are all one of a kind. Spray-painted can lids, upcycled forks and permanent maker or paint is all that was used to create these beauties. You can personalize them by using whatever color and pattern you want. These stakes are the perfect decorative way to label your garden. They also make a great gift idea for your favorite gardener.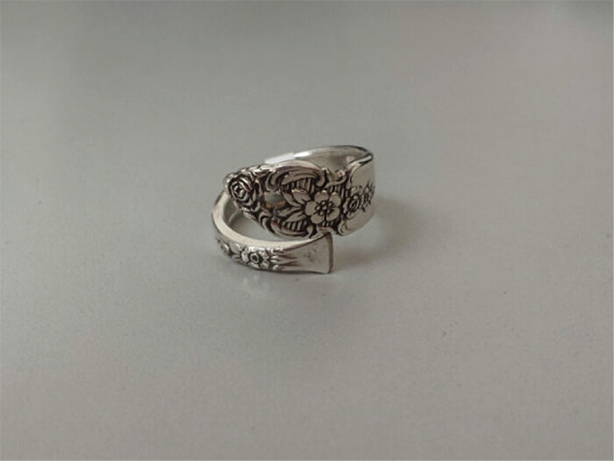 This elegant handcrafted ring is made from an antique demitasse spoon. It has so much artistic detail that one would never know that this is created from something once used as an eating utensil. The pattern shown is Distinction by Oneida Prestige Plate, c. 1951. It could be worn as everyday wear or as an extra accessory to dress up an outfit on a special occasion.
4. Hand-stamped silverware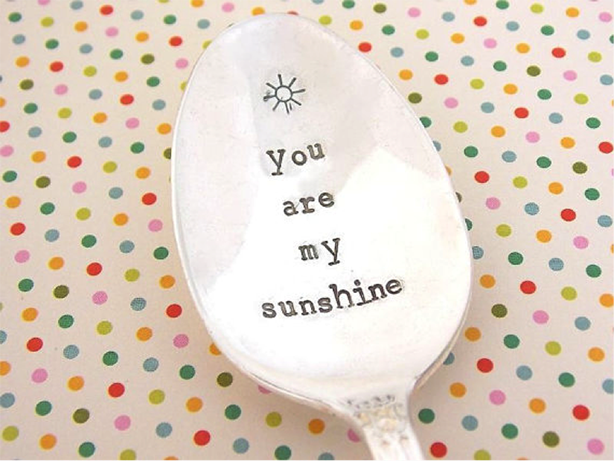 This beautiful spoon is such a sweet little gift idea for a baby shower. It will definitely be revered as a special keepsake, even if chosen for daily use. This spoon is hand stamped with the words "you are my sunshine," however, the possibilities are truly endless. Monogram a loved one's name as an unexpected, personalized present. These also make a great wedding favor stamped with you and your betrothed's initials and/or wedding date.
5. Upcycled silverware stick barrette shawl pin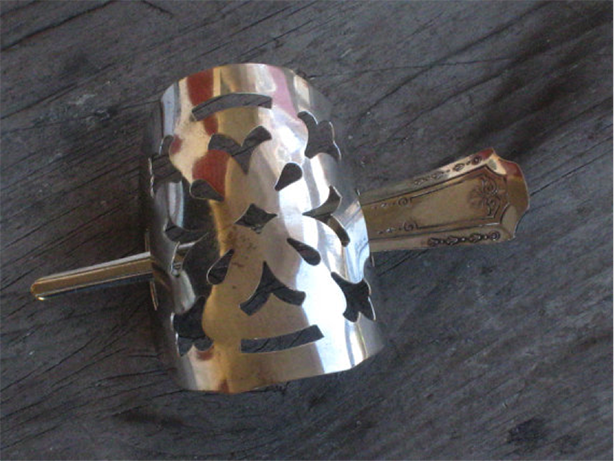 This upcycled silverware barrette is a striking piece that will look gorgeous in your hair anytime. Laughing Frog Studio turns trash into treasure for you to cherish for a lifetime. The barrette was the ladle and the pin was the handle. This would definitely be a cherished gift for your beautiful daughter, niece or even your best friend. Keeping the wedding theme in mind, this could make an excellent display of appreciation for bridesmaids as well.
6. Vintage copper teapot wind chimes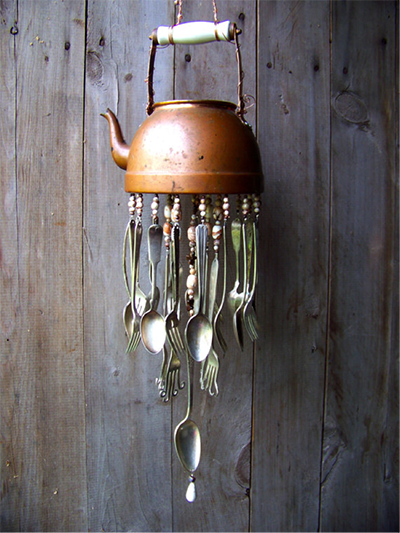 Why not use all of those old, unmatched utensils in your kitchen to create a beautiful-sounding and looking wind chime to hang right outside of it instead? This particular wind chime was handmade from an old copper teakettle and repurposed spoons and forks. You can tell that it was created with a lot of love and dedication. This could also add an artful touch to any garden or porch.
7. Repurposed silverware cross pendant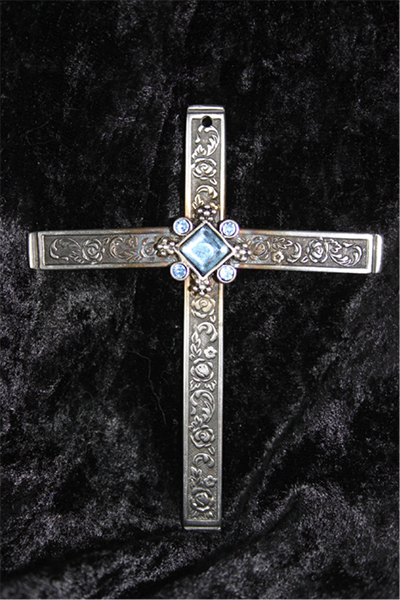 This unique cross is made out of repurposed stainless steel silverware, which has a beautiful floral design, and a piece of costume jewelry for a splash of color. It could be worn as a necklace, or add a piece of ribbon to it for use as a bookmark, or place it on your desk as a reminder of your faith during those hectic days. It would also make a lovely baptismal or christening present.
8.DIY fork photo display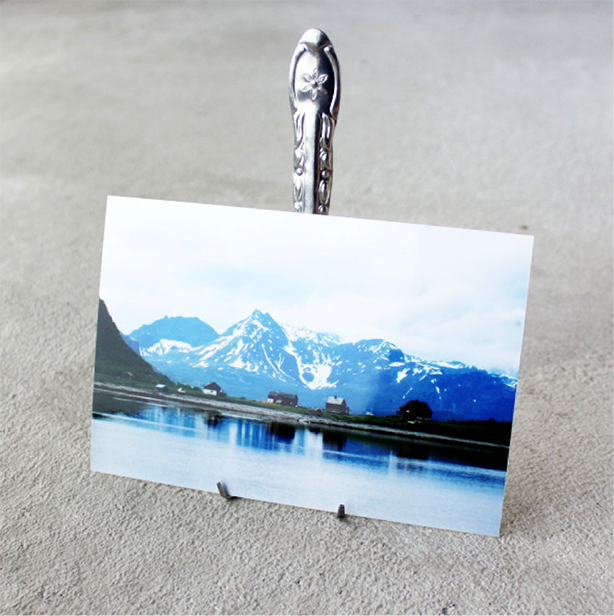 If you are like me then you live on a budget. I am constantly trying to find new ways to save money while decorating my home. This is a wonderfully creative, do-it-yourself idea that is very simple — all you need is a fork and a pair of pliers. You can clearly display your favorite family photos, or it would also be a wonderful way to show off all of those precious finger paintings. Regardless of what you choose to display, you have a fun, cool and cost-effective way of doing so!
9. Chalk-paint butter knife cheese marker set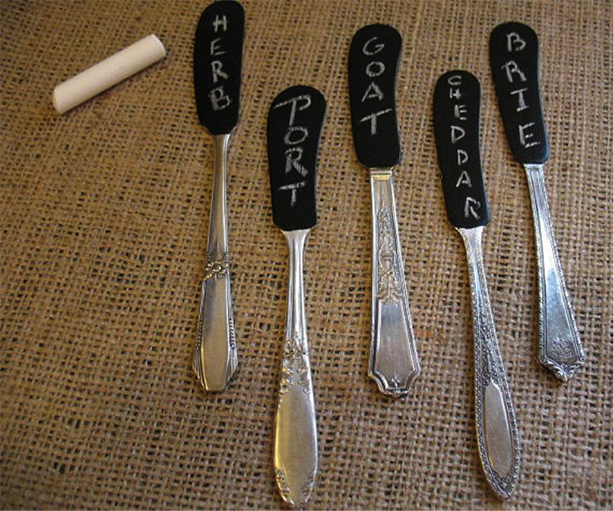 This is a neat way to label your cheeses during appetizer hour at your fancy dinner party, cocktail hour or wedding. This is also a crafty idea for a nameplate at a special occasion or event. I love how elegant yet useful they are. These markers are created from vintage silver butter knives. Each one has been carefully painted with nontoxic chalk paint. They can be used multiple times because each can be written on in chalk and wiped clean for your next use. They would also be a creative gift for a cheese lover, cook or as a housewarming present. It is recommended that they be used only as cheese markers and not for actual food use.
10. Repurposed handmade silverware pendant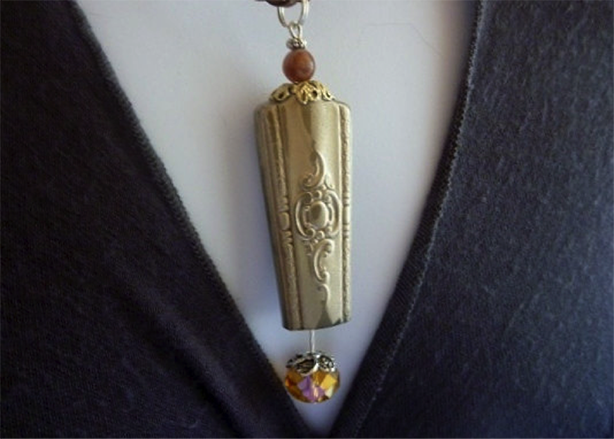 This is a beautiful scrollwork pendant that is made from the top of a vintage knife. Its beauty is elevated by the large gold crystal that hangs from the bottom and a tourmaline bead placed at the top. This necklace is well detailed and elegant. You cannot tell at all that it was carefully crafted from upcycled materials. If you have some of your family's old silverware, give this necklace for your mom next Mother's Day for a delightfully sentimental gift.
All images used are copyrighted and used with permission of the photographers/artists.