Deciding what to do with old, worn-out clothes can be tough, which is why billions of pounds of clothes unfortunately end up in landfills every year. However, almost every single pair of shoes and article of clothing we own is recyclable and reusable.
American Eagle Outfitters
and
I:CO
have joined forces to create a program that lets consumers recycle their clothes and helps the planet in the process.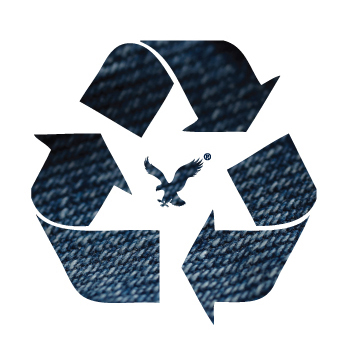 American Eagle is a clothing and accessories retailer that was founded in 1977. The store first opened in Michigan, but the company has since expanded to more than 900 different stores, with locations such as Hong Kong, the Philippines and Poland. The brand mainly targets customers in their teens and mid-20s. I:CO, which stands for I Collect, is a global recycling company that works to collect worn shoes and textiles, including leather, fur, underwear, socks, belts, bags and more. The company works with numerous commercial partners to accept used clothes in stores from consumers and in return gives the consumers coupons for a discount on their next purchase. American Eagle
launched a program
in mid-June 2014 in which consumers can drop off old jeans, shirts and shoes in the I:CO boxes placed in one of 800+ stores in the U.S. and Canada. Those who drop off their clothes receive $5 off any American Eagle Outfitters jeans they purchase. Every item collected is fully recycled and recreated into new textiles. I:CO sorts items using more than 350 different criteria in order to figure out how the pieces of clothing can be most sustainably used in their next life cycle. Solutions include being remade into a new piece of clothing, transformed into cleaning cloths, recycled as fiber for carpet padding and insulation and even upcycled into interesting new products. When a product is upcycled, it is recreated into a new product that has even higher value than it did before. All proceeds from the program go to the
Student Conservation Association
. Founded in 1957, the SCA is a group whose mission is to create leaders and improve the environment by allowing young people to engage with the land hands on. SCA's members work to maintain hiking trails, monitor animals and much more. Although American Eagle is in the early stages of implementing environmental strategies, it is working hard to develop better business practices and implement environmental strategies. The company is planning to reduce the use of energy and water in its corporate offices and textile production facilities and has introduced fuel-efficient methods for transporting its goods. It has also donated goods through organizations such as Habitat for Humanity and uses 100% postconsumer recycled material in its shopping bags. If your clothes are too worn out to be handed down, American Eagle's new recycling program is an easy and beneficial way to drop off those items and save a little money on your next purchase.