These fun recycled Halloween decorations are the perfect way to reduce and reuse without compromising the festivities.
It's official: All of our favorite stores are displaying their selections of the best Halloween gear. From the ready-to-go costumes to the cute decorations for your mantel, it can all be yours. But, instead of purchasing yet another product you may not need this Halloween, let's take a look at how to create your own one-of-a-kind goodies: homemade egg carton pumpkins. Start with a common household item, an egg carton. After making the last of the eggs for breakfast, save the carton and gather a few other items you may have around the house. Grab some orange craft paint, black or yellow craft paint (or black marker), a green twist tie or piece of chenille stem, a few sheets of newspaper, scissors, craft glue, candy (or rice or beans) and maybe a little construction paper.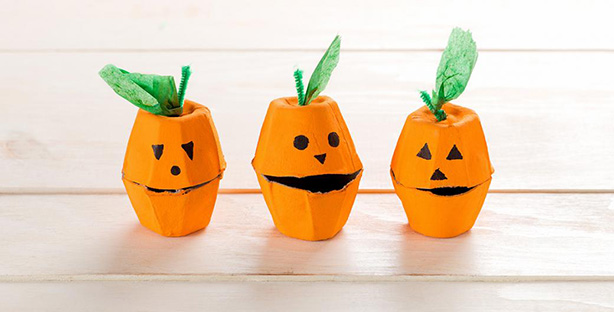 First, cut out the cups of the egg carton and trim the edges to make this clean and tidy. Then, spread the newspaper out on your work surface and paint the cups orange. Make sure to let these totally dry before turning them over. Next, flip the cups over and fill one of the halves with your choice of rice, beans, candy or a similar item that adds weight and stability to the pumpkin. Apply glue to rims and place empty halves on top. If the paint needs a touchup, go over the area before continuing to the next step. Next, use tip of scissors or a pencil to make a small hole in the top of the pumpkin. Select the chenille stem or the twist tie to use as the pumpkin's stem. Dip this end into a little glue and insert into the hole at the top of the pumpkin. Finally, paint a face of your choosing on your little recycled pumpkin. Use your little creation for a Halloween get-together or as a treat to someone special. Sure, the temptation is there to pick something from the store, but stop and think, do you really the extra item? Reuse your cardboard or Styrofoam egg carton to make your Halloween a little more creative and environmentally responsible.