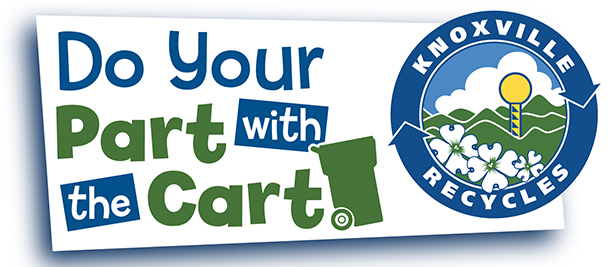 Background
When Knoxville, TN (pop. 183,270), rolled out its curbside recycling program on October 1, 2011, the city set a goal to generate participation from 20,000 households. Twelve weeks later, the goal was met — a pretty nice Christmas present from Knoxville's residents to the city. Now three years in, the commingled curbside collection program is going strong, with city officials now focusing on educating citizens that up to 80% of the refuse that ends up in area landfills can actually be placed in the recycling cart.
Materials recycled
Paper
Newspapers and inserts, magazines, catalogs, loose paper (all colors), junk mail, paperboard and flattened corrugated cardboard are accepted.
Plastics
Plastic bottles and containers numbered 1 through 7 (rinsed), all plastic lids and caps and CD/DVD cases are accepted. No plastic bags, plastic-wrap or Styrofoam.
Metals
Aluminum cans (rinsed) and steel/tin cans (rinsed) are accepted.
Glass
Glass bottles and containers (clear, brown or green; rinsed) are acceptable.
Frequency
Knoxville recycles at the curb on a biweekly basis, same day as trash. Carts must be placed at the curb by 7 a.m. on collection day. A collection schedule is available
online
.
Other programs
Yard waste is collected curbside in Knoxville from February 1 to November 1 each year. On a biweekly basis — same schedule as recycling collection — residents can place an unobstructed pile of organics at the curb, not measuring larger than 6x6x6 feet. The City of Knoxville, in partnership with Goodwill Industries and Kroger, operates several recycling supercenter drop-off sites that accept that above-listed items, plus books (soft and hardcover) and household batteries. Each is open 24/7/365. Locations include:
Kroger at 4440 Western Ave.
Goodwill at 225 W. Moody Ave.
Goodwill at 210 Alice St.
Goodwill at 314 Parkvillage Rd.
Downtown Recycling Center, 227 Willow Ave.
Knoxville's Solid Waste Management Facility, 1033 Elm St., is the spot to drop off hard-to-recycle items, including household hazardous waste materials, building and demolition materials, tires and select electronics. The facility is open to the public Monday, Tuesday, Thursday and Friday, from 7 a.m. to 4 p.m.; Wednesday, from 7 a.m. to noon; and Saturday, from 8 a.m. to noon (first Saturday of each month until 1 p.m.). Some fees apply. See the city website for further details.
More information
Visit the
City of Knoxville Household Curbside Recycling website
for more recycling program info.