Halloween is almost here, and with this spooky holiday comes some environmental horrors, starting with some of our costume choices. Not only are store-bought costumes made to be worn once or twice and then tossed into your local landfill, but some of them are also made with some scary materials. The terrifying plastic masks, preternatural princess fabrics and face paints are even more horrifying because of the toxic chemicals they may contain. Here are some harmful chemicals to be on the lookout for this week:
Polyvinyl chloride
, or PVC, contains harmful chemicals. The
Center for Health, Environment and Justice
, a nonprofit organization based in New York, calls polyvinyl chloride "one of the most hazardous consumer products ever created." The CHEJ has launched a campaign against the production of PVC called "PVC: Poison Plastic," and produced a 2004 study, "Bad News Comes in Threes." The "Threes" refers to the recycling symbol with a "3" in the middle, which identifies products made of PVC. According to CHEJ, "Some store-bought costumes can contain polyvinyl chloride (PVC). PVC products can leach toxic additives, like phthalates, throughout their use.
Phthalates
are added to PVC products to make them softer and more flexible, but these chemicals are known to disrupt hormones. While shopping for a costume, check the label to make sure it's PVC-free." Phthalates have been banned in children's toys, but many costumes unfortunately still contain them.
Lead
and
cadmium
are heavy metals that are known neurotoxins and can be very dangerous for children, even limited exposure to small amounts. These heavy metals can stay in children's systems for a long period of time. Cheap costume jewelry, like the kind that comes with Halloween costumes, may contain lead and cadmium.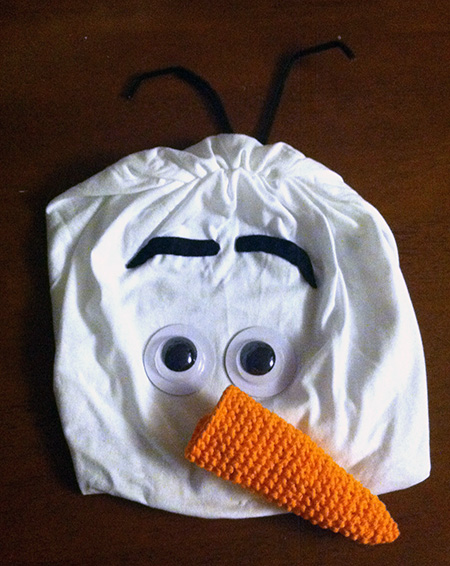 Avoid using face paints marketed for Halloween. The
Campaign for Safe Cosmetics
conducted a report that sent 10 children's face paints to an independent lab to have them tested for heavy metals. They found that 10 out of 10 face paints contained lead. According to the report, "Experts say there is no safe level of lead exposure for children and the Centers for Disease Control and Prevention recommend that parents avoid using cosmetics on their children that could be contaminated with lead." Young people exposed to lead can experience hyperactivity, impulsive behavior, IQ deficits, reduced academic performance, aggression and delinquent behavior. Lead can also impact fertility, including increasing risk for miscarriage and reducing sperm quality. Lead has even been associated with an increased risk for Alzheimer's and Parkinson's disease. One of the scariest parts of this report, for me, was that the paints did not list lead on the labels. To find out more and to read the full report, visit
safecosmetics.org
. Here are some tips on how to make your Halloween a little safer for your family and the environment:
Host a costume swap. Get a group together and swap gently used Halloween costumes. According to Real Simple magazine, Halloween costumes add up to about 12,500 tons of landfill waste a year. This figure does not even factor in all the throwaway decorations and candy wrappers.
Choose costumes that do not require face paint or plastic masks. Avoid the toxic plastics and heavy metals altogether.
Make your own costumes. Even if you are not that crafty, you can shop at your local thrift store and use pieces from your closet to create costumes. Decorated cardboard boxes can become dice, robot bodies or Minecraft heads. I made an Olaf costume with some white T-shirts, black felt and a crocheted carrot nose. Involve your children in a brainstorming session — it will be fun, and you may be surprised with the great ideas you come up with. My daughters have come up with some terrific ideas like the aforementioned Olaf, an apple fairy, a cloud with raindrops and a word-search costume (requiring only a white T-shirt, trim and a black fabric marker).
Choose cloth. If you are buying a costume this year, look for costumes that are made from cloth — preferably 100% cotton, not synthetic materials.
Have a fun, safe and SPOOKtacular Halloween!