Since 2006, Stella Neptune has been upcycling cashmere sweaters and creating recycled iron-on patches to spruce up imperfect clothes.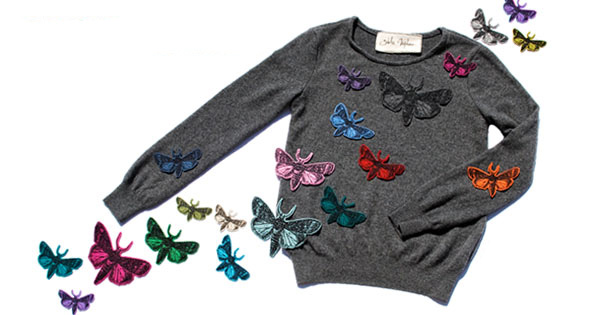 Autumn is here, which means it will be cold weather season before you know it. I, for one, will miss the days of swimsuits, shorts and sandals as I buy clothes to prepare for the change in temperature. On the other hand, there are many stylish and eco-friendly fashions to look forward to purchasing. That includes the upcycled cashmere sweaters and other accessories from
Stella Neptune
. Founded in 2006, Stella Neptune is a brand designed by Eva Kisevalter. Before creating her clothing line, Kisevalter named herself Stella Neptune when she would go to work as a DJ, spinning her own actual records on turntables. When she realized her DJ career was not enough, she decided to combine her love for thrift shopping and pop graphics into a career itself. According to Stella Neptune's website, Kisevalter's inspiration for working with recycled clothing stems from her genuine interest in finding great materials without feeling guilty about creating waste. All of her materials are sourced and designed in Los Angeles, where the company operates. Stella Neptune's products have become a hit around the region, popping up on television shows such as Desperate Housewives and even being seen on the red carpet at Tinseltown events. Stella Neptune sells quite a few different cashmere sweater designs, most of which are a muted color and feature a graphic of an animal, person or butterfly on them. One sweater, titled "Mr. Chuck," includes a squirrel on the front holding a burlap bag with the word "recycle" written all over. Most of the sweaters carry a playful design such as this, and, best of all, each is 100% recycled. The company also produces sweaters and skirts for kids, burlap bags, elbow patches and cashmere patches. The elbow and cashmere patches are great accessories to add to sweaters, hats, scarves or more to cover possible holes or other imperfections. Although they also come shaped as flowers, Band-Aids and more, many of the cashmere patches are, ironically, fashioned as moths, which as babies are known to chew on clothing in order to receive keratin. They are able to
munch on organic fibers
, including cashmere and many other sweater fabrics. When building the company, Kisevalter was interested in a solution for the problem of moths destroying cashmere sweaters (along with her desire to have a sustainable business, of course). With these patches, consumers can easily create a completely unique sweater or other article of clothing just for themselves. For those who have cashmere sweaters with too many holes to be repaired, Kisevalter also provides other options. In 2010, she went on
The Martha Stewart Show
to show how to make a recycled skirt from a hole-ridden cashmere sweater. Stella Neptune's cashmere sweaters range from $50 to $90, and the patches and other accessories cost around $20 each. Items can be returned unworn within 10 days for a full refund, or can be returned after 10 days for store credit.