How many shoes have you tossed out or donated in the last year? If you have children, it's safe to say that figure is pretty high. Here is a list of 10 different ways to repurpose and recycle those worn-out shoes. Thank you for keeping them out of a landfill.
1. Redesign them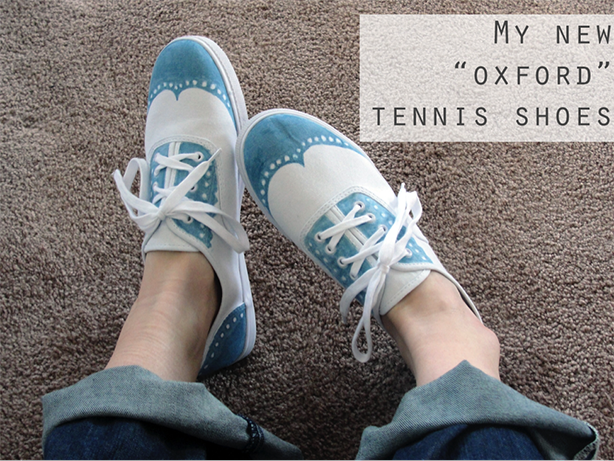 Sometimes we toss out a pair of shoes because we are tired of looking at them. They sit in their little corner of the shoe rack, gather dust and mock our past fashion choices. Instead of throwing away perfectly good shoes and money, why not redesign them into something fun and funky to wear? Grab those canvas shoes and a couple of fabric markers and go to town!
2. Denim sandals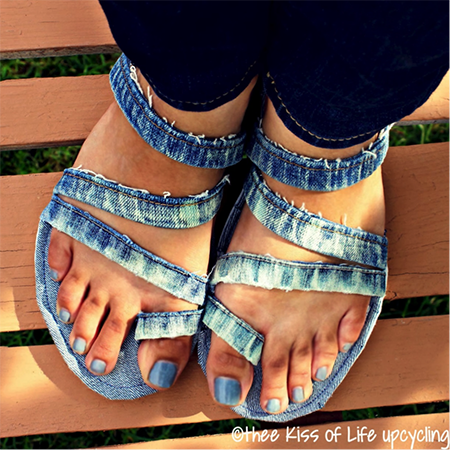 This project is great because you are not only salvaging a pair of old sandals, but also a pair of jeans! If you are adept with a sewing machine, this project won't be too difficult. Why not play with the color by dyeing the straps before you sew them in? You could also use a fine-tipped fabric pen to ink designs on the straps.
3. Gladiator sandals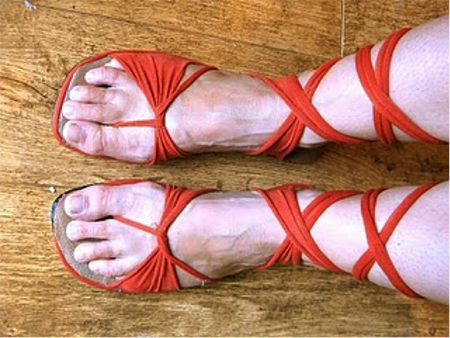 Here is another sweet project that reclaims more clothing waste. For these gladiator sandals, simply grab an old pair of flip-flops and a T-shirt. Don't have a T-shirt in the color you want that isn't junk-able yet? Hit up your local charity thrift shop, and be stylish while contributing to the cause. These sandals deserve to be made in a multitude of colors.
4. Espadrilles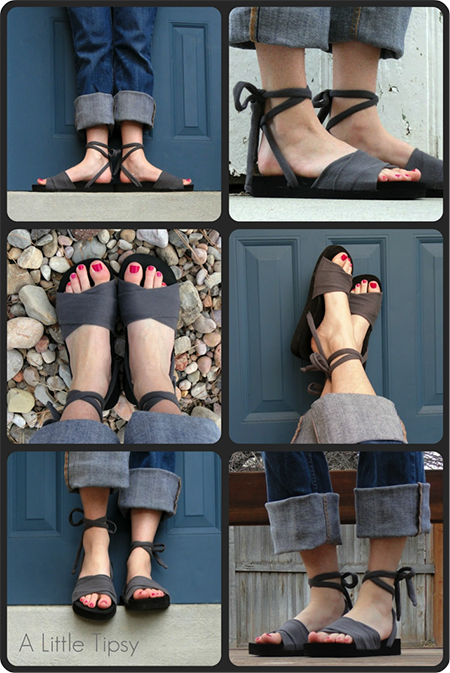 Those chunky, platform flip-flops hiding in the back of the closet have not been worn in quite some time. So, let's make something cute and classy with them. The best part is that these babies require absolutely no sewing experience to put together. Fabric pens would be another way to jazz these up a notch, or you could even add a strip of coordinating ribbon across the top.
5. Flower planters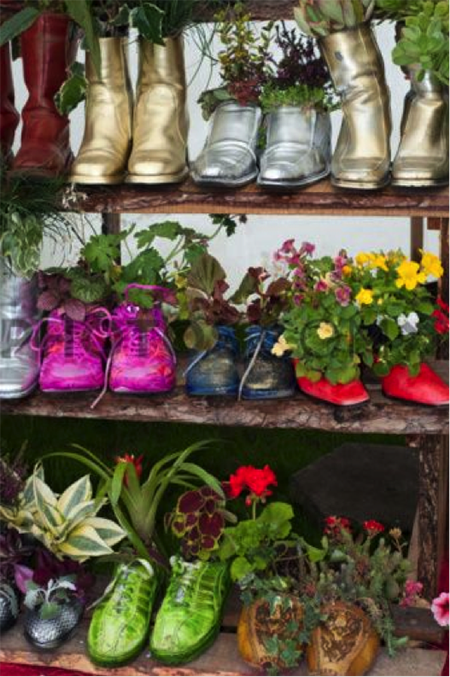 If you are looking to add something unique and colorful to your garden this coming spring, why not grab some of those old dress shoes and start planting? The ability to rearrange your plants with very little effort makes this project a win. Coordinate the flower to the shoe, spray-paint the shoe a different color or experiment with different shoe styles until you find what works best for your garden.
6. Heel planters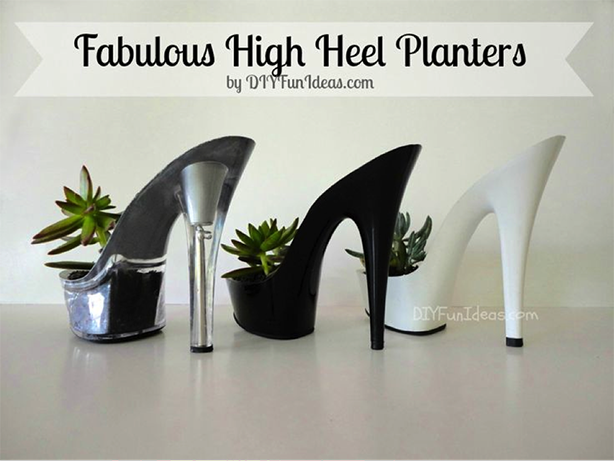 This is one of the most imaginative repurposing ideas of platform high heels I've seen thus far. If you have some of these hiding in a box, time to pull them out. Maybe your tastes have outgrown the nightclub scene, or you are no longer dating that guy that was 6 inches taller than you. Regardless, here is a way to make a very portable planter.
7. Snow-chained running shoes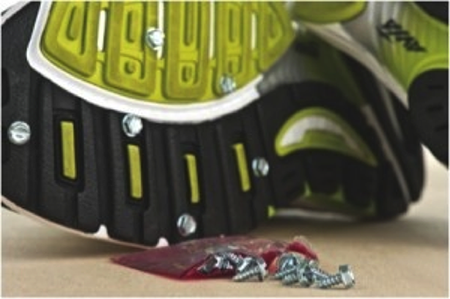 Give those old sneakers new life by making them the best for running on icy days. By adding some small hex-head screws to the bottom using only a screwdriver, you can now walk a little more confidently in the winter. The cost of screws are but pennies, and the money saved on cleated runners can be better spent on warmer running clothes.
8. Baby shoe pin cushion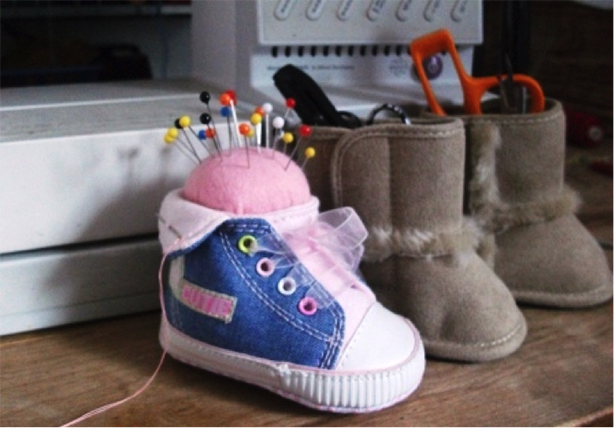 If you are looking for the perfect gift for Grandma this year, look no further. Why only put those adorable baby shoes away for sentimentality when you can make something that is not only functional, but also sure to be cherished? This will also make a great present to tell that crafty loved one in your life that you are expecting!
9. Mosaic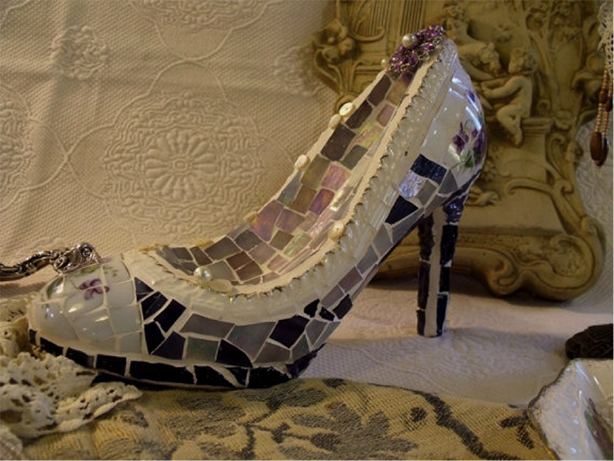 Shoe lovers in your life can, ironically, be hard to shop for. Shoes in general are out, unless you know their size in a particular brand. Crafting something from an old shoe is a way to repurpose an item that would otherwise be tossed. It will also create something beautiful that can be passed down for generations to come.
10. Dress them up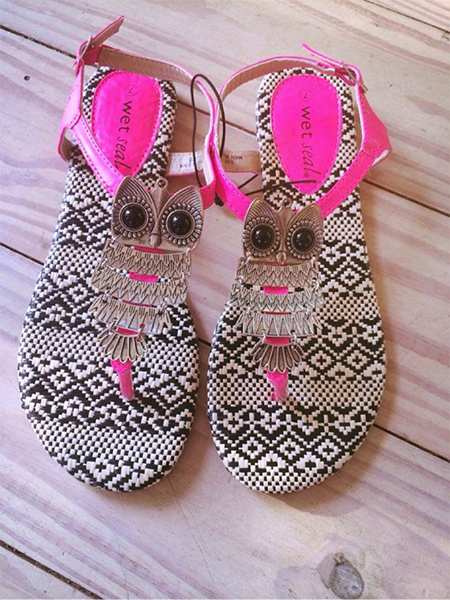 If your level of craftiness prevents you from feeling comfortable tackling a big project, no worries. Here is the project for you. Simply dress up a pair of sandals you already own with a few well-placed charms. Your local craft store should have a wide variety of them, and assembling simply requires hot glue. Instead of gluing the charms directly on the shoes themselves, try gluing them onto old broaches. This allows you to switch them out whenever the mood strikes.
All images used are copyrighted and used with permission of the photographers/artists.