As difficult as it is for some of us to admit, autumn has arrived. The leaves are turning earthy reds and yellows while the chillier days are finally upon us. While shopping for the season's latest trends, perhaps a few vintage-inspired eco-friendly items may be something to consider adding to your wardrobe. For the yogis and surfers of the world,
Third Eye Threads
' duds are must haves. Creating handmade active wear that delights and honors meditative spirits, this Californian business is not just concerned with the bottom line. Third Eye Threads began its grassroots efforts in 2000 when it was founded by Anusara yoga instructor Chad Satlow. This entire clothing line features socially responsible and environmentally friendly designs produced in the U.S.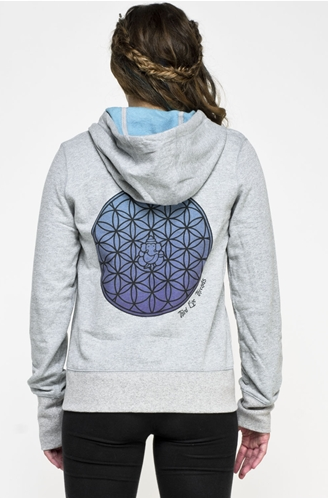 Maybe not all of our male readers are yogis or surfers, which makes Third Eye Threads' eco-hoodies a perfect solution for those guys in between. The
Green Outside Coal Inside Eco-Hoodie
(
$89
) shows off the flower of life symbol on front and back signifying all beings living as one with the universe. Not to mention, this cuddly hoodie is made entirely from recycled water bottles. And, if you're not into sweatshirts, Third Eye Threads offers an array of long-sleeve shirts (and T-shirts as well if the fall weather hasn't quite hit you yet). Now, for the ladies, Third Eye Threads makes a similar hoodie just for you. Its
Save the Planet Hoodie
(
$89; right
) is two-toned with a heather grey exterior and rich aqua interior. What you have to love about this product is that it's made from 100% recycled materials — 70% recycled cotton and 30% recycled polyester. Whether you are making a quick trip to the store or heading out for an early morning jog, this sweatshirt functions in a variety of ways just like you. And, of course, we can't forget the little ones at home. Third Eye Threads has you covered with an array of sweatshirts and long sleeves for the special little guy or gal in your life.
The Flower of Life Hoodie
(
$49
) is available in red and gray made using eco-friendly inks imported from Switzerland. Also, this particular hoodies is hand printed sublimations meaning this print is light and durable which won't wear down overtime. As you start your fall shopping, don't forget to check out Third Eye Threads and support this sustainable company. Approaching its 15th year of business, Third Eye Threads offers the perfect autumn gifts for all the important people in your life.
To get started on your fall wardrobe, visit thirdeyethreads.com.