Sometimes our green thumbs do not seem as vibrant as they once were. Change that by adding some spice to your gardening with the following cunning concepts for planter. Happy planting!
1. Succulent seashells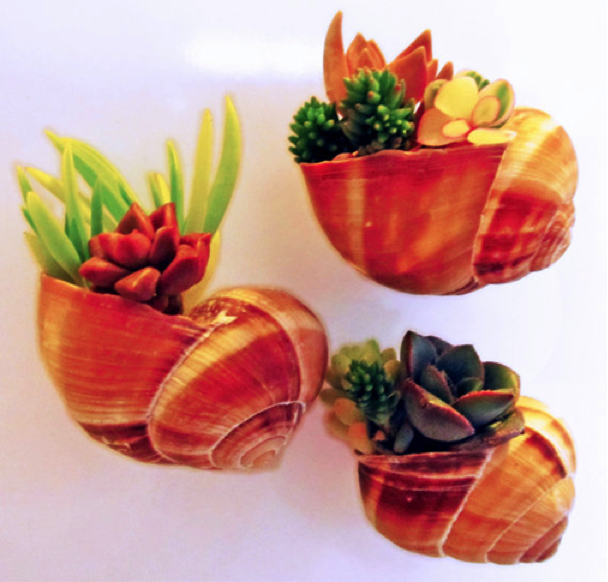 You know those shells that are gathering dust on your shelf? You know, the ones you brought home from vacation? Why not turn them into miniature gardens you can put on your refrigerator? These succulent gardens are mostly self-sustaining, so there is not a lot of work required for upkeep. These simply have a magnet affixed behind the shells, and did I mention they are adorable?
2. Rawr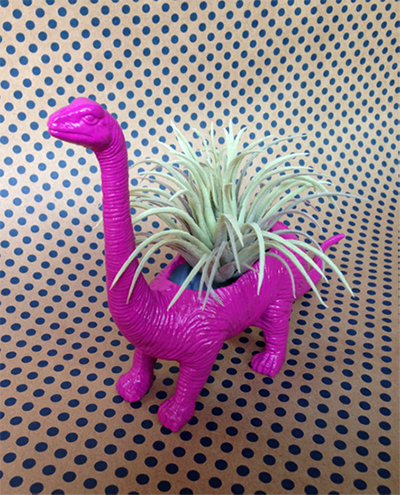 To make sure you have the coolest desk in the office, go back and look through those old toys you were planning on tossing. With a generic dinosaur spray-painted hot pink and exacto knife, you can have this bad boy brightening up your desk first thing Monday morning. Even better, order it from stringnthing and spend the weekend recovering from the past work week.
3. Log planter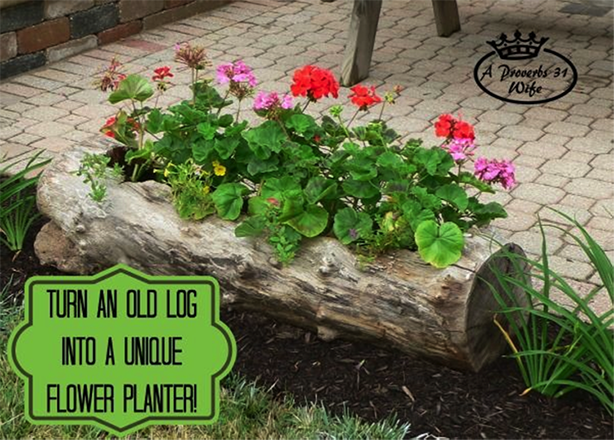 If you are looking for the ultimate in eco-friendly, this is your planter! With some gentle axing, and a little drilling at the bottom for drainage, this planter will be set for years. Besides, if the worst happens and your planter gets damaged, all you'll need to do is simply hollow out another one. Experiment with different lengths and wood types. White birch would look striking with brightly colored flowers.
4. Pallet herb garden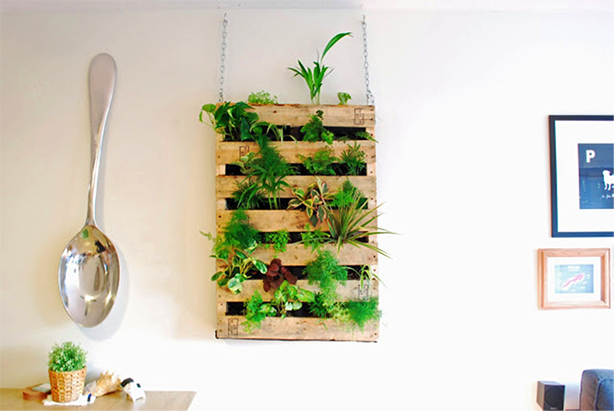 Pallets are all the rage right now. One of the reasons is not only their availability, but also their versatility. By making just a few modifications to your small pallet you can grow your own herbs, sprouts and small types of lettuce right in your very own kitchen. You might try taking this idea to the back of the house and plant some strawberries, green beans or gourds. Mix it all together and paint a picture with your green thumb, you modern-day Picasso, you.
5. Pop the cork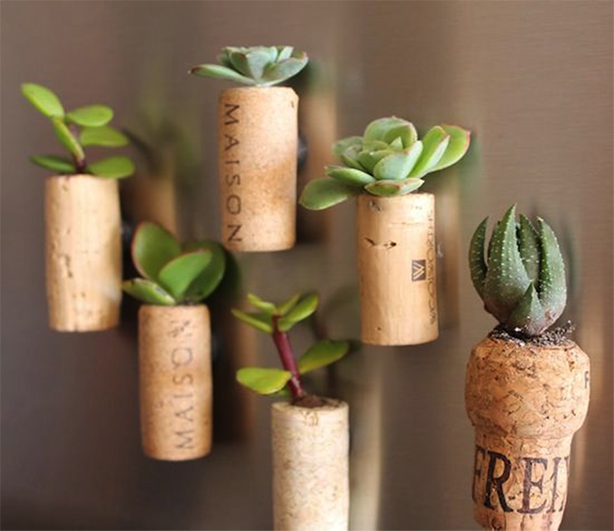 Like any good wine drinker, you have a place to save your corks. Maybe you saved them because they were pretty, or because the bottle it once belonged to marked a special occasion. Whatever the reason, here is a project that allows you to display your corks while giving them significant use at the same time. By planting succulents and attaching the corks to your refrigerator with a magnet, you can add a splash of color to your kitchen far from the standard children's artwork.
6. Green grills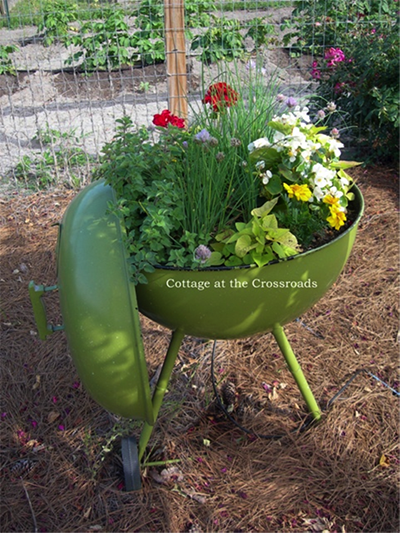 When the time comes to upgrade that grill, don't just toss the old one out. Let those rust holes in the bottom serve a new purpose by spray-painting the entire grill and converting it into a super cool flowerbed! One of the best features about this piece, besides being an obvious conversation starter, is its portability. Fill it and move it at your whimsy, or as the weather dictates.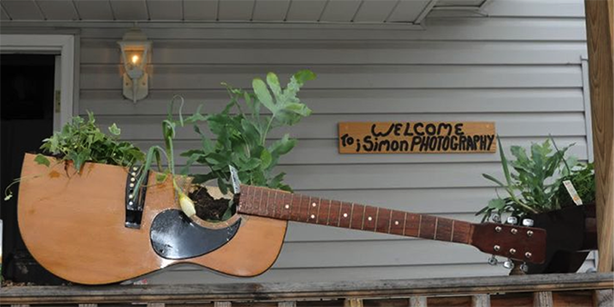 Sometimes, in rock 'n' roll, accidents happen. For instance, when you get so caught up in the moment that you accidentally smash your guitar after a particularly great gig. Bring that smashed guitar to new life and make something functional out of it. Peace lilies would be a great way to mourn your guitar's passing. Just a thought!
8. Ornament terrariums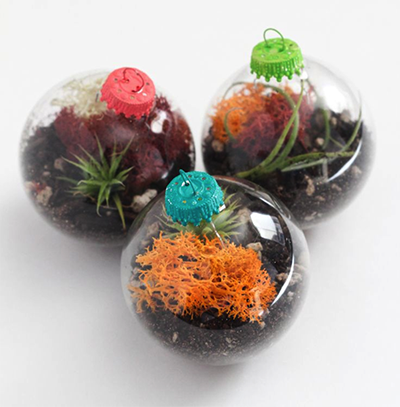 How does one simultaneously recycle Christmas bulbs, and become the coolest parent ever on show-and-tell day? With two little words: ornament terrariums. These bad boys are virtually self-sustaining, and look absolutely amazing. If you want to be the most awesome person in the office, whip up some of these and pass them out in December as an alternative to poinsettias.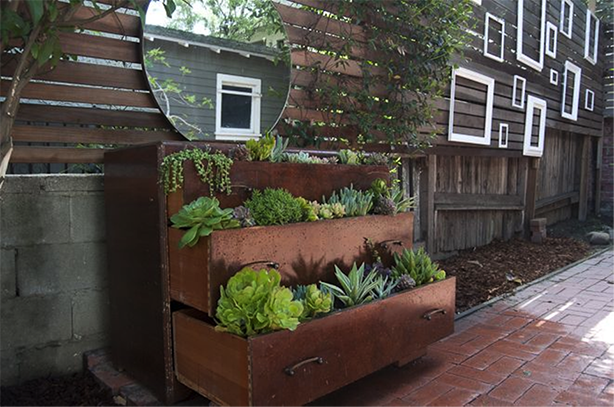 Old dressers on the side of the road can be converted into garden space. Live in an apartment? Place one on your patio and plant your own lettuce, onions, broccoli or other veggies. The great thing about this project is that the more beat up the dresser, the more rustic the look. You don't have to repair or stain anything to accomplish the aura you want.
10. Dresser redux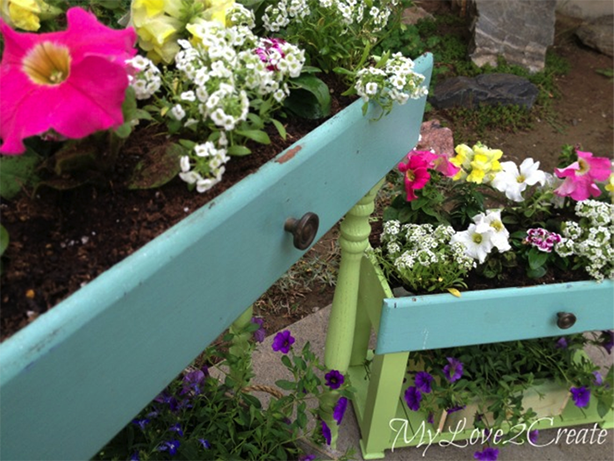 If the dresser idea appeals to you but you would prefer a smaller, trendier approach, why not go this angle? By painting a smaller dresser or end table in bright colors and planting coordinating flowers, you can create the appearance you desire. All that's needed (besides flowers, of course) is some leftover paint and a piece of furniture otherwise destined for the curb.
11. Swinging from the chandeliers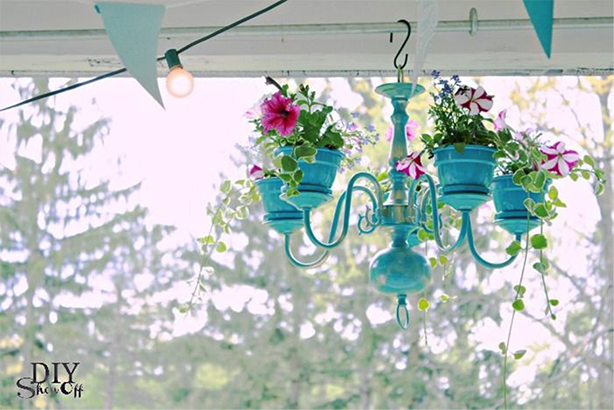 Nothing says "fancy" quite like a chandelier. Turning one of them into a flower planter offers so many possibilities. You could go rustic or elegant to begin with. Experiment with small ivy or climbing flowers. Paint the cups in a coordinating color. This is the perfect project to spruce up a boring porch, that's for sure. Whatever you do, make it as unique as you are.
12. Copper cans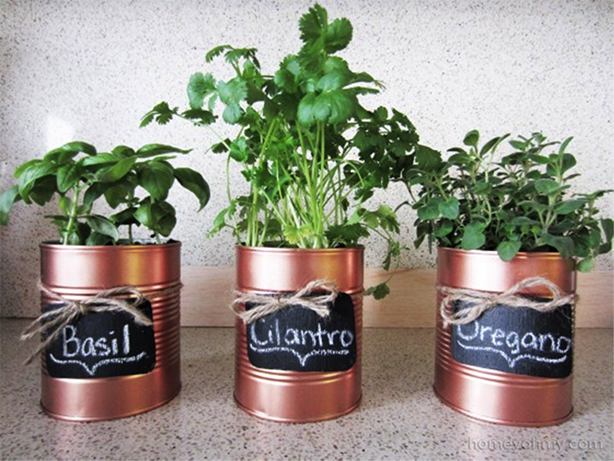 If there is a better way to recycle a soup can, I'm all ears. Grab you a couple of empty soup cans from the recycling bin, scrub off the label and glue, and then spray-paint them a copper tone to make them pop. Once the paint has dried, merely place a few holes in the bottom of each can and you're ready to plant. Don't forget about the chalkboard sticker signs! You can purchase them from the dollar store and they really add to the appeal.
All images used are copyrighted and used with permission of the photographers/artists.