As the holidays roll into the picture, there are plenty of eco-friendly kitchenware and dinner utensil options available to contribute to a healthier environment. This holiday season, instead of typical plastic and paper options that end up in landfills when disposed, consider trying the eco-friendly bamboo kitchenware and utensils from
Bambu
.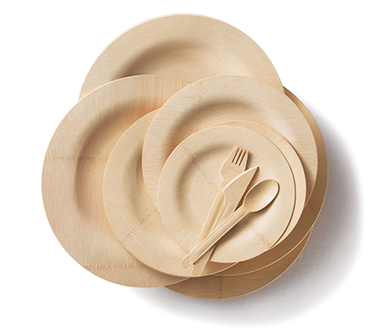 Bambu was founded in
Portland
, but the company expanded to Shanghai so its products could be locally handmade in a sustainable environment in China. After manufacture, the products are shipped out to the world. The company focuses on sustainability and has been recognized by many trade groups and associations for its organic and efficient practices. One of Bambu's popular lines of kitchenware is called
All Occasion Veneerware
(
right
), which consists of certified-organic, disposable products. The line is approved by the FDA, and it is entirely free of bleaches and dyes. Made to biodegrade within six months of being thrown out, the full collection is also chemical- and pesticide-free. Bambu's brainchild from more than a decade ago, All Occasion Veneerware consists of forks, spoons, knives, round and square plates and sporks. The items range from packages of eight to packages of 250, and the prices range from $8 to $75. The bamboo the company uses is grown without fertilizers and then cured, hand cut and peeled. Considered a sturdy, organic alternative to single-use paper and plastic kitchenware, these items are meant for one-time use before being thrown away. (Note: They are not recommended for the microwave or dishwasher.) The All Occasion Veneerware is a great option for disposable utensils and kitchenware for parties and other events. The line can add a nice touch to the holiday meal experience, as the products are more esthetically pleasing than typical paper and plastic kitchenware, adding a nice touch for visiting friends and family. Bambu also has plenty more lasting items to contribute to an eco-friendly table and kitchen this holiday season. These items include multiple styles of durable utensils, bowls, cutting boards and serving trays and much more. Consumers can also purchase bamboo products for other parts of the home. The company sells sustainable candle holders, rulers, decorative pebbles and even bamboo goo, which is used to clean surfaces made of bamboo, cork and wood. Also check out their products made of cork and hemp. The line can be found at a number of online retailers, including Bambu's official website. Other suppliers that have these items online along with other eco-friendly products are Joanne Hudson Basics, Broadway Panhandler and Eartheasy. Consumers might also want to search for discounted prices on Amazon and eBay. Lastly, the line can be purchased at department stores such as Sears.