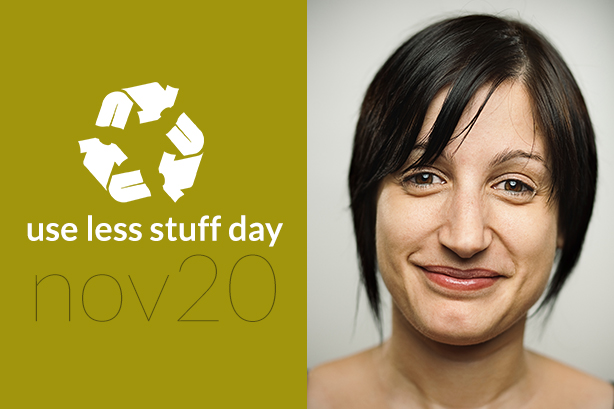 Many of us form an attachment to our apparel and accessories based on the memories they invoke. That sweater you'll never wear again brings back memories of your first love; the jeans you wore in high school hearken back to a simpler time, but the style doesn't suit you anymore; the list goes on. Even though it's absolutely necessary, it can be hard to detach. As the holidays are fast approaching and thoughts of cleaning your house to make room for your holiday parties are dancing in your head, there is an simple way to detach from your unwanted clothing-shoes-accessories clutter.
CR Home
is a mailback recycling program borne from
Community Recycling
, a
Philly
-based for-profit socially conscious recycling company, and an advocate for
The Reuse Movement
. As we all become more conscientious of how we are treating our planet, consider recycling for reuse instead of throwing out your unwanted stuff. It's the way to go. November 20, 2014 is the ninth annual
Use Less Stuff Day
. Celebrate by recycling, reusing and giving things away to people who will use them rather than throw them away with CR Home.
Ira Baseman
, the President of Community Recycling, explained CR's focus in a recent interview. "We elevate the mission of recycling for reuse as its own cause," Baseman started. "Recycling through reuse serves the highest and best environmental and economic impact. With reuse at the core, we raise awareness about the positive impacts as well as the personal experience surrounding the reuse of clothing, shoes and accessories." 1800Recycling asked Baseman the difference between sending materials to CR versus bringing them to a neighborhood thrift store with ties to a local charity. His encouraging response: "We are not seeking to compete with nonprofits. We want to take market share away from the landfills." That decrease in market share is significant, too. According to Baseman, CR is currently recycling "over 1 million pounds each week and [we] expect that this will grow." Recycling with CR Home could not be easier. No more hauling garbage bags to a roadside bin or a recycling center. To get started using the program, all you need is a box and your free shipping label. Just sign up online at
communityrecycling.biz/get-started
, print out your free shipping labels and you are ready to get started. Signing up generates a personal CR profile that allows you to print free shipping labels and schedule home pick-ups. You will also be able to view your CR Dashboard, an online recycling dashboard that tracks your recycled items and lets you view your environmental impact over time. Amazingly, you'll be able to see who is making new memories with your old favorite sweater. So, go ahead, pack up your stuff and have CR Home do the rest. After your items have been processed, they will be sent out to be reused and loved all over again. CR has more than 5,000 partner organizations across the U.S. and more than 50 other countries that partner with the organization to reuse materials or turn them into new products, thus helping to grow local economies and provide jobs all over the world.
To find out what CR Home accepts for recycling and any other questions you might have, visit communityrecycling.biz/programs/cr-home.
The reuse of clothing has a larger impact than recycling both plastic and glass combined, according to the Environmental Protection Agency. CR Home is a simple way to clean out your clutter and make a difference in our world at the same time.