Trying to sneak those last remaining crisp autumn moments outdoors? Here's an idea: Try an eco-friendly picnic in your favorite park. Packing for a picnic always sharpens my green living skills. What kind of food will we pack? What kind of utensils? Plates? Cups? Napkins? What will we sit on? The last question has often been whatever picnic table was available at the park or whatever blanket we could find to throw on the ground. But I wanted to share a few sustainable picnic blanket options that I have found that are beneficial to the environment and perfect for this time of year.
Picnic blanket from Wild-Poppies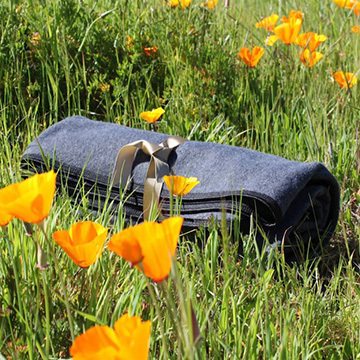 Wild-Poppies
started when two friends had a desire to help grow a stronger, greener U.S. economy by giving shoppers the option to buy organic cotton products, artwork made from reclaimed steel, furniture and lighting locally made from reclaimed and/or sustainable materials, artisan-quality organic soaps and much more. All of their products are sustainably made in the U.S. The brand also carries picnic blankets made from 100% recycled PET bottles (
right
). You can enjoy your picnic even more knowing that you've played a role in closing the recycling loop. Made in California, Wild-Poppies' blanket is also the perfect size to bring along while traveling, attending sporting events and heading to the beach. For more information, visit the
Wild-Poppies website
.
Papa's picnic blanket from ABAN
This next picnic blanket pulls at the heartstrings while helping the environment. Three amazing young women started
A Ban Against Neglect (ABAN)
to help empower neglected and vulnerable homeless young women by creating products made out of recycled plastic littering the streets of Accra, Ghana. ABAN is committed to ending the neglect of both these young women and their environment. Each limited-edition picnic blanket combines recycled plastic with traditional Ghanaian batik fabrics. To find out more about this wonderful group, visit
aban.org/handmade-in-ghana
. I have been pleasantly surprised that many of the parks and beaches in and around our area have well appointed recycling and garbage bins. If this is not your experience, remember to take out everything you bring in. To allow for easier cleanup, bring separate bags for trash, recyclables and compostables, and label them clearly. Now, get out there and enjoy the autumn weather!