There is nothing in this world quite like wrapping paper. It is purchased for its esthetics, only to be purposely destroyed. What if there was a way to preserve some of that paper in a way that made it not just beautiful, but also functional? Here are nine examples of ways to do exactly that.
1. Personalized clipboard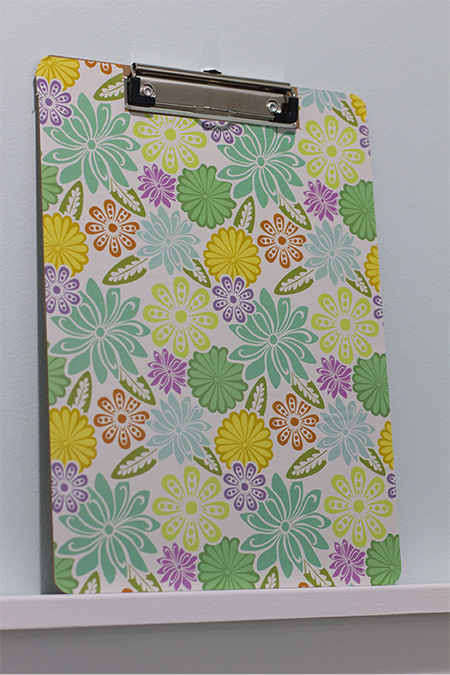 Use that leftover wrapping paper to create a unique, custom clipboard. Using just a plain clipboard, wrapping paper and Mod Podge you can whip one of these up in no time flat. These would also work for custom gift baskets. Make a clipboard and some unique stationary for a graduation gift, or use to congratulate someone on a new job. The irony of using wrapping paper for a gift in a gift basket is not lost upon us.
2. Paper tree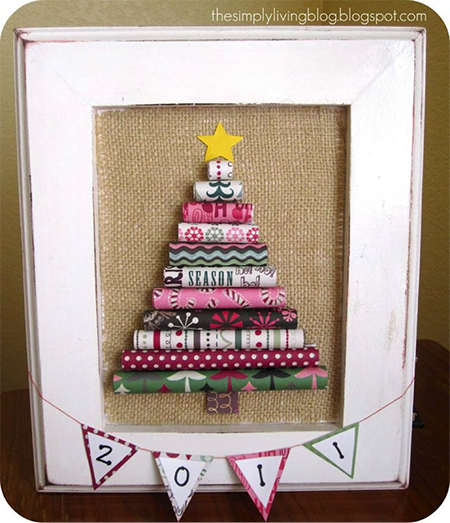 This is an excellent way to reuse those little scraps of wrapping paper left over when cutting them down to size to perfectly fit your presents. Luckily, your crafting skills don't have to be on Martha Stewart's level to pull this off. Using a ballpoint pen to wrap the paper around to create a roll, tape each in sequence and throw in some burlap and an old picture frame and
voilà
!
3. Envelope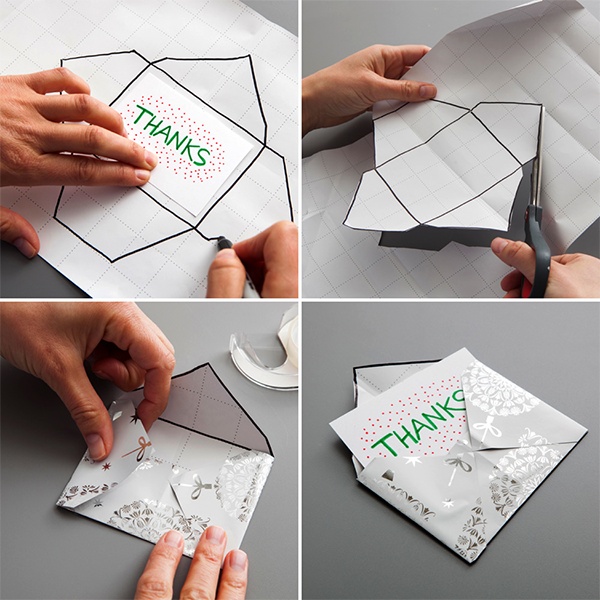 Are you ready to send out those post-holiday thank-you cards? Remind them of how deserving you were of that gift in the first place by sending your card in a repurposed envelope! This would really work well if it were possible to use the same paper the gift came in, sort of like an homage to their great taste.
4. Filing cabinet décor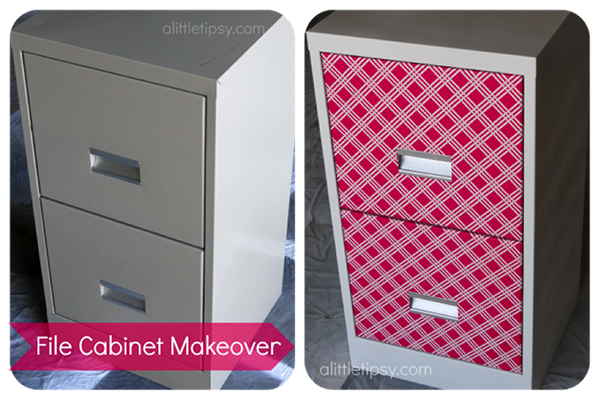 As a working adult, you will spend a good chunk of your waking hours in your place of employment, even more so if you are self-employed. Why not let that space reflect your epic style by sprucing the place up a bit? Using poster tape, you can not only achieve this look fairly easily, but also change it whenever you want a fresh look. Try changing them out with the seasons, allowing the bright colors of spring to chase away the gloom of winter.
5. Party hat
Impromptu parties happen. Be prepared year-round by saving your old wrapping paper. Loading up on sparkly, metallic paper during and after the Christmas sales will ensure that you can whip up a party hat for any occasion. If you have children, this idea is great for teddy bear picnics and tea parties. Your little princess will never throw a drab party for her dolls again!
6. Earrings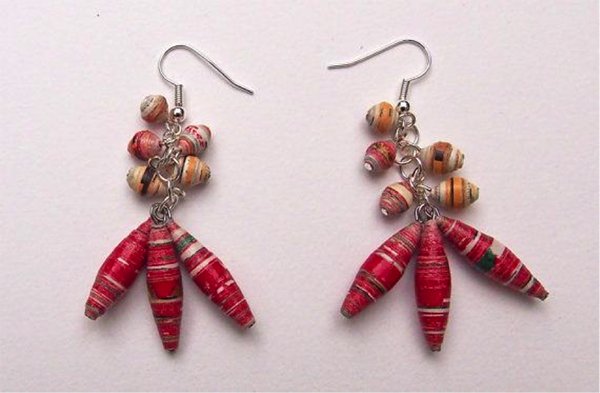 Wrapping paper comes in thousands, if not millions, of color and pattern combinations. Having the ability to turn the paper into beads for jewelry means that you will have something beautiful that no one else has and also that you will have jewelry to match any outfit. Once you get the technique down, you can make earrings, as shown above, necklaces or even dangly bracelets. Considering that each bead only uses a tiny amount of paper, they can be made from even the smallest amount of paper scraps.
7. Window frame décor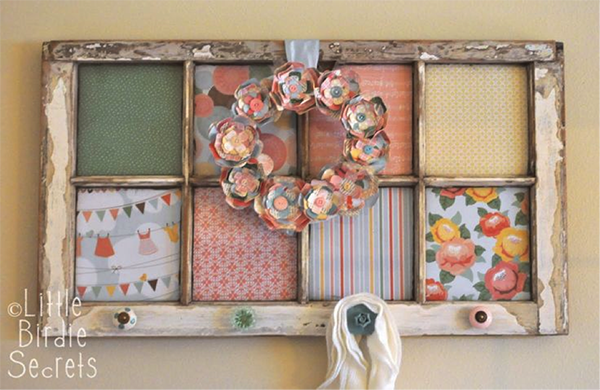 We have long been a fan of recycling window frames. Making a coat rack from one and adding wrapping paper to the back of panes makes this the true definition of shabby chic. Again, by using tape to secure the paper to the panes, the wrapping paper is interchangeable to match whatever your décor happens to be at the time. Change it for seasons, holidays and birthdays with ease.
8. Paper bow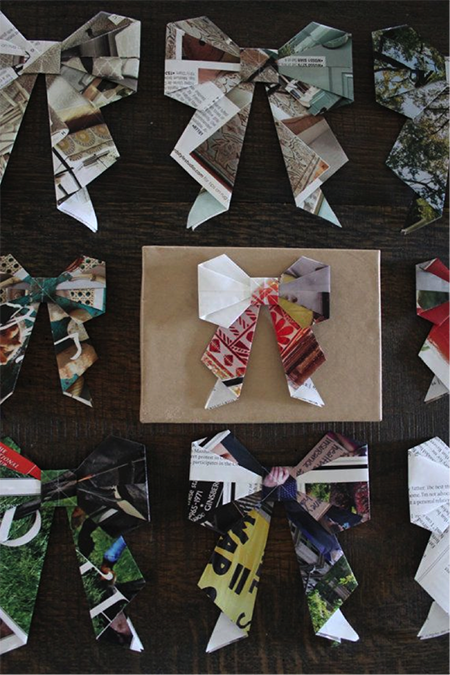 Let's be honest, adding the art of origami to your crafting projects can only be a great thing. Using that ability to create amazing bows to adorn packages and gift bags that show just how cunning you are. Make them in a multitude of sizes and have them ready for any occasion. You can also shellac them to a hair clip and show off your hipster side at the same time.
9. Pendant necklace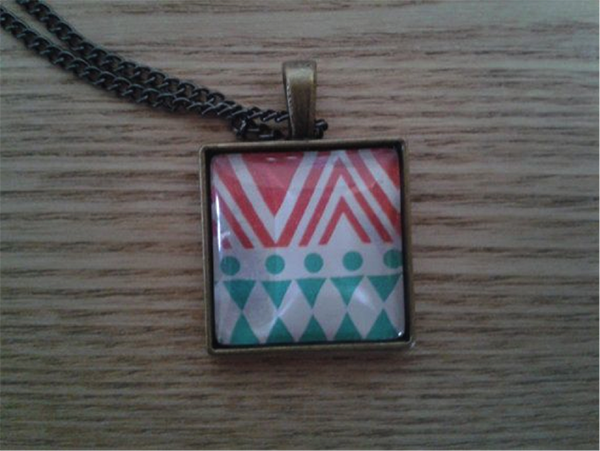 Pendant necklaces are very fashionable right now. With their ability to be customized, you can make a variety of beautiful necklaces for yourself. After your friends and loved ones see them, however, be ready to make more! Different shaped pendants will give you a different effect altogether. Try making charms for bracelets, or even earrings. Mix and match patterns and colors to express your own unique style.
All images used are copyrighted and used with permission of the photographers/artists.