Background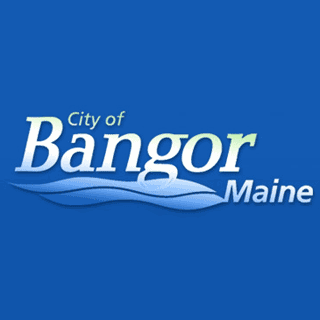 Maine's third-largest city, Bangor (pop. 33,039), also known as "The Queen City of the East," is home to a zero-sort (commingled) curbside collection program that serves all single-family households and small multifamily buildings (those four units or smaller). The city does not currently have a standard collection bin — typical 14-gallon blue bins were once distributed across Bangor, but production ceased. Today, residents are allowed to use their old blue bins, sealed clear plastic bags or a sturdy container (such as a trashcan, plastic tote, etc.) to collect their recyclables.
Materials recycled
Paper
White and colored paper, magazines, catalogs, newspapers and inserts, paperboard, corrugated cardboard, envelopes and junk mail, paperback books and shredded paper (in a sealed clear plastic bag) are accepted.
Plastics
Plastic tubs, jugs, containers and bottles numbered 1 through 7 (rinsed) are accepted. Remove lids and caps and place them separately in the recycling bin. No plastic bags, films, Styrofoam products or biodegradable plastics.
Metal
Aluminum cans (rinsed), steel/tin cans (rinsed), aluminum foil (clean), aluminum tins and trays (rinsed) and empty aerosol cans (caps removed) are accepted.
Glass
Glass bottles and containers (all colors; rinsed) are accepted. Remove lids and caps and place them separately in the cart.
Frequency
Bangor residents recycle at the curb on a biweekly basis, same day as refuse collection. A recycling collection day calendar is available
online
.
Other programs
A public recycling drop-off location is located near the city's Public Works facility at 530 Maine Ave. Various yard waste items may be collected and dropped off at the Public Works facility Monday through Friday, from 8 a.m. to 3 p.m. Residents can drop off leaves, grass clippings, branches and tree limbs.
Electronics End
, located at 173 Robertson Blvd. in Brewer across the Penobscot River from Bangor, is the area's e-waste recycler. Residents can bring electronics for proper recycling, including TVs, computer monitors, computers, printers, laptops, digital picture frames, game consoles, computer accessories, copiers, fax machines, cellphones, microwaves, CD players, DVD players, medical electronics, industrial electronics, lead-acid batteries, fluorescent bulbs, HID lamps, server/network equipment, ballasts and mercury-containing thermostats and devices.
The operation is open Monday through Friday, from 8 a.m. to 4 p.m.
More information
Visit the
City of Bangor Zero-Sort Recycling Program website
for more recycling program info.