America Recycles Day
arrives once again this Saturday, November 15, for the 17th year in a row. Events will be taking place across the country to encourage people to recycle and help beautify their neighborhoods. One of these eco-friendly events, called "Recycling is for Everyone," is hosted by
Temecula Recycling
in gorgeous Temecula, CA. Temecula Recycling works hard to make recycling easier for its Southern California community, with helpful offerings such as in-home pick-up of electronics and other large items. The company's mission statement affirms that it is "dedicated to achieving an environmentally sound resource conservation program that promotes sustainable habits." The "Recycling is for Everyone" event began September 29 and concludes on America Recycles Day. The recycling center, located at 27635 Diaz Rd., will be celebrating the day by decorating a banner spreading recycling awareness and by giving away stickers, pencils and pens in an America Recycles Day kit. Candy and food may also be given away on November 15.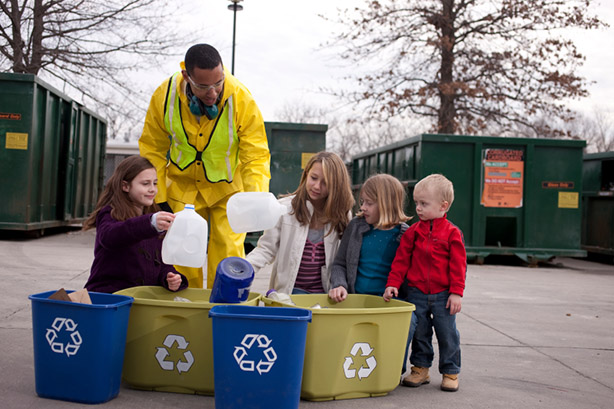 According to Jane Laskin at Temecula Recycling, the center is also very excited about the new law passed in California, SB 270, which will
ban single-use plastic bags across the state
beginning in July 2015. In an effort to support the bill, the facility has started giving away free reusable bags for those who stop by, with plans to continue doing this until 2016. Facility tours are a popular option for Boy and Girl Scouts, employees of corporate offices, troops and school groups. Boy and Girl Scouts can earn their recycling patches by participating in quizzes given to student tours. Students who visit the facility are encouraged to bring their own items, such as shoes, clothes and scrap metal, to recycle for cash. Laskin says she is pleasantly surprised the students have been showing a lot of interest in improving their recycling knowledge. Temecula Recycling is also committed to deeply embedding itself in the community by partnering with other local companies, such as Organic Roots. Organic Roots is an all-organic and natural foods market that has called Temecula home since 1989. The recycling center supports the store by promoting non-GMO foods along with gardening and composting. Although Temecula Recycling has been celebrating America Recycles Day for a few years now, this year the company is more prepared for the day than ever before. The recycling center is interested in making the nationally recognized day of awareness one that more people in the area know about.
To learn more about Temecula Recycling's America Recycles day event or other events taking place at the recycling center, email info@temecularecycling.com. To learn about America Recycles Day events going on near you, visit americarecyclesday.org.