If you are looking for something extraordinary for a certain special someone this holiday season, here is a great idea for you.
Kirsten Muenster Jewelry
is not only gorgeous, but the company also uses a transparent supply chain, which is important in an industry that is fraught with human rights violations, toxic waste and environment damage. Kirsten Muenster, the founder and designer of the jewelry line, works with 100% recycled precious metals and only sources stones from small, family-owned mines and individuals who hand collect, cut and polish the materials themselves. Below is the beautiful
Petal Ring
, created with recycled, oxidized sterling silver. This one-of-a-kind piece costs $200.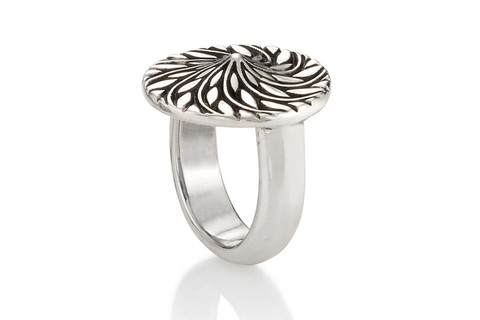 According to Ms. Muenster, "The stones I use have a clear and trackable mine-to-market custody chain. The vintage elements are reclaimed, repurposed or have been passed down through generations: copper-flecked firebrick from an old furnace, recycled metal, my grandmother's glass buttons. Everything is carefully researched, so there's an understanding as to where they come from and whose lives they may impact. Each element captures a moment in time; every piece tells a story." This stunning
Montana Agate Pendant
is formed using recycled sterling silver, a beautiful Montana agate stone and a vintage gunmetal chain. The cost is $240 for this beauty.
Every piece of jewelry from Kirsten Muenster Jewelry comes with a card featuring information about the materials used specifically for that piece. The cards are printed near the artist's
San Francisco
hometown on 100% recycled paper with vegetable-based inks. Also, each piece is packaged separately in a black gift box with green ribbon. The box and ribbon are made from 100% recycled paper and vegetable dyes.
For more information about Kirsten Muenster Jewelry, visit kirstenmuensterjewelry.com.