If you are in a rural area, odds are you have an old wooden ladder or two lying around. I not, they can easily be found with some digging on Craigslist or at nearby garage sales. For our purposes, we will look at ways to reuse and repurpose old wooden ladders to create things you had not thought of before.
1. Picture gallery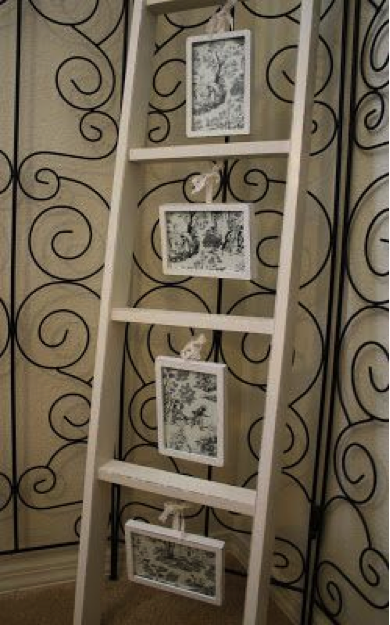 An old wooden ladder just screams, "repurpose me!" If you have one that leans (rather than folds open) place it in a corner while making it a hanging picture gallery! With a coat of paint, and some cup hooks, your ladder will be ready for you to hang up pictures with ribbon or twine. Try painting the rungs and sides in contrasting colors. Teal and white, black and white, or even a dark stain and light.
2. Display shelf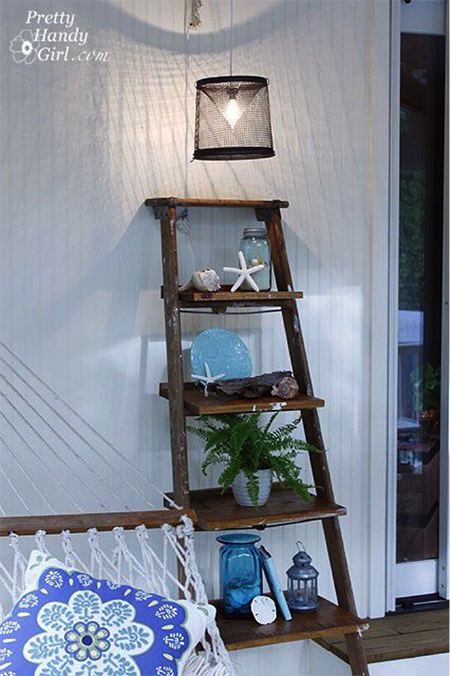 Trendy shelving units that look like ladders can set you back a few hundred dollars. Why spend that kind of money when you can get the real deal for a fraction of the cost? You can have this functional shelf built and ready for display in a Saturday afternoon. All that is needed in the main rung side of an old ladder and scrap wood.
3. Pot rack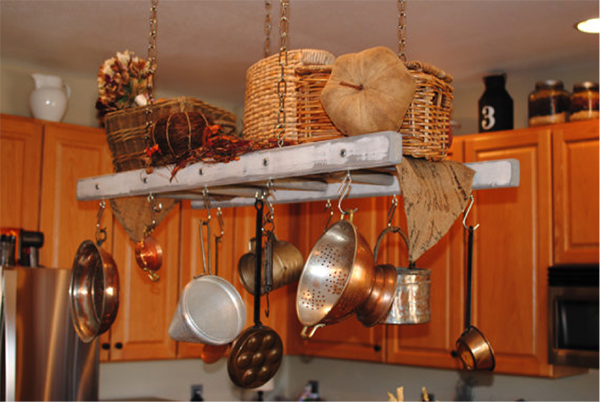 Ladders in general must be sturdy, and sturdy is just what you need when hanging pots and pans above head. Stain the ladder to match your cabinets, or leave it for a more natural look. Hooks are drilled into the sides, but can also be hung off of the rungs. Also, as the picture suggests, the top can be used for light storage.
4. Towel rack
Ladders that have been partially damaged can still be useful medium for repurposing. Use one of the larger rungs available for a towel rack. For continuity purposes, you can use a smaller one for hand towels, and as the base for your toilet paper roll holder. You can always experiment with stains and paint to match your existing décor, or even paint flowers or designs on the sides.
5. Desk ladder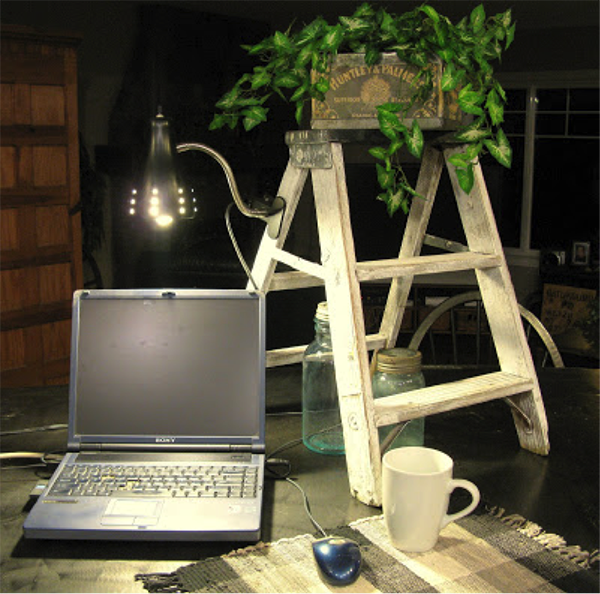 If all you have on your hands is a small stepladder, do not fret! This is a very creative way to make it purposeful. They are perfect for small places like your desk, especially if you attach a light. If you decide to paint it you don't have to stop there. Try distressing the paint for a rustic, shabby-chic look.
6. End table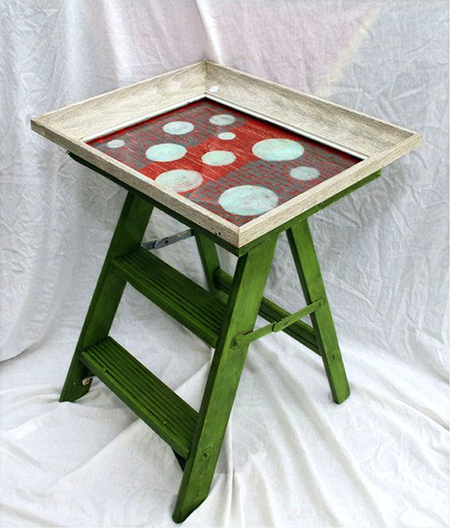 Here we have another small yet useful stepladder that has been repurposed. Affix a large picture frame to the top to create a cute and functional end table. If you are a gamer, the example given shows how this would blend well with a Super Mario theme. Or, paint the ladder black and use vintage photographs or ads in the frame. Whichever route you go, what a conversation piece!
7. Coffee table
A single-sided ladder can be cut into four pieces and made into a beautiful, rustic coffee table. Leave it splattered and weathered, like the example here, or strip it and stain it to match a room's existing color scheme. Thick, tempered glass completes this look, and adds to the table's charm. If you have a double-sided ladder, why not make a coffee table and two end tables?
8. Rolling ladder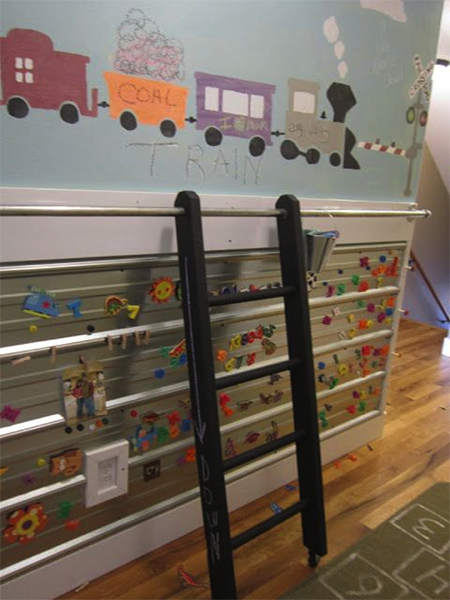 For those of you with little children, keeping them occupied can be a challenge on days when the weather is bad. This is an amazing example of turning an otherwise plain wall into an activity center that will keep them entertained for hours on end. Using a ladder lets the smaller ones reach higher-up places, and placing wheels on the bottom assists with mobility (and in the process, protects your floors).
9. Christmas tree, O Christmas tree!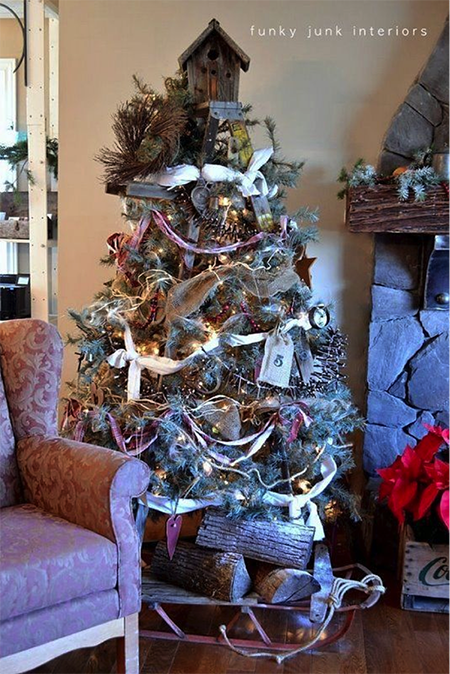 Stuck with a fake tree that is anything but festive? Liven it up by adding a ladder to it. Yes, you read that right: Add a ladder to the tree. It presents a certain width and structure that you could never get with a tree alone. Not only does the ladder add decorative surfaces that you would not otherwise have, but also everyone that visits will be so amazed that you incorporated an actual ladder into your setup. Hopefully, so much so that they won't even notice if your tree is fake!
All images used are copyrighted and used with permission of the photographers/artists.