The holiday season has arrived, so now is the perfect time to start thinking about what gifts to give friends and family. This is especially true for those who get more excited than anyone else for the holidays: kids. Since plenty of kids toys are plastic and break really quickly, it is a great idea to pick a good, quality gift that will last. An eco-friendly, durable gift kids will love is the
Truck Push Cart
from
Manny and Simon
.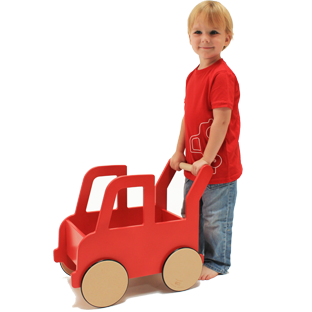 Based in Southern California, Manny and Simon is a company offering a variety of different children's products, ranging from clothes and toys to furniture. The company's main interest is to provide high-quality products that activate the imaginations of children. Manny and Simon is also focused on being socially and environmentally responsible by using organic and eco-friendly methods to create its products. The company and its products have been featured in magazines like
Martha Stewart Living
,
Daily News
and
People
and are favorites of celebrities like the Kardashians. The eco-friendly wooden Truck Push Cart is a fun, new twist on a classic kids toy. It is not a tiny truck for kids to crouch next to and push forward with one arm. Instead, it is a standing truck with a wooden bar behind it, for a kid to stand, walk, and run as he or she pushes it forward with the whole body. It is the perfect toy for little ones to run around and be active, while using their imagination to become a firefighter, policeman or simply even a truck driver. According to Manny and Simon's website, the Truck Push Cart is made from 100% preconsumer, domestically grown wood residuals. The wheels are sustainably harvested maple. The toy is also painted with nontoxic, water-based, zero-VOC paint, which has been given the Green Wise certification mark. It comes in bright navy and red and is 17 inches tall, with a width of 11 inches and length of 20 inches. All of Manny and Simon's products are shaped to be safe for young ones, with no sharp edges or pieces. The Truck Push Cart retails for $150. It can be purchased online or found at a number of children and infant stores. Although it may be pricier than other toys you might consider, it is built to last longer and make a great impression for the little one who receives it. Children 6 months and older can use the Truck Push Cart. This toy could be instrumental in helping the little ones in your life as they are just learning to walk, or it could be for that rambunctious toddler who cannot get enough of running around with all his or her might. Either way, it could be the perfect gift for them this holiday season.
For more information about Manny and Simon or the Truck Push Cart, contact the company by email at info@mannyandsimon.com or by phone at 877.343.4803.