For that notoriously hard-to-buy-for foodie who loves to cook in your life, I have the perfect gift. My husband, who knows his way around the kitchen, dropped his jaw when I showed him the photos of
Heartwood Forge
's beautifully crafted, heirloom-quality kitchen knives. They are pricey, but worth every penny, as they do not skimp on quality and each comes with a lifetime guarantee. The knives are borne out of one man's passion for reclaiming useful materials and his love of forging and creating. That man, Will Manning, is the owner, designer and knife maker at Heartwood Forge.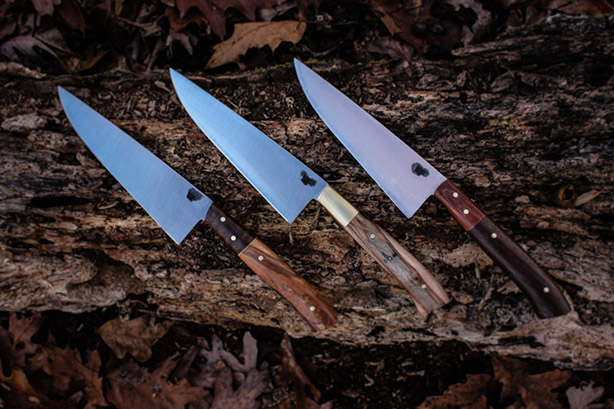 An official statement from the Heartwood Forge website: "Heartwood Forge is an inspired knife-making shop located in the low hills just north of Athens, Georgia. Owner Will Manning designs and hand makes knives from high performing reclaimed carbon steel and reclaimed wood. Together, these repurposed materials become knives that are equally beautiful and useful. With an aim to alleviate environmental stresses through selective materials sourcing, Heartwood Forge produces knives that exude purity and performance with heirloom elegance." All of the carbon steel selected for Heartwood Forge's blades comes from reclaimed lumber mill saws. Most of them are sourced from a father-and-son-operated mill near Wrens, GA, along with others from around the Southern Appalachian region. According to Manning, "This steel is some of the most durable, strongest metal available, which makes for similarly sturdy knives." The handles are made from wood sourced from various origins, all of which are reclaimed or scavenged and beautifully treated for comfortable slicing and chopping. To see the incredible artistry that goes into each and every knife, take a look at Will Manning creating a one-of-a-kind knife:
Heartwood Forge from Kevin Johnson on Vimeo.
For more information about how to order your inimitable Heartwood Forge knife, visit heartwoodforge.com.