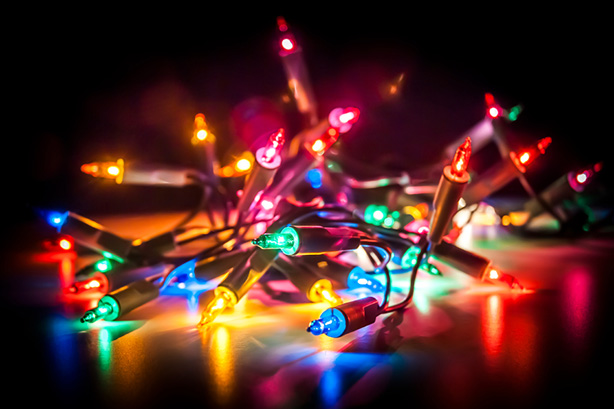 The satirical Christmas song "The 12 Pains of Christmas" does a good job of summing up how many people feel about Christmas lights. An irate-sounding man blurts out lines like, "One light goes out, they all go out," and "Now why the hell are they blinking?!" Whether that tangled mess of Christmas lights in your closet is working, not working, out of style or just too much work to hang on the side of the house every year, fear not: There is a way to recycle them. Does that make you want to sing "Joy to the World"? Read on.
What are Christmas lights made of?
Christmas lights are made by coating copper wire with polyvinyl chloride (also known as PVC or by the resin code #3) and adding some light sockets (copper or brass and plastic). The bulbs are also a combination of metal, plastic and, if you have an older set of lights, glass. The makeup of Christmas light strings has changed little over the years. The biggest difference is that early strings were not very safe and caused a lot of fires in homes. In the early 1900s, manufacturers and independent safety certification company Underwriters Laboratories worked to create safer wiring that would not catch fire. Christmas light bulbs, however, have undergone several revolutions. The earliest bulbs, which adorned
Christmas trees
in the homes of wealthy people and at The White House in the late 1800s, were made of blown glass or porcelain. In the early 1900s, it was fashionable to buy hand-painted bulbs shaped like animals and flowers from the Kremenetzky Electric Company in Vienna. For a while, bubble lights, candle-shaped pieces of glass that gave off a flickering light similar to flames, were all the rage. More of us probably remember the giant incandescent bulbs from childhood — or maybe just from dated holiday pictures of our parents. Smaller, more elongated bulbs became the standard in later years. These days, energy-efficient (and blindingly bright) LED bulbs are well on their way to gobbling up the Christmas light market.
How do Christmas lights get recycled?
The key to recycling Christmas lights is to separate the copper, which fetches the highest value, from the plastic. To do that, recyclers chop the strings into small pieces and pull out the different materials. The copper can be used for things like new wire and pipes. The plastic is turned into consumer products such as the soles of slippers. Almost all Christmas lights get recycled in China. If you want a detailed description of how Christmas lights get recycled, check out
this video
from
The Atlantic
. A reporter takes you on a tour of a Christmas light recycling facility in Shijiao, China, which the magazine calls "the Christmas light recycling capital of the world."
How to recycle Christmas lights
There are lots of options for recycling Christmas lights. In the past, both The Home Depot and Lowe's have collected Christmas lights for recycling. Check with your local store to see if it currently participates in these programs. A company called Holiday LEDs will take your old lights for free — and give you a coupon for 15% off your next order of energy-efficient LED Christmas lights from its vast selection. People who live near their facility in Elm Grove, WI, just outside of
Milwaukee
, can drop off unwanted lights during the hours listed on the
company's website
. Around the holidays, Holiday LEDs sets up additional drop-off locations at grocery stores in several cities. You can also return your Christmas lights to Holiday LEDs by mail. The company requests that you remove all cardboard packaging, plastic light holders and other debris before piling them in a box and putting them in the mail. There is no charge for the service other than the cost of postage. Christmas Light Source will take your lights for free, give you a coupon for 10% off purchases on its website, and if that isn't enough to put you in the holiday spirit, it sends all the proceeds from recycling Christmas lights to the Dallas-Fort Worth chapter of Toys for Tots. Mail your unwanted lights to the address listed on
Christmas Light Source's website
. These recycling services are also free.
How to reuse Christmas lights
If your Christmas lights still work, consider donating them to a thrift store that can sell them at holiday time (check with your favorite charity to see if it is interested before you drop them off). Friends or neighbors may want them, or churches may be able to put them to use on their own Christmas trees. Remember: Christmas lights can be used at other times of year, too. Buy some of those plastic lights covers in the shape of Easter bunnies, chili peppers or flip-flops and you have colorful decorations for many different seasons. White lights are beautiful for weddings and other special events. Colored lights have adorned many a dorm room, creating a soft, colorful glow that stands the test of time.