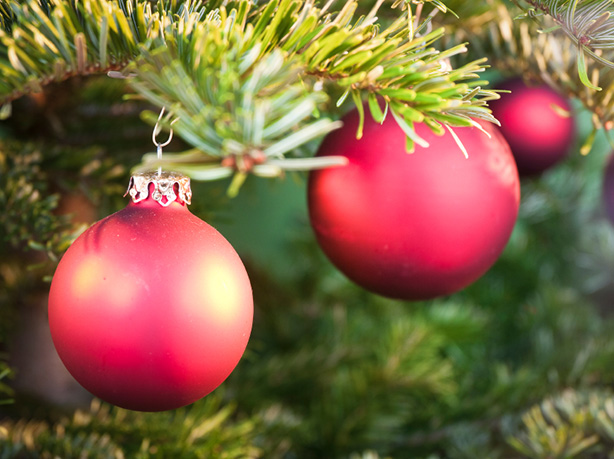 There is so much to do before Christmas that people often do not give much thought to what happens immediately after the holiday is over. For example, how do you recycle your Christmas tree and any unwanted ornaments? Live Christmas trees can be composted, which makes them easy to recycle. All you have to do is find someone who will take it away for you (and in many cases, that "someone" may be the same people who pick up your curbside recycling). Christmas lights, one of the most common holiday decorations, are also reasonably easy to recycle. Artificial Christmas trees and Christmas tree ornaments are another story. It can be harder to find someone who will recycle these items, but many of them can be reused. Grab a cup of eggnog (or whatever brings you holiday cheer) and let us walk you through the details.
How to recycle live Christmas trees
The best way to recycle a Christmas tree is to compost it. Many municipal recycling services ask you to place your tree at the curb shortly following the holiday for convenient collection. Rockville, MD, and Tacoma, WA, both offer this service.
Knoxville, TN
, does not offer a curbside pick-up program, but it does allow residents to drop off trees at several local recycling centers at no charge. Another option: See if any nonprofits in your community pick up Christmas trees for recycling. Many Boy Scouts troops offer this service for a small fee. In
Eugene, OR
, the Active 20/30 Club also offers a Christmas tree pick-up. The organization will take the first tree for free; subsequent trees are picked up for a suggested donation. You can also cut up your old tree and use it for firewood. Smaller branches may be able to go in your green waste bin (if your community offers this service). Before you place your tree out for recycling, make sure you have removed all decorations, tinsel, lights and other debris. Unless specifically requested, do not wrap trees in plastic bags. In most cases, flocked trees cannot be recycled.
How to recycle artificial Christmas trees
Artificial Christmas trees also cannot be recycled, but there are ways to reuse them. If your tree is still in good shape, see if you can donate it to a thrift store or sell it on Craigslist. A blog post on
Tree Classics
, an artificial Christmas tree manufacturer, suggests cutting the best limbs off an artificial Christmas tree and using them to create wreaths, garlands and other home decorations. You can also opt to break the "green" parts off the metal branches and then
recycle each individually
, although this option is admittedly unwieldy.
How to recycle Christmas tree ornaments
Christmas tree ornaments are made with all kinds of different materials: glass, clay, wood, paper, plastic and more. The first step in determining whether you can recycle your ornaments is figuring out what they are made of. It is difficult to recycle glass unless it is in the form of a bottle or
jar
, so chances are you cannot recycle balls and other glass ornaments.
Fired clay
is not recyclable, so those cute animals and letters are not recyclable.
Treated wood
cannot go in your recycling bin, so unless you have completely untreated shapes hanging on your tree, they will need to go in the trash. Plastic toys and ornaments are also tough to recycle, so unless your community has a really thorough plastic recycling program, you will not be able to recycle them. Paper Christmas tree ornaments can be recycled in most cases. If your kids decorated a paper ornament with macaroni noodles, photographs, glitter, ribbons or other embellishments, remove and throw those away and recycle any remaining paper. The other option for disposing of unwanted Christmas tree ornaments in an eco-friendly way is donating them to a thrift store. Many places will accept ornaments and sell them to other people looking for new ways to dress the tree. If you want to make your own Christmas tree ornaments from materials you know you can recycle, there are many websites full of great ideas. Besides Pinterest, check out
this blog post
from
Better Homes and Gardens
magazine on recycling Christmas cards into ornaments and other decorations.
WooHome
has some fun ideas for using common household items for Christmas tree decorations.
How to recycle Christmas tree lights
Christmas tree lights are one of the most common decorations. They can wear out pretty quickly, though, so you may find yourself needing to recycle them frequently. As more people switch to energy-efficient LED lights, they are also interested in responsibly disposing of old, unwanted lights. National chains The Home Depot and Lowe's have both collected Christmas lights for recycling in the past. Check with your local store to see if they participate. There are also several places you can mail Christmas lights for free recycling services. One example is
Holiday LEDs
. Check out the organization's website for mailing instructions. It does request that you remove all cardboard packaging, plastic light holders and other debris before sending them. Some scrap metal dealers will accept old lights for recycling (the copper inside the wires is very valuable). Check with your local scrap metal company to see if it is interested in your old Christmas tree lights.