Still stuck looking for a holiday gift or two? For many of us, this is a great time to look into sturdy, practical gifts that will consistently come in handy and last a long time. Many environmentally friendly gifts will fit these criteria, but I want to point out
Reveal's recycled fabric mobile and tablet cases
.
Seattle
-based Reveal makes a variety of sustainable, earth-friendly, luxury items to complement tech devices. The company was founded by Terry Omata and Jiaying Wei as they were travelling through Asia, South America and Africa while yearning for a product that combined style, sustainability and mobility.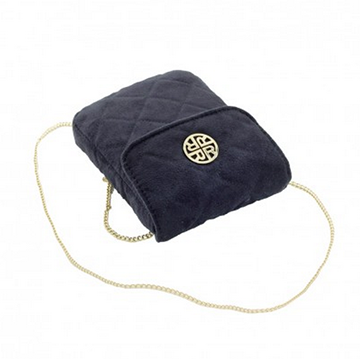 All of Reveal's products are created based the company's "4R Philosophy." This philosophy includes making sure all of Reveal's creations expose a way to design products sustainably, uncover the power of technology, create partnerships with organizations that are making a difference and show beauty from all over the world in their products. The recycled fabric mobile and tablet cases are perfect accessories for the new iPads and iPhones out this holiday season, but they are also ideal for plenty of other devices. They come as purses, clutches and cases for all of the latest tablets and smartphones. One great example is the
Boulder iPad Case
(
$68
), which features a gray, horizontal quilted design with double-snap pockets in the front. Inspired by the snowy mountains and sunshine of
Boulder, CO
, the case is made out of recycled fleece and recycled microsuede. Or, if you are looking for a case for your phone, the
Cassi Smartphone Cross Body
(
$68, above
) could be the best option. It's large enough to fit any smartphone and is meant to be worn across the body. It comes in tan, black and pink, and although it looks like it is made out of real suede, it also derived from recycled materials. Reveal's recycled fabrics, such as fleece and suede, are created from post-consumer plastic bottles. The company also utilizes other sustainable materials such as vegan leather, linen made from flax plant and zippers made with 10% recycled polyester tape and 30% recycled metal sliders. Reveal also stays true to its environmentally conscious commitment through programs such as Project Replant. The company partnered with
American Forests
, a nonprofit conservation organization, to plant a tree in a damaged ecosystem every time a Reveal nature tech product is purchased. Today, the nonprofit has planted more than 45 million trees around the world, and its goal is to have 100 million planted by 2020. Reveal also offers a program to protect wildlife, and the company is working on a new project to help those in impoverished areas. Reveal's products are available for purchase on its website or at a variety of tech stores. You can
click here
to find a store near you. Reveal's recycled fabric mobile and tablet cases may be the ideal holiday gift for loved ones, whether they need a nice accessory for going out or just a secure place to put valuable electronics.
For more information, you can contact Reveal at info@revealshop.com.