With the holiday season already here, it is time to start thinking about the perfect gifts for friends and family. A great thing to keep in mind while searching for a present is how it will suit the recipient's unique personality. Instead of doling out gift cards or other common gift ideas, you could aim to find an original item that seems like it was created especially for that person. Whether your recipient is a music fan or a lover of decorations, Protect the Planet's
recycled vinyl presents
could be perfect gift this season. Based in the U.K., Protect the Planet is the leading retailer of eco-friendly giftware. It has all kinds of products for adults, children and even pets. Protect the Planet's products are all recycled or reused and made of materials such as FSC-certified wood.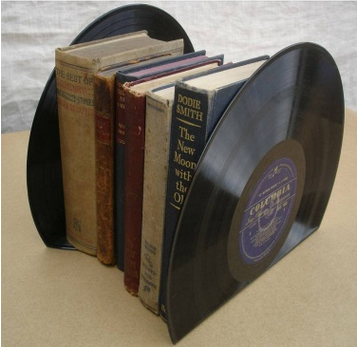 The recycled vinyl collection contains a variety of items made of old vinyl records that were saved by charity shops. The collection features a range of pieces, from kitchen items such as cake stands and bowls, to other household decorations such as bookends and clocks. One item, the
Fluted Vinyl Record Bowl
, is a retro option for a place to put snacks or simply set out as conversation piece on the coffee table. Made out of actual records from the past 60 years, its traditionally flat edges are crimped up in a wavy pattern to shape out the bowl. This 12-inch bowl only costs £12.99, or about $20. Another surefire hit: the
Large Recycled Vinyl Record Bookends
(
right
) for only £16.99 (around $27). These have been made from vinyls that had the bottom portion cut out so they can stand upright on surfaces. The bookends could be the perfect gift for a booklover, or they could be used to hold CDs or even, yes, vinyls intended for listening pleasure. During the holiday crunch, Protect the Planet will dispatch in-stock items within 48 hours of purchase, and even their packaging is environmentally friendly, staying true to the company's mission. Items are packed with either bubble wrap reused from suppliers, biodegradable bubble wrap, or 100% biodegradable tissue paper. All of the packaging is reusable, and if you are not satisfied with your item, you can return it within 30 days for a full refund. Protect the Planet gives customers the option to help the environment in other ways as well. While purchasing an item on the online store, you get the option to donate your money to
Plant a Tree Today
, a U.K. charity that ensures trees are planted around the world. The charity is also deeply involved in environmental education and consults businesses that wish to better focus on sustainable practices. If you are looking for the perfect gift for the green-minded music lover with retro flare, Protect the Planet's recycled vinyl presents could be the answer.
For more information from Protect the Planet, visit protecttheplanet.co.uk.