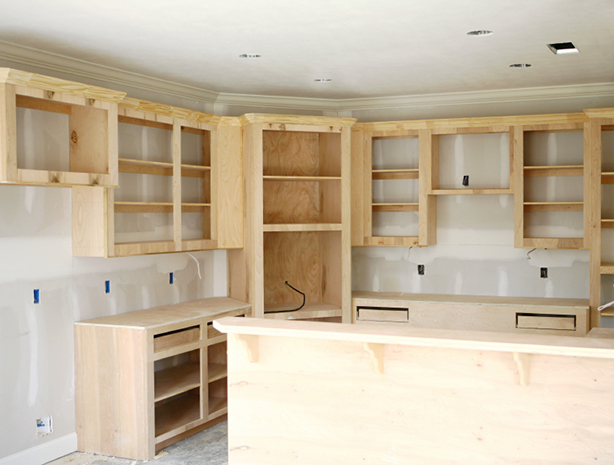 Congratulations! You are finally ready to remodel that outdated kitchen into a place where any Food Network star would be proud to cook. But before you get too far into the process, it is worth thinking about how you will recycle or reuse as many of your old fixtures and features as possible. One of the biggest items you may be planning to remove from your old kitchen is the cabinets. Since kitchen cabinets are such a high-ticket item, it is possible you may be able to sell them. Charities that accept building materials may also be very interested in your kitchen cabinets. If your old option is to recycle them, that may be easy or hard depending on what they are made of. Read on for more details.
What are kitchen cabinets made of?
Kitchen cabinets are made of wood. The question is what type of wood. Untreated wood (that is, wood that does not have any varnish, stain or paint) can be recycled into a number of different products. It can be chipped and used in compost or mulch. It can be turned into particleboard or chipboard lumber. Many places burn wood for fuel, which is not exactly recycling, but it is better than putting it in a landfill. If the wood in your kitchen cabinets has been treated – and there is a pretty good likelihood it has – it cannot be recycled. Since recycled wood goes into products like compost or mulch, it is important that hazardous chemicals do not make their way into the material. Treated wood should also not be burned, since the chemicals on it will be released into the air. Kitchen cabinets made of particleboard, chipboard or another composite material should also not be recycled. These products are made by chipping up old bits of wood and adding glue to make sheets of lumber. The glue often contains formaldehyde and other toxic chemicals, making it impossible to safely recycle. When you start thinking about your options for disposing of your kitchen cabinets, your first step is to determine what type of wood is in them. From there, you can determine if your kitchen cabinets can be recycled, reused, or simply thrown away.
How to recycle kitchen cabinets
If your kitchen cabinets are made with untreated lumber and you want to make sure they get recycled, you will likely need to drop them off at your local recycling center. If the cabinets are covered with kitchen paper or a similar material, remove it and throw it away before you place the wood in the recycling bin. When you start checking local websites to find places that recycle wood, make sure they take lumber and not just tree branches and other yard clippings. A number of cities that list "wood recycling programs" on their websites are only interested in this "green waste." You can also ask your contractor if he or she has any recommendations for places to take wood for recycling. Commercial outfits sometimes have access to recycling resources that homeowners do not. And make a note to yourself: when you order your brand new kitchen cabinets, make sure they are made with untreated wood that you will be able to recycle when it comes time to replace the cabinets again. Also, make sure your cabinets are high quality and have a timeless design so you will not need to replace them again for a very long time.
How to reuse kitchen cabinets
One of the best ways to make sure your kitchen cabinets get reused is to reuse them yourself. Refinishing or replacing just the cabinet doors or door pulls can do wonders for your kitchen. Best of all, it will save you the time of getting rid of your old cabinets and the expense of purchasing new ones. This
slideshow
from the DIY Network contains several "before and after" images of kitchens that look totally different after the cabinet doors (but not the cabinets themselves) are painted or replaced. If your kitchen cabinets are still in good shape and you want them to go away, see if you can donate them to a building material reuse organization. Atlanta has two great organizations that take materials from people's homes:
Lifecycle Building Center
and
Reclaim It Atlanta
. Evanston, Illinois residents can drop materials at the
Evanston ReBuilding Warehouse
. To find a building material reuse organization near you, visit the
Building Materials Reuse Association
. Ask the nonprofit to provide you with a receipt so you can take a tax deduction the following year. You may be able to sell your cabinets on a site like Craigslist. Someone remodeling their home or a rental home may be really grateful to buy used cabinets instead of having them built from scratch. There are also ways to reuse kitchen cabinets around your home. Put your old cabinets in the garage or garden shed to help keep the space cleaner and better organized. Turn kitchen cabinets into a play kitchen for your kids using instructions from the blog
Young House Love
. Pinterest has ideas for turning kitchen cabinets into mudroom benches, window seats, cabinets and more. If you need ideas for reusing just the doors from your kitchen cabinets, Pinterest has you covered there as well. Draw inspiration from their photos of cabinet doors transformed into clocks, chalkboards, and serving trays.