Recycled artwork has become more and more popular over the past years as emerging artists have become more interested in upcycling and environmental art. Recycled artworks are pieces of art put together from any kind of used materials. It can include all types of items such as garbage like toilet paper rolls or used household items such as clothes. One popular item artists reuse for their work are buttons, which can be easily collected from old clothing and other materials. One artist who is known for the incredible use of old buttons in his artwork is
Augusto Esquivel
. Esquivel was born in Argentina and is now based in
Miami
, where he has taken part in famous art shows such as
Art Basel
. Found in 1970, Art Basel is an international art show that premieres modern and contemporary art from all over the world. His work is also showcased at
Now Contemporary Art
, an art gallery in Miami that provides a space for established artists in the contemporary art scene. In his artist statement on his
website
, he states his interest for taking simple, everyday objects and making them a part of something complicated. He sees each of the buttons doing its part to contribute to a whole, similar to atoms forming molecules.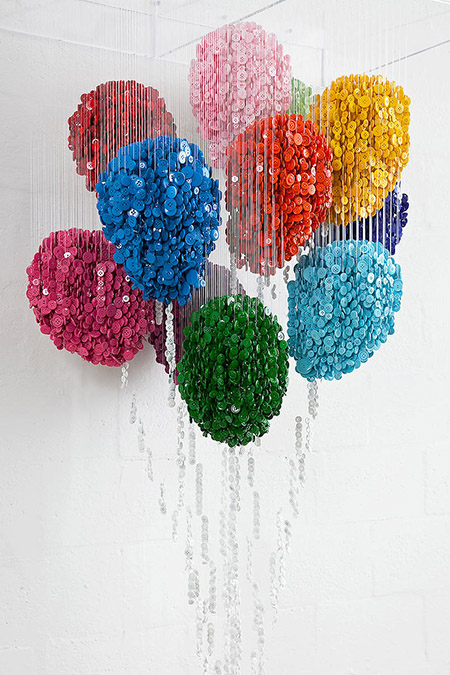 Esquivel creates beautiful pieces of art using buttons by hanging them from fishing lines. The buttons represent different everyday objects as they are hanging in midair. In one of his works, the buttons represent a bundle of colorful floating balloons. Bunches of buttons that are pink, green, blue and more represent the balloon. There is also a string of white buttons hanging down from each collection of colored buttons, representing the string holding each balloon. In another piece of art, the hanging buttons are brought together to resemble a framed picture of Leonardo da Vinci's
Mona Lisa
. These are only a few of the multiple structures created in Esquivel's artwork. Through his buttons, he has also created a black piano, a black-and-red fire hydrant and even an elaborate fountain spitting water, circled by pink flowers and green stems. Although not much attention is brought to the harmful effects buttons can have on the environment, the damage is there. Discarded buttons end up taking space in landfills, even though plenty of them are made out of valuable resources, such as wood, brass and stainless steel. Instead of throwing buttons away, a few local businesses or charities may accept them. On the other hand, it could be a great idea to save old buttons in case they come in handy in the future. They may even turn in to an art project all on their own. Like Esquivel, you could learn that a collection of simple buttons can create a beautiful piece of work.