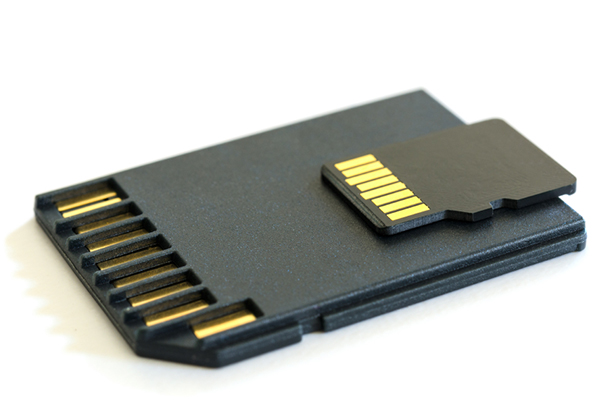 Secure Digital (SD) cards are small plastic memory cards used in a variety of electronics. Anyone who owns a digital camera has pulled an SD card with pictures out of their device, but the versatile cards can also be used in tablets, camcorders, cell phones and more. When SD cards break or the memory storage gets too small (SanDisk released a massive
512GB SD card
in September 2014), you may be wondering how to recycle them. Like all electronics, it is important that SD cards get to qualified recyclers rather than just going in the trash. We share some ideas for recycling and reusing them.
What are SD cards made of?
The exterior of most SD cards is primarily plastic, although some have significant amounts of metal on the outside. Inside the SD card is a circuit board that contains precious and nonprecious metals. If you are interested in more details about how SD cards are manufactured, check out
this video
from high-tech manufacturing company Lexar. SD cards come in three different sizes: full, which are 32 by 24 millimeters; mini, which are 20 by 21 millimeters; and micro, which are 11 by 15 millimeters. While SD cards are small, it important to keep them out of landfills and incinerators. Metals like steel and gold are finite and can be reused endlessly (in the case of gold and other precious metals, they are also extremely valuable). The plastic covers of SD cards are made with petroleum products and will never biodegrade. And, many times there is nothing wrong with SD cards. They are being replaced because the owner gets a new device or wants a larger card. Make sure you get your unwanted but reusable SD cards into the hands of people who can use them.
How to recycle an SD card
SD cards are very difficult to recycle. They are not accepted through curbside programs or manufacturer takeback initiatives. Currently, no companies accept them through the mail or in their stores. Your best option to recycle an SD card is to check with your local solid waste management district to see if it has an electronics recycling program and if that program takes them. Twenty-five states have passed some kind of law banning e-waste from landfills, including Texas, Vermont, Oregon, Missouri and Washington. Those laws have made it easier for consumers to dispose of electronic waste, but note that where and when you can take items to government facilities varies from county to county. In Indiana, for example, residents of Bartholomew County, which includes Columbus, can take e-waste to the recycling center or landfill anytime it is open. In Harrison County, outside of
Louisville, KY
, electronics are accepted only on Fridays. If you have an electronics recycling company in your community, it may accept SD cards as well. Use 1800Recycling's recycle search tool to locate a nonprofit or for-profit recycling company near you. If you are disposing of an old SD card from a Ford or Lincoln car, the manufacturer will take back your old SD card, recycle it and donate any proceeds to charity. Instructions for returning the cards to Ford and Lincoln are available on the
SD Return for Charity website
.
How to reuse an SD card
Here is a creative idea for reusing working mini SD cards: Turn them into a Solid State Drive (SSD), a type of hard drive.
Gizmodo
gives instructions for plugging four mini SD cards into a piece of hardware you can purchase online to make a larger storage device. If your SD cards still work, see if you have friends or family members who can use the cards for their devices. It is always nice to have a back-up card in your camera bag in case you fill up your main one with photographs. You can also donate the cards to organizations that sell secondhand electronics. No matter how you choose to reuse or recycle your SD card, make sure you remove all photographs and sensitive information before you get rid of it. It would be heartbreaking to lose treasured pictures and videos when you dispose of your card. And, if your SD card contains any personal information, it could come back to haunt you if it falls into the hands of an identity thief. If you cannot find any way to reuse or recycle the cards, consider them for craft projects. The tech geek in your life may like SD card earrings or necklaces.
Protect your SD card
Extending the life of your SD card will save you money and keep you from having to hunt around for a recycling company. The website
Digital Photography School
has a post on caring for your SD card so it will last for a long time. They also have tips for what to do if a memory card gets damaged before you can get all the information off it.