Beauty is in the eye of the beholder, but I find things have an added beauty when you can reuse a material that might otherwise contribute to our growing landfills. Toilet paper tubes are one of those materials. At our house, we have used toilet paper tubes for composting, recycling and for a lot of art projects. My daughters have used this versatile cylinder for making statues, marble rolling contraptions, butterflies, bees and other projects. Here are some artists that have provided toilet paper tube art inspiration:
Beru Betto and the Toilet Roll Pixel Boy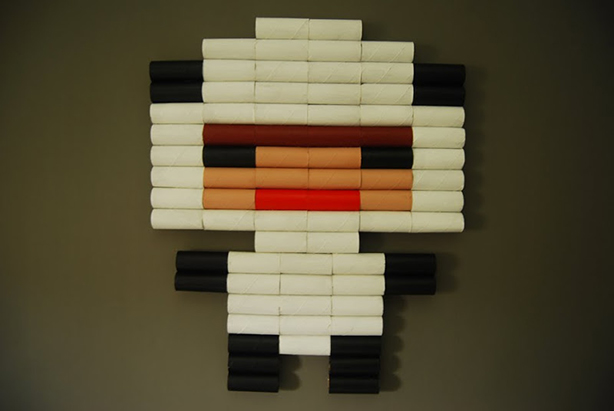 Beru Betto uses toilet paper rolls to create some adorable wall art entitled "Toilet Roll Pixel Boy." First, you figure out what you want your pixel creation to look like, then you paint the individual tubes. Next, you arrange them into your desired pattern and glue them together. For the complete tutorial, visit the
Beru Betto website
.
Anastassia Elias and her rollers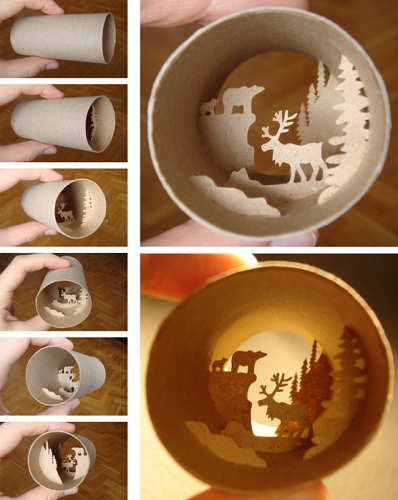 Paris-based artist Anastassia Elias uses toilet paper rolls to create tiny pieces of art. The images she creates inside the tubes range from nature settings to soccer games to a classroom filled with students and an aquarium filled with fish. In order to make the silhouettes appear like they are coming out of the roll, Anastassia uses the same colored paper as the brown toilet paper rolls. "One day I looked at an empty roll and wondered if I can do something with it," says Elias. "I cut the small paper shapes that I stick inside the toilet paper rolls. I use tweezers to manipulate the paper shapes. I select the paper of the same color as the roll. It gives the illusion that the paper figures make part of the roll. I need few hours to make one piece." To see more of Anastassia Elias' "rollers," visit
anastassia-elias.com
.
Some other creative ways to use your toilet paper tubes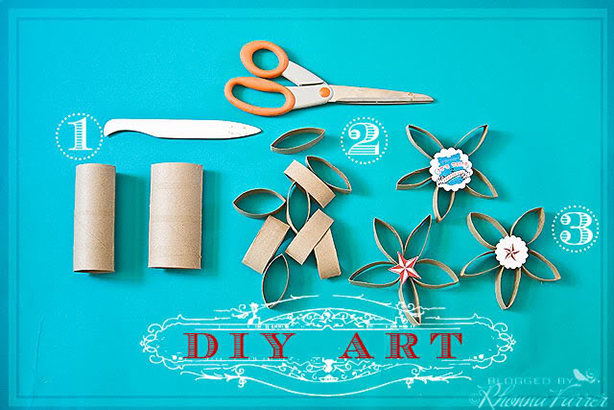 These simple toilet paper tube flowers made by Rhonna Designs (
above
) are easy to construct and can be used for a number of different craft ideas. For example, use them to decorate napkins for a cute table setting, string them together to make an adorable mobile or tape them to a wall (with painter's tape) for an easy decoration. For the complete tutorial, visit
Rhonna Designs' website
. This beautiful toilet paper tube mirror project I found at
Made2Style
(
below
) is an inspiration. I am already saving tubes for a wall project I have been motivated by this project to make.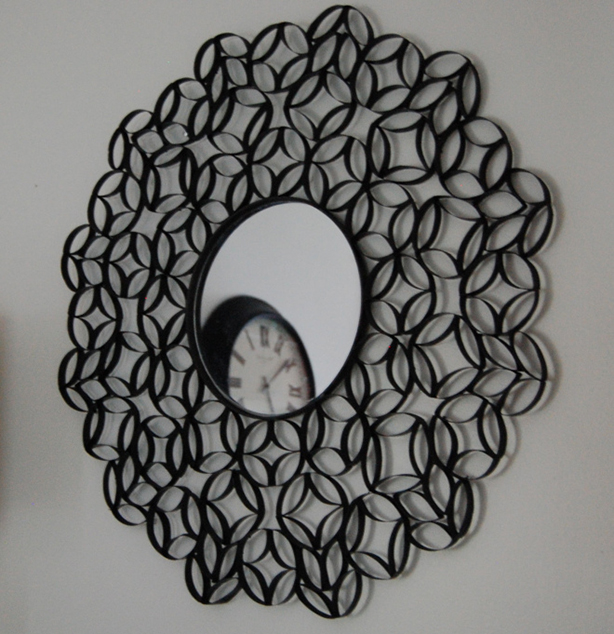 You could also use paper towel tubes for any of these projects. But, since I have tried to restrict the amount of paper towels we use in our home, we usually don't have paper towel tubes in our recycling bin. According to "
Going Paper Towel-Less
," as many as 51,000 trees per day are needed to take the place of the amount of paper towels that are thrown away each day, so it is a great goal to use reusable towels instead.