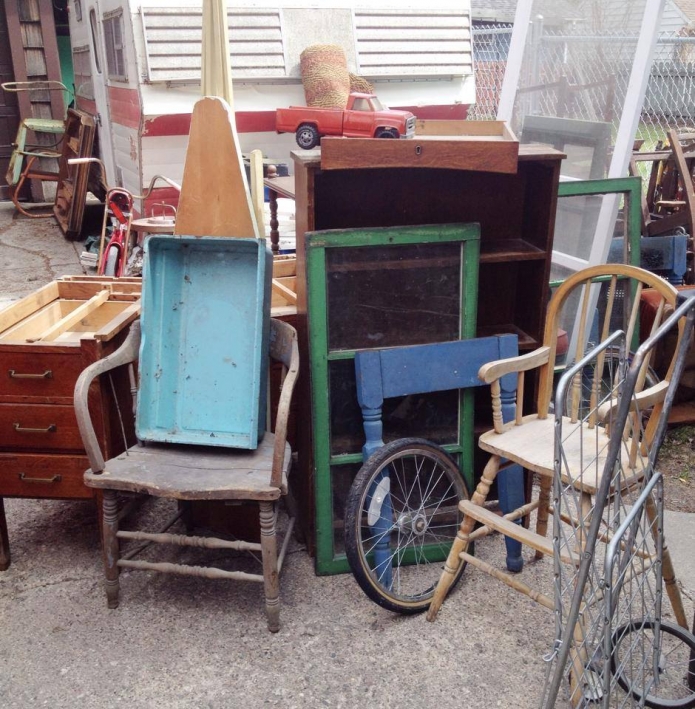 Brown goods are smaller appliances and electronics like TVs, coffeemakers, radios, toasters, digital media players and computers. Recycling your brown goods can be a tricky business. Before your next computer or appliance upgrade, make sure you know what your recycling options for your brown goods are in your area. I'm taking my own advice, and going over some of our options for recycling brown goods in
Fargo, ND
, where I live, and the surrounding areas:
Local Charity's Thrift Store
If my unwanted small appliance or electronic is still in working order, I will inquire at my local thrift store to see if it will take it for donation.
Habitat for Humanity ReStore
Reusable appliances, furniture or building materials can be donated to our local Habitat for Humanity
ReStore
. In 2009 alone, the ReStore helped to divert 993,465 pounds of materials from our local landfill. For more information, visit the ReStore website at
lakeagassizhabitat.org
.
Annual electronics recycling event
Each spring in Fargo, residents can recycle televisions, computers and other electronics at the annual electronics recycling event. Residents may recycle two of each item for free. For example, one item would include a computer set such as a monitor, tower, keyboard and printer. We recycled an unfixable laptop at this event one year. It was a quick and easy way to ensure it did not end up in a landfill. This event is available to residents of Fargo, West Fargo and rural Cass County. Proof of residency may be required. The event is held at the Solid Waste Facility located at 2301 8th Ave. N.
Fargo Landfill
At our local landfill there is a disposal fee for appliances (stoves, washers, dryers, dishwashers, microwaves, etc.). The Fargo Landfill will accept the appliance and will then deliver it to a recycler. The landfill does not accept any appliances containing Freon. For current pricing, please contact the landfill at 701.282.2489. The landfill is located at 4501 7th Ave. N.
Household Hazardous Waste Facility
Fargo residents can bring household hazardous waste to the HHW Facility year-round at no charge during regular business hours. HHW includes items labeled danger, toxic, poisonous and so on. The facility will also accept one computer set as well as one TV free of charge per resident, per month. The HHW Facility is available to all Cass County and Valley City residents and is located at 606 43½ St. N.
Cleanup Week
This annual event, held during the first full week in May, cleans up our cities by giving area residents an opportunity to dispose of tires, appliances and other large items at no charge on their garbage collection day. Residents are allowed to place up to two appliances on the curb during Cleanup Week at no charge. This has also become an opportunity for those gifted at upcycling to find many treasures that end up in our local shops. I have learned, before I make a purchase, to think about the end of the product's useful life. If it cannot easily be reused or recycled, I am not as likely to buy it. These are just the options I have nearby. What options do you have in your community?