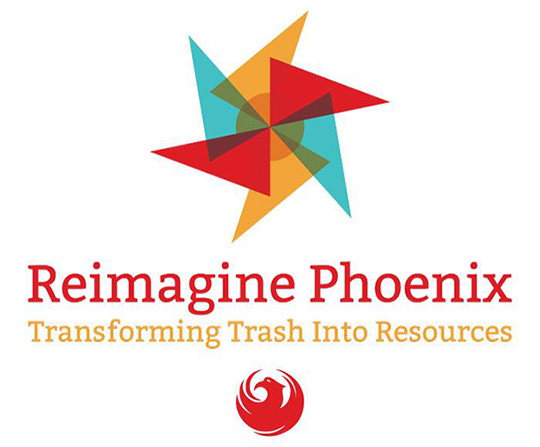 Background
Phoenix (pop. 1,513,367), the nation's sixth-largest city, is home to one of the most extensive curbside recycling programs in the country in terms of residents served and breadth of materials accepted. Blue single-stream roll carts are used for weekly recycling collection across the city. In an effort to reach a proposed 40% waste diversion rate by 2020, Phoenix has now introduced a Save-as-You-Reduce-and-Recycle Program, in which residents can elect to use a smaller trash container and in turn recycle more. Those signed up for the program save $3 on each solid waste bill.
Materials recycled
Paper
Loose paper, corrugated cardboard, paperboard, frozen food and wet-strength boxes, junk mail, newspapers and inserts, magazines, catalogs, phonebooks, beverage cartons and shredded paper (secured in a clear plastic bag) are accepted.
Plastic
All rigid plastics, including bottles, containers, jars, buckets and jugs (caps and lids OK). No Styrofoam products or plastic bags.
Metal
Aluminum cans, steel/tin cans, small metal appliances and empty aerosol cans are accepted.
Glass
Glass bottles, jars and food-grade containers (all colors) are accepted.
Frequency
Phoenix residents recycle at the curb on a weekly basis, same day as refuse collection. Carts must be curbside by 5:30 a.m. on collection day and must be spaced 4 feet apart and at least 15 feet from other obstructions (vehicles, light posts, mailboxes, etc.). A collection day lookup tool is available
online
.
Other programs
A Green Organics (yard waste) curbside collection program is, as of press time, in Phase 1 of implementation across the city of Phoenix. Grass clippings, leaves, twigs and shrubs are collected in tan curbside carts. The
program
, which costs an additional $5 per billing cycle, already covers much of the city's central, northern and southern neighborhoods, with other areas to be introduced down the line. Regularly scheduled
household hazardous waste collection events
are held across Phoenix and are available to all solid waste customers. Each event runs from 7 a.m. to noon and accepts the following for drop-off: automotive fluids (up to 5 gallons total), automotive batteries, rechargeable batteries, electronics, household appliances, fire extinguishers, propane cylinders, pesticides, herbicides, insecticides, pool chemicals, household paint (10 gallons or less) and tires (up to five). Phoenicians have an exhaustive list of options when it comes to recycling Christmas trees and holiday wreaths. Many of the city's city parks double as tree-recycling facilities in the days following Christmas each year. For an updated list of drop-off points and other related options,
click here
. Phoenix may be the only U.S. city with a designated
election sign recycling program
. Residents and electoral candidates with plastic or cardboard election signs can take them to three drop-off locations across the city. Old appliances and electronics can be dropped off at one of two transfer stations in Phoenix: the North Gateway Transfer Station, 30205 N. Black Canyon Hwy., and the 27th Avenue Transfer Station, 3060 S. 27th Ave. Both facilities are open Monday through Friday, from 5:30 a.m. to 5 p.m., and Saturday, from 6 a.m. to 3 p.m.
More information
Visit the
City of Phoenix Public Works website
for more recycling program info.