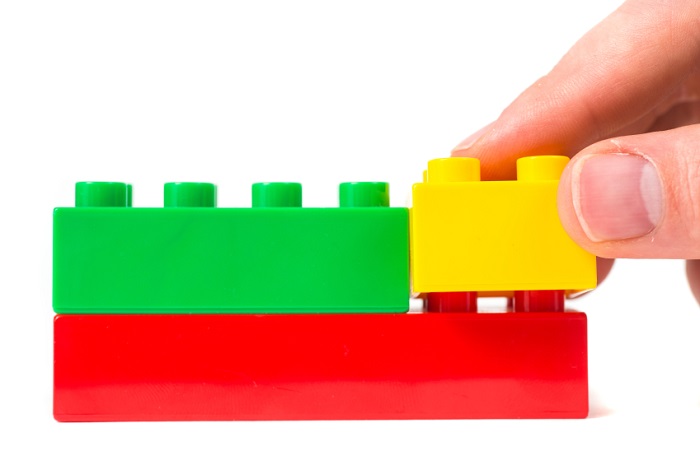 Kids love Legos. Heck, adults love Legos. These cherished toys have stuck around for generations even as tastes and styles have changed. In 2010, Fast Company quoted a survey conducted by Firebox.com and Toyology.com that showed
Legos are the most popular toys ever
manufactured. Unfortunately, since Legos are made of plastic, they will stick around for millennia if they end up in landfills. Recycling Legos is hard, since they are made with an unusual plastic that is not accepted at many recycling centers. However, Legos are highly reusable. We share several ideas to help you get them into the hands of people who want and need them.
What are Legos?
Lego is a brand name for interlocking plastic building blocks. They are made by Lego Group, a family-run company based in Billund, Denmark. According to the company's website, the word "Lego" comes from combining two Danish words – "leg" and "godt," which means "play well." The Lego brick in its current form was invented in 1958, but the company has been around since the 1930s. Lego bricks are by far its most successful product. When the toys were first placed on the market, you could only buy the bricks. Today, you can buy Lego kits to build branded toys (like Star Wars and Teenage Mutant Ninja Turtle vehicles) and people-shaped Legos that pack plenty of attitude. There are even online Lego video games – which, thankfully, you will not need to recycle when you are finished with them. Plenty of companies make products similar to Legos. Mega Bloks creates large interlocking blocks that are great for toddlers. Jumbo Blocks produces really big interlocking plastic pieces that kids can use to build structures so big they can actually climb on them (with supervision, of course).
How to recycle Legos
Unfortunately, Lego
does not accept its products back for recycling
. The company does share that its bricks are made with #7 plastic, which is classified as "other" plastic. Many plastic toys fall into this category, and they are all tough to recycle. There are a few places that take #7 plastic through curbside recycling programs, including Davis, California, and Binghamton, New York. It is more likely that your local recycling center will take #7 plastic, although this is still rare. Tompkins County Solid Waste in Ithaca takes rigid plastic toys, as does the Alpha Ridge Landfill Residents' Convenience Center in Marriottsville, Maryland. One important note: Even if your recycling center says it takes #7 plastic, make sure you read the fine print. Many will only take bottles, jars and other containers made with #7 plastic.
Buy used Legos
Legos are a terrific thing to buy used. Unlike stuffed animals, dolls and other soft toys, all-plastic Legos are easy to wash and sanitize. Unless they go through a lawnmower or into the oven, the used toys should look and function just as well as new pieces. Along the same lines, if you buy a Lego set and it is missing a piece or two, your child will never know (like they would with a puzzle or board game). You may even be able to find some cool old Lego sets that are no longer available in stores. Buying second-hand Legos will lower your overall carbon footprint and make you feel a little bit better if you have to put them in the trash someday. Peruse garage sales, church rummage sales and secondhand toy stores to find used Legos. You may even be able to find them on a site like Craigslist.
How to reuse Legos
If you cannot recycle your Legos, the Lego company encourages people to give them to a child who can use them. Perhaps you have a niece, cousin or neighbor who would like any Legos your kids have outgrown. If not, look into other places where you can donate them. Thrift shops are one option, but they are not the only place you can take them. See if a local hospital, day care center, homeless shelter, school or other organization that serves children would like them. Artists and crafters use Legos in all kinds of projects. The Franklin Institute, a Philadelphia science museum and education center, opened
a special exhibit called "The Art of the Brick"
in February. In the exhibit, Legos are used to recreate famous pieces such as the bust of Nefertiti, the Liberty Bell and paintings like van Gogh's "Starry Night." There is even a 20-foot long Tyrannosaurus Rex made with Legos. The display is said to be the largest gallery of Lego art anywhere in the world. Creative people on Pinterest have put Lego figurines to work holding up electrical cords and made everything from birthday cakes to wedding dresses with the little plastic pieces. There is a whole gallery of Lego jewelry that ranges from simple to elaborate. On YouTube, you can see Lego people starring in home movies and music videos. If nothing else, pack those Legos away for your grandkids. It seems very likely the toys will hold plenty of appeal for future generations. You can also keep them for a night when you, your significant other or your friends are bored and looking for something to transport you back to your childhood.