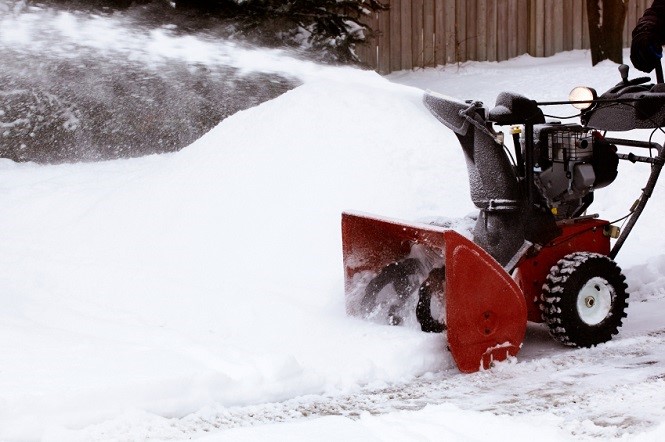 When freezing weather is in the forecast and you may be dealing with a blizzard, recycling is probably the last thing on your mind. After all, it's not usually the time of year you're thinking of being green. In fact, the color green is probably the last thing from your mind amongst the snow. But the planet needs saving year round, and there are plenty of opportunities to recycle old winter items. From old mittens to old snow blowers, recycling most of your winter items is possible. You just need to get a little creative. The best place to start is by looking at your local recycling policies to see what is recyclable. Your recycling center may take scrap metal and some old textile pieces, meaning old sled pieces and old scrapped coats might be recyclable in your area. Others states, like Massachusetts, offer resources for finding manufacturer and
retailer take-back programs
. But it varies by location, so always be sure to check your local policies and centers. Outside of just scrapping what you can, there are also several ways to donate, reuse and repurpose winter items you might not even have thought of. Below are 10 often-overlooked items that can be given new life in creative ways:
Natural Holiday and Winter Decorations
Whenever you are done with any natural holiday decorations, like Christmas trees or wreaths, don't just toss them. Remember that they can be mulched down for gardens and pathways. The EPA's website recommends that you check with your local solid waste department to see if they collect and mulch natural holiday decorations. After all,
the EPA states
that 33 million live Christmas trees are sold each year. What a shame it would be if all those just ended up in a landfill.
Fireplace Soot
Yes, even ashes can be recycled. Instead of just throwing them in the trash after you clean out your fireplace, the EPA recommends putting them in a special tin. The cold soot can later be thrown into a compost heap. Those ashes will add valuable nutrients to your compost, which you can later use in your garden come spring. There are also tons of other uses for old soot. This Old House covers several of them: You can use it as a rub to de-skunk pets, absorb splashed paint on cement, block slugs and snails in the garden, melt ice (believe it or not), make soap and shine silver,
to name a few
. If you want an all-natural household product, do not just dump that soot.
Donate Your Snow Blower
If your snow blower is just a little old and you're not using it anymore, consider donating it. Your county or state website may have some donation resources where you could check into donating it. A good place to begin checking is your local Habitat for Humanity ReStore, which is well equipped to handle large household items.
Turn Old Winter Products into Scrap Metal
If your snow blower completely gave up the ghost, consider contacting a scrap yard that will take metal off your hands. You can also do the same for metal shovels, old ice skate blades or any other winter item with metal. Some cities will also pick up scrap metal on a schedule, other places offer exchange programs and a number of areas charge a small fee for recycling large appliances like snow blowers, so check with your local government.
Upcycle Your Winter Shovel
If you have a creative bent, you can take old winter items like shovels and make them into fun art projects.
Check out this project
, which made creative use of some old snow shovels. The sky is the limit when you get into the world of upcycling, so feel free to let your imagination soar. I've even seen old shovels made into lawn ornaments.
Hat and Mitten Donation
If you've had kids grow out of their hats and mittens, don't just toss them. Thousands of kids need your old hats and mittens in the wintertime. Clothing donation programs abound, from the Salvation Army to local groups like
hatsandmittens.org
in Minnesota. Otherwise, if you tend to wear your clothes into rags, consider scrapping them into textile pieces for recycling. Just check with your local recycling center. As mentioned above, many take textile scraps.
Recycle and Repurpose Holiday Lights
If your lights are done forever, remember these can be recycled in many areas. In my area, for instance, I'd just need to take them to the local electronics drop sites. Otherwise, many local scrap metal companies may take them. If your holiday lights still work perfectly fine and you just want a change, this is an opportunity for some fun upcycle projects. You can even
find recycled Christmas light earrings
.
Recycle/Donate Old Sleds
Like mittens and hats, many local children could do with your old sleds. This is a great opportunity if you have sleds lying around from grown children. Toys for Tots is a good place to start looking for donation opportunities. For broken sleds, you can either scrap down the material for the recycling center if they take it, or reuse the material in creative ways. I've heard of people
using flat snow tubes
to control weeds in the garden.
Recycle Winter Coats
A warm winter coat is one of those items that is always needed by the less fortunate. You can find that donation programs abound for these. It's just that if you're not used to donating, it can be easy to just overlook these programs. For completely unsalvageable coats, again, a local recycling center may take old textiles. Otherwise, consider more upcycle projects. With some creativity and sewing skills, an old leather jacket can become a purse, for instance. If you're not the sewing type, perhaps find out if local crafters could use your old textiles.
Recycle Winter Boots
There's a million surprising things to do with old winter boots. Check out
freecycle.org
, which allows people to connect and exchange their old stuff. There's also checking with the recycling center to see if they take shoes, looking up manufacturer take-back programs and donating to specific shoe donation organizations like
Soles4Souls
. If you don't feel like doing that, you can always make your
old boots into wacky planters
.