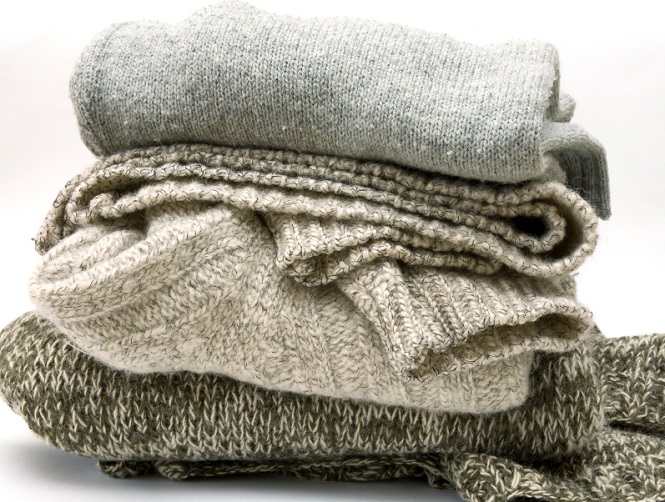 If you'd like to get a start on some early spring cleaning, the first thing you'd probably like to attack is your winter items. It's depressing to bring them out, and it feels like a victory to get rid of them. But rather than just tossing them, consider upcycling your winter items into new pieces. You'll have a creative product you'll be happy to display for years to come, and you'll help cut down on waste in a landfill while you're at it. Following are 20 great ideas for reusing your old winter items.
1. Wool Sweater Hats
Sweaters are one of those items I feel like I always have to throw away at the end of winter. There's a hole in the elbows or there are stains. Maybe you had a kid grow out of theirs. Luckily, there are a lot of projects to do with old sweaters. Turning them into hats is a good way to think forward to next winter.
This blogger
shows how attractive repurposed sweater hats can be. You'll just need to take a scissors to an old sweater and get some sewing patterns for hats.
2. Old Sweater Couch Pillows
Another great use for sweaters is to make new couch pillows. How great would it be to have your favorite sweater forever on your sofa? You can keep the sweater and the memories that come with it.
Go here
to see how attractive sweater pillows can look and get the instructions on how to do it.
3. Sweater Wreath
Here's an idea you don't think about everyday. Sweaters can actually make very attractive wreaths.
This project at etsy
shows that. If it's a neutral color like in the photo, you can also hang the wreath year round.
4. Old Christmas Card Holiday Décor
While in your spring cleaning escapades, you may come across a pile of old Christmas cards. Don't just toss them. Consider thinking ahead and making them into a holiday decoration for next year.
Go here
to see a picture of Christmas cards turned into a mini Christmas tree, with full instructions.
5. Scarf Wreath
If you have a scarf you're just not really digging anymore, consider making it into a wreath. It's actually insanely easy. You just need to wrap the scarf around a wire wreath base.
Go here
for full photos and instructions.
6. Old Sweater Mittens
Here's another great use for an old sweater. If you need some mittens, consider using the fabric off a heavy winter sweater to guarantee that your hands will be warm.
Go here
to find out how to make some toasty mittens. Bonus: they also cover making a hat.
7. Sweater Tote Bag
If you want to turn your old sweater into something you can use in the spring, this project is the perfect option if you need a new tote bag as well. It looks surprisingly attractive and is pretty easy to make.
Go here
for full photos and instructions.
8. Old Sweater Boot Socks
If you want some toasty socks that will sit over shoes, here's a great use for an old sweater. This one is REALLY easy: just cut the sleeves off a sweater and put them on your legs. No sewing required. You can see how attractive these look
here
.
9. Repurposed Sweater Dress
If you're really a sewing maverick, consider making old sweaters into a unique full dress style.
This project at etsy
shows how creative the style can get. This one's made out of lightweight sweaters, so it could make a good piece to wear in fall or early spring.
10. Multiple Sweaters Wreath
For a whole pile of sweaters you don't know what to do with, consider grouping them all into a colorful year round wreath.
Betzwhite.com
shows a great example of such a project. The bits of sweaters are essentially just pinned together.
11. Mitten Baby Shoes
You can even upcycle old mittens. With the small bit of material left over, the perfect project for old mittens would be to make baby shoes. You can find a pattern for sale
here
.
12. Old Christmas Tree and Holiday Lights Lamp
If you want to get really different with your décor style and old holiday items, you can make a lamp like
the one here
. It kind of comes off looking like a "Festivus Pole" with the dowel pole middle, the old Christmas tree base and the holiday lights scattered on it. It's a good way to think ahead to next year.
13. Shovel Handle Bench
If you have a lot of old shovels lying around, consider repurposing them into an outdoor bench.
This picture here
shows how well they make a backrest. The project would take some real carpentry knowhow, but the artistic effect might be worth it.
14. Old Sled Shelf
For those old steel runner sleds, there are some really interesting projects to repurpose them. You can
see here
how they make very attractive shelving, especially around the holidays. You'd just need to add some planks to the underside of the sled and hang.
15. Sled End Table
You can even turn an old runner sled into an end table, like the one in
the photo here
. This sled was actually mounted on an antique Singer sewing machine for a real antique look. Just goes to show that the sky's the limit.
16. Ice Skate Décor Item
An old skate can really make a unique winter décor item.
This one at etsy
shows how nice a skate can look with a creative paint job and some faux snow crystals added. It would look lovely right up until the last of the snow melts.
17. Ski Wall Light
For skiing enthusiasts, using old skis as home décor items is a great way to both reuse old items and bring your interests into your home style.
This project at etsy
shows how great an old ski looks with a light mounted to it.
18. Ski Adirondack Chair
This is a really great idea for all the woodworkers out there. Old skis make great backrests on Adirondack style chairs, as
this picture shows
. The shapes of the skis add a nice, stylistic flair.
19. Ski Pole Lamp
Similarly, if you can find some old ski poles, they even make great lamp bases. They work great in a tripod style, like
in the photo here
. It would be a great addition to any skier's home.
20. Holiday Light Décor Items
If you have lots of old holiday lights to get rid of, there are plenty of ways to turn them into home items. One such project takes old, large holiday lights and covers them in glitter. Then they are fashioned into a wreath. You can
see the project here
.