Today, I want to feature an artist from my home state of CT, Amy Merli, and her ongoing show,
Trashion Fashion
. I'm not sure where or how I ran across this show, but I'm glad I did. I'll start by plugging the project's Instagram here, as that is what got me hooked on "trashion" in the first place. It also might give you some background on what I'm going to talk about.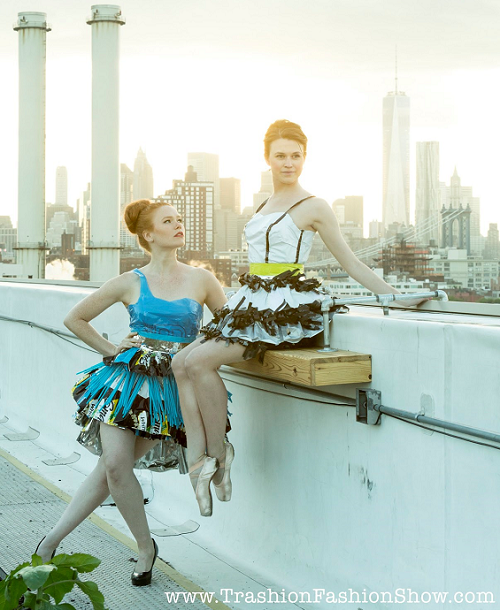 I started following Trashion Fashion on Instagram about a year ago, because of all the stunning photos that I was seeing. That hasn't changed all year. It still continues to impress me with everything post. For example, when I looked at the adjacent photo, I learned that Smartfood can also apparently be made into a skirt – who knew?! I want to live in a world where I know that things like this are possible, and so I have continued to follow them. But on a more serious note, Trashion Fashion Show is a very impressive show. All of the designs in the show are constructed of 90 percent consumer waste. If you take a close look at the above photo, you'll notice the woman on the left wearing a skirt made out of popcorn bags! The woman on the right appears to have straps on her dress that appear to be made of electrical tape. I love to see people pushing the limits of what was only previously thought was impossible. This organization is certainly doing just that. Amy founded Trashion Fashion in 2011 with the idea of creating an
eco-arts
fusion show. Eco-arts are very broadly defined, but in this case the show seems to deal with reclaiming and repurposing consumer waste. The show indirectly reminds us about how much waste we really create and then aims to reimagine this waste in new ways. Amy and Trashion Fashion encourage all designers to consider the life cycle of the garments, all the way from material sourcing to what happens after they have been a part of the show. In addition, it aims to host shows that produce zero waste. This means no unnecessary flyers being handed out, etc. Amy has seen a lot of paper materials used to create designs but says that she "really loves seeing unconventional materials being used. There has been many interesting uses of VHS tape, tin cans, parking tickets and plastic bottles. There is something very inspiring about using an item that is seen as waste (without value) and transforming it into something of beauty." The year that Trashion Fashion was created, Amy had been performing as a principal dancer with a company and had created five skirts made of her grandmother's newspapers for a photoshoot. The skirts proved so popular that later her dance company decided to have a fashion show featuring the unique newspaper skirts. Along with two other designers, the company put on a show that attracted 100 attendees. Some of the final designs for the show featured waste from a sister's baby shower, and all of the proceeds went to the
Green Schools Alliance
(GSA). When Amy's not working on this show, she can be found performing as a professional dancer or teaching yoga. Her other interests haven't slowed down Trashion Fashion, however. It is constantly growing and progressing, transforming into a fashion show that fuses together environmentalism and the arts. Last year, Trashion Fashion had shows in DC, NYC and in Hartford, with close to 100 different designs by professional designers and students. Additionally, Trashion Fashion features art installations, live music, professional dancers as models and performers, local socially responsible businesses and nonprofits.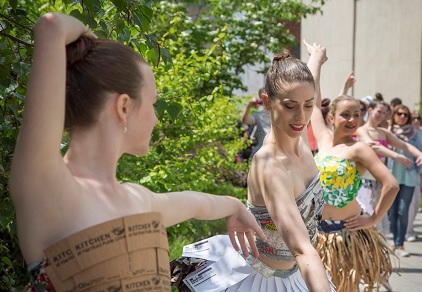 As a company, Trashion Fashion tries to inspire its audience to rethink what is possible – and espouses an openness to anyone who wants to create and submit designs to its shows, inspiring real change and environmental awareness. Through Trashion Fashion, Amy has created a network of zero waste designers, sustainable fashion companies and businesses that are using alternative materials for products such as
looptworks
,
terracycle
and
Ekocyle
. Although Amy admits that some of the alternative materials in her shows don't always mold to the body, feel comfortable for long term use or hold up after a while, she says that it's all part of the challenge.? Thinking about the fashion industry as a whole is very important. As consumers, we should know who made our clothes and the life cycle of the garments. I believe it is important to inform our youth that we have options in what we wear. We believe in informed consumers who are innovative about using the materials around them to create solutions. If you are looking to see a Trashion Fashion show, the group just finished its 4th season. Trashion Fashion has had 4 shows in Connecticut, and its first shows were in DC at the Reagan National Airport and in NYC at the Brooklyn Grange. The group is in talks about expanding into more cities as well. You can attend one of the upcoming shows listed below:
April 19th Community Trashion Fashion Show for families 1-3pm www.facebook.com/events/1536049929995259/ Location: Hartford City Hall General Admission Tickets $10 Featuring:

All new designs from past and new designers & student designers

Ballerinas, Live music & Eco-vendors

Vertical garden from KNOX & Seedlings from Evergreen Design Co.
April 25th Trashion Fashion 5th year Celebration, 7-9pm
Location: Hartford City Hall
Tickets $50 or tables for $300 Featuring:
Cocktail hour with designers and past trashion designs on models
Live music and Dance
Vertical garden from KNOX & Seedlings from Evergreen Design Co.
Food
More runway shows and events will take place over the course of Spring 2015 in Connecticut, New York City and Washington, DC. Pop-ups at the New Britain Museum of American Art, Foxwoods, CCSU Sustainable Symposium, Earth Day NY in Union Sq, the High Line in NYC and the National Mall in DC.