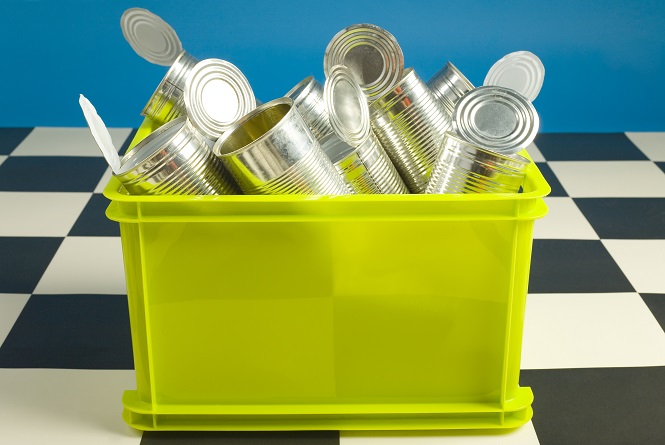 Americans produce more than 200 million tons of garbage each year, according to the
EPA
. That's enough to fill a stadium to the top twice daily. What's more, the average American generates
4.38 pounds of trash per day
.If we want to reduce that, it makes sense to start at home. Between meals, basic waste throughout the day and toiletries, a lot of waste comes from the home. So what can you do to make a conscious effort to recycle more? The EPA has some good tips for make sure your family
keeps recycling
:
Make recycling a priority by taking recycled items to a collection center if your community does not have curbside pickup. As a sidenote, making this a weekly family excursion on the way to something fun might be a good way to make it a family tradition or habit, as well as teach any young kids about recycling.

Remember to always recycle your electronics. Never encourage just throwing away old items. Someone could always repurpose them through various electronic donation programs or use them as scrap metal.

Remember the odd items to recycle, like motor oil, batteries and old appliances.

"Close the loop" by buying recycled products. If a home's output is mostly recycled, it makes sense for the input to be the same. Stop the endless cycle of over-consumption in its tracks.
But it doesn't stop there. You'll want to look at your home's whole recycling plan.
Assess Your System, Make it Easy and Fun
Remember to lead by example. Always recycle what you can. Get others involved by setting weekly goals, contests and awards for remembering to recycle, if that's what motivates your family. A good course of action would also be to make recycling easy for everyone. The more recycling is a predominant feature of the home and the easier it is to access recycling bins, the more your family is likely to recycle. That means keeping bins where they can be easily accessed, not outside or removed in the garage. Multiple bins in multiple rooms or easily accessible bins in areas of high trash production are key, such as next to the stove, dinner table or refrigerator. The minute the family is done with food containers, those containers can go into the recycling bins. Also make it idiot-proof in other ways. If you have source separation recycling and need to sort out your items, make sure bins are clearly labeled for paper, plastic and glass (or whatever system you use). Make sure bins have wide and accessible openings so you can't help but see them. Maybe even make the bin(s) a bright color. There are a lot of home recycling bin systems and ideas based on certain lifestyles and family needs. Below are four options, one of which is sure to fit into your lifestyle:
Bins For Purchase
For families on the go, the easiest method would be to just purchase some bins. But that doesn't mean you should just buy a boring bucket and leave it at that (though you could if you decide that's what works best for you). There are plenty of options on the market. A notable type of recycling bin is the
stack and carry style
. It's perfect for saving space and easy to lug out to a larger bin outside once full. The easier things are, the more likely you are to keep at it. Another option is folding recyclable bags. These can fit anywhere and are great for lugging out to the large bin outside. Bins that can fit under a sink are a good option for small kitchens. Learn to make your own system
here
.
DIY Bins
If you want something completely customized and have some time for crafting, there are several ideas for creating your own recycling system. A wonderful idea is to find or build a metal cart with wheels attached for taking your bins to the street. You can see an example at the bottom of the page
here
. Converting an old pallet into a wheeled system would be great. You could even just wheel it in and out of the house, if you have a flat entryway. You can find an example
here
. If you want something decidedly no-fuss, here's a project that just involved
spray-painting some old garbage cans blue
.
Upcycled Recycling Bins
If you really want to be a recycling superstar, you can throw your recyclables into a recycled bin.
Here's
a DIY tutorial on how to make a recycling bin out of an old box. You'd just need to paint it and cut holes in the box lid to customize it. If you really want to go bare with it, you'd just need to label some cardboard boxes with a Sharpie. Someone else made their own stackable recycling bins from old Tupperware bins. They just cut holes in the front of the bins and labeled them. You can see the project
here
. You might even consider making your own recycling spot outside fashioned from old wood, or perhaps recycled pallets. You can see
a photo of one here
for recycling cans. It'd be great for outdoor parties, if you host often.
Install a Recycling System
If you don't mind a bit of light remodeling, you could even adjust your space for hidden recycling containers. This will keep it easy to drop recyclables where they need to go with a single reach, while hiding bulky bins. A system like
this counter waste station
, where the bin is hidden right in the counter, is good for collecting compost scraps or some recyclables like crushed cans. Another option would be to install a lid system that stores large bags of recyclables in a cabinet. You can find the tutorial for making it with Ikea products
here
. You may even consider a more mainstream pullout system, where the bins slide out with the cabinet doors, like this system
here
.