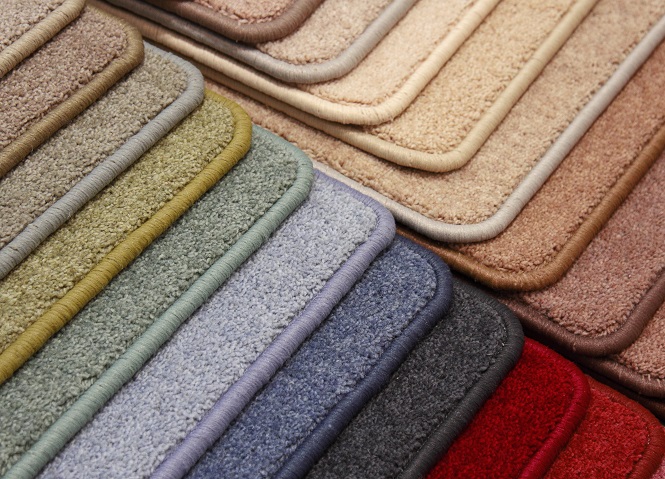 As people's flooring preferences shift toward wood and stained concrete, many homeowners are tearing up their old carpet. After all, who wants harvest gold or avocado green shag when they can have beautiful, natural-looking finishes in their home? When you are ready to divest yourself of any old carpet in your home, it is a good idea to recycle it if possible. Carpet is made from non-biodegradable materials and represents a real hassle for landfill operators. Furthermore, its bulk creates big, unmovable bulges in trash piles that are hard for equipment operators to move and drive over. Carpet is not the easiest thing to recycle. If you cannot find a place to take it, look into whether you can reuse some or all of it. Keep in mind that you may be able to recycle the carpet pad even if you cannot recycle the carpet itself.
What is carpet made of?
Carpet can be made from a variety of materials including wool, nylon, polyester or other types of plastic. If you like to purchase things made from recycled materials, look for newer carpet manufactured from recycled plastic bottles. The part of the carpet you see, called the "pile," is attached to a coarse backing material. The backing is what gets glued and nailed down to the floor. In a process called "tufting," the pile is pulled through the backing to make the loops you see on the front. Textiles like wool and nylon are tough to recycle when they are brand new and not mixed with anything else. Few places can create something usable out of wool and nylon that has been walked on and soiled with food, beverages and pet waste for 20 years. Add in the fact that the pile is challenging to separate from the backing, and you can understand why carpet creates such a recycling conundrum. Recycling companies attempt to tackle the problem of carpet recycling and fail on a regular basis. A few have finally figured out how to make it work. Read on for our suggestions of where you can recycle carpet.
How to recycle carpet
The first place to check for a carpet recycling program is your local solid waste district. Although no one is likely to pick up carpet through a curbside recycling program, certain recycling centers will accept your carpet if you bring it to them. El Cerrito, California's Recycling and Environmental Resource Center takes carpet and other hard to recycle items like Styrofoam and window glass. The Carpet America Recovery Effort is a free online resource for people looking for carpet recyclers in their community. Click on
this link
to visit the "collector finder map." It shows carpet recycling companies all over the country.
Shaw Floors
is a flooring company that also recycles certain types of carpet. They have locations in over 30 cities including across the United States. In your quest to find a carpet recycling company, you might also check with the company that manufactured your carpeting (if you know). It is a possible they have a recycling program. For example,
Bro-Tex
has a carpet take-back program. You can also use 1-800-Recycling's
Recycle Search tool
to find the carpet recycler nearest you. Keep in mind that whatever recycling company you use, they may have special requirements for your carpet's condition and size. Bro-Tex's program will only take carpet that is dry and free of tack strips, nails, large clumps of dirt and trash. Carpet pieces must be no longer than 6 feet. All carpeting must be rolled up and tied with string or twine. These types of requests from carpet recycling companies are fairly common.
How to recycle carpet padding
Carpet padding is the material that lies between the floor and your carpet to give it some extra cushion when you walk on it. It often has a speckled appearance because it is made by chopping up polyurethane foam and a wide range of other materials and fusing them together. (Even old bras can be used to make carpet padding, I learned recently. Check out this article,
How to Recycle Bras
, for more details). Because carpet padding is made primarily with foam, it can be easier to recycle than carpet itself. As a result, there are more places that accept it. Check to see if your community has a polyurethane foam recycler that will accept carpet padding. Your municipal solid waste agency may also have ideas about where to take it. Again, check with the recycling company to see if they require the carpet padding to come rolled up, tied with twine or anything else.
How to reuse carpet
Carpet and throw rugs are often treated differently for reuse purposes. Many thrift shops will take throw rugs that are still in good shape. Fewer will accept wall-to-wall carpeting. The reason: It is harder to resell second-hand carpet because most people want to buy carpet that is an exact fit for their living space. If your carpet is still in decent shape, you may be able to use it in other ways around the home. Cut up pieces to make garage floor mats. They will keep your bare feet warm during a quick walk from the door to the freezer or work bench. We have a couple old carpet scraps we keep around so we can recover the cat's scratching post when needed. Even carpeting in poor condition can be repurposed around the home. Use it to carpet a dog house, create a garden path or create outdoor mats to wipe your shoes before you come into the house.