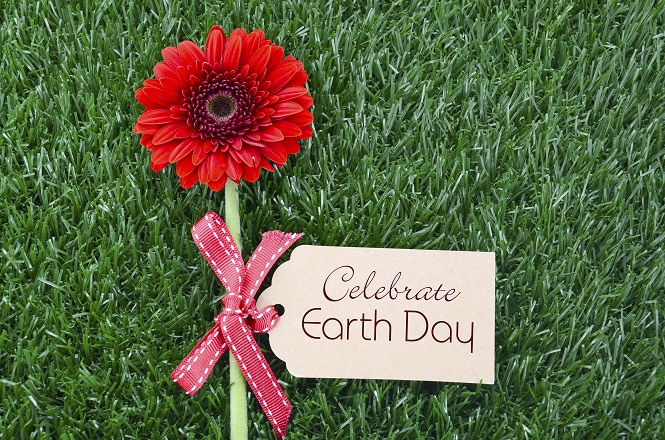 With Earth Day just around the corner, it seems as though sustainability and eco-friendliness are two topics that are seemingly everywhere. Many communities, schools and places of worship are celebrating Mother Nature during this time of year, reminding us that it's our responsibility to work together to protect her. While it is fun – and important – to participate in these events, you may wonder what else you can do in your own home to celebrate Earth Day. From single young adults to larger families, there are lots of different ways to focus on our planet in both fun and educational ways. Check out some of our favorites below!
1. Host an Earth Day playdate
– For families with younger children, playdates are a familiar and oft-scheduled occasion. Themed playdates are especially fun, and Earth Day is the perfect occasion to have a few friends over, as there are tons of different ways to let the children learn and explore. Whether an hour-long snack session or an afternoon of yoga, gardening and crafts – an Earth Day-themed playdate will be one to remember. Check out how
this mom
threw a super cute event – you will definitely be inspired.
2. Throw a farm-to-table dinner party
– Who says get-togethers are just for kids? Themed dinner parties are all the rage among young adults and couples, and the local-vore movement is going strong. In honor of Earth Day, try hosting a dinner party or potluck where the theme is buying/eating local. Head to the farmer's market and get some fresh produce to cook up and then pick a wine or beer pairing that is produced in your city or state. If you do not live in area with farmer's markets or craft breweries, try picking items that are regionally sourced. Invite some friends over and then discuss important environmental issues while enjoying an amazing meal.
3. Start a nature journal
– This activity is great because anyone can do it and gives us a chance to reflect on what Mother Nature is offering us on a regular basis. Pick up a blank notebook or journal from the local bookstore, or DIY your own to really get into the Earth Day spirit. Write in your journal as often as you want, describing what the planet gave you that day and why you feel it was a gift. For example, perhaps a nice warm bath relaxed your stress – the water is something to be grateful for. You can also collect items from nature walks and sketch them – this is an excellent way to journal with kids.
This blog post
discusses using nature journals in an early childhood education setting but can be applied across the board.
4. Get your spring cleaning done in an eco-friendly way
– Did you know that you can DIY pretty much every
cleaning product
in your home? From laundry detergent to hand soap – nearly all of your household cleansers could be made from things you already have in your cupboard. This makes for a natural, chemical-free clean that doesn't cost you a dime. Check out
this website
for tips on greening up your clean ups.
5. Don't forget to follow the three 'Rs'
– Speaking of cleaning, remembering to reduce, reuse and recycle is the best way to celebrate Earth Day all year long. Make a conscious effort to bring down the amount of waste your household produces – and recycle whenever and whatever you can. While doing that spring cleaning, make sure to donate any reusable items that you simply cannot find a new life for. Many communities offer free electronics recycling during certain times of the year – and Earth Day happens to normally be one of those times.
6. Analyze your energy consumption
– Many people know to shut a light off when leaving a room, but how much do you really know about your home energy use? For example,
heating and cooling costs
make up the majority of energy costs – so make sure your furnace and central air are running efficiently. You can also make small changes around the home such as switching to LED light bulbs, unplugging devices when not in use and washing your clothes in cold water.
7. Incorporate Earth Day activities into your child's day
– Parents are always looking for teachable moments, especially when it comes to values such as empathy and teamwork. Both of these are displayed – and much more – when kids get the opportunity to
learn about Earth Day
. Understanding that people across the globe must work together to keep our planet healthy will instill important concepts that will last a lifetime.
This website
has some amazing books, art activities and crafts that are all Earth Day friendly.
8. Plant an indoor herb garden
– Cooking with herbs straight off of the plant is game changing; your food tastes incredible and aromatic fragrances roam throughout the home. Many herbs do well indoors and do not take up lots of space – but they do require as much bright light as possible.
DIY inside herb gardens
are adorable and Earth-friendly – and they hardly take any time to make!
This website
has tons of different DIY indoor herb garden ideas – try one out yourself or invite some friends over for an Earth Day – themed craft night.
9. Build a composting bin
– Composting is the act of intentionally allowing organic matter, including coffee grounds, food waste, grass clippings and shredded newspapers, to decompose and turn into fertilizer or soil amendment.
Anyone can compost
, even if there is no yard to spread the final product. Others will gladly take your composted goods if you cannot use them – in this way, you will be protecting the Earth and helping others. Check out
this website
for instructions on how to make your own composting bin.
10. Engage in mindfulness and intentional behavior
– Remaining reflective and mindful of what Mother Nature offers us is one of the most important ways to celebrate Earth Day. Ensure that you practice what you preach by acting intentionally – this means ensuring that your choices are for the greater good. Try riding the bus instead of driving or inviting a neighbor to build a community garden. Spread the news and understanding you have on the environment with your friends and family – don't forget that knowledge is power and that a movement can start with just one person.