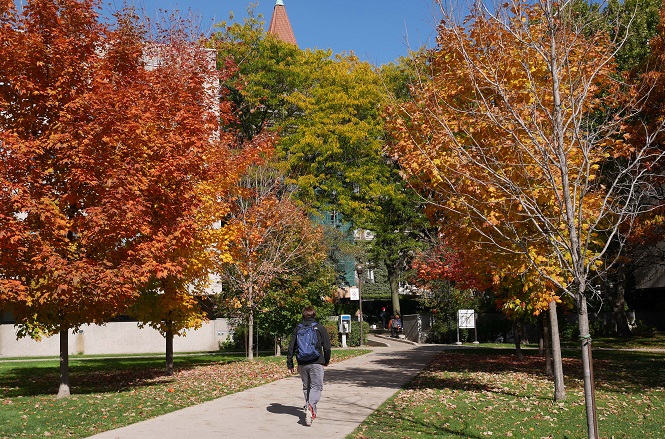 People across the country are working to being more eco-friendly and sustainable. Community gardens are planted every year, while annual neighborhood cleanup days are scheduled. Children learn about how to protect the environment in the classroom and beyond, while many older kids engage in more active volunteerism by planting trees or starting recycling initiatives. But what about the hundreds of American colleges and universities? Are they ensuring young adults are taught the importance of sustainability? It turns out that many institutions of higher learning across the nation have caught on to the fact that students are looking for ways to be more Earth-friendly both inside the classroom and out. Several major universities and colleges have developed environmental studies and education majors in order to meet growing demand from prospective students. Certificates in sustainability and other environmental topics are becoming increasingly popular with students who may want an eco-friendly stamp on their resume.
What are schools doing campus-wide?
In addition to offering coursework and degrees in environmental studies, many campuses are also giving students the chance to go green. From campus-supported agriculture projects to rain-barrels outside of dorms, colleges are finding new ways to improve their eco-friendliness with each passing year. Here are five institutions of higher-learning that are leading the way with their sustainable projects.
College of the Atlantic, Bar Harbor, Maine

– This private, liberal arts college located on Mount Desert Island, off the coast of Maine, is 100 percent dedicated to sustainable education, as it only offers one major – human ecology. The core focus of the curriculum is how human life impacts the environment, but all students develop their own, personalized program based on their individual interests. From studying whales in the Arctic Circle to devising how to bring sustainable practices to the inner city, all students at the College of the Atlantic leave ready to change the world.

Warren Wilson College, Swannanoa, North Carolina

– Sustainability is woven into the fabric of Warren Wilson College. The school believes the practice of sustainability is the way for students to understand responsible citizenship and commitment to community. In 2000, the college signed the Talloires Declaration – which pledged that the school would "create an institutional culture of sustainability."

The Evergreen State College, Olympia, Washington

– Nestled in the forest of the beautiful Pacific Northwest near Olympia, Washington, The Evergreen State College is a public school steeped in sustainable practices. Like the College of the Atlantic, students at this school also design their own majors, often with environmental coursework. Ten years ago, The Evergreen State College implanted two key sustainability goals campus wide: (1) to be carbon neutral and (2) to be a zero-waste campus by the year 2020. The school's Office of Sustainability was formed in 2008 in order to oversee and support efforts to meet these goals.

Middlebury College, Middlebury, Vermont

– Founded in 1800, Middlebury College is one of the oldest liberal arts colleges in the United States. The academic home of famed author and environmentalist Bill McKibben, the school was one of the first to have an official Office of Sustainability Integration. The school seeks to connect and inspire its students to act in pursuit of a more sustainable community. In fact, the Middlebury Summer School of the Environment attracts dozens of applications every year.

Berea College, Berea, Kentucky

– This small liberal arts work college south of Lexington has long been known for its commitment to community. Offering free education to its students, the school encourages participation in campus-wide ecological initiatives. Berea's Ecovillage is an innovative living/learning community featuring 50 student apartments. Students who live in the Ecovillage study the learning community's internal wetlands, individual gardens and permaculture food forest. Overall, the school's Campus Environmental Policy Committee is working toward a school-wide goal of a 75 percent reduction in energy and water use.
How do I know if a school participates in sustainable practices?
Simply ask! Check out a college's website to see if it has a dedicated office or committee on campus sustainability. Prospective students can always inquire on a school visit – and it helps to keep an eye out for recycling bins, compost piles and gardens. Many colleges are striving to be more eco-friendly, and even if they do not have a permanent staff working towards sustainability, there still could be goals or practices in place or being developed. If you are a student at a school that appears to be lacking in the sustainability department, do not be afraid to take action. Seek out student organizations that are dedicated to making the world more earth-friendly. No such group on your campus? Start your own! There may be other students and even faculty that believe there should be a sustainability group but have not yet taken action themselves. Be a student leader and find out how to take action at your school – there could be resounding effect on students and the campus for generations to come.