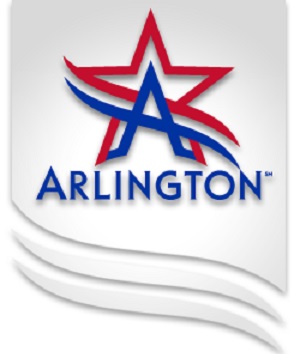 Background
Arlington, Texas, (pop. 379,577) is located within the Dallas-Fort Worth area. Home to several major sports stadiums, including Rangers Ballpark and AT&T Stadium, as well as a handful of universities and colleges, the City understands the urgency for a comprehensive recycling program. From e-waste recycling partnerships to free backyard composting classes, Arlington is committed to helping residents live as sustainable a life as possible. In fact, in the past few years, residents have received new 65-gallon wheeled carts. As a result, the City reported that residents bumped its overall recycling rate by a full 13 percent, ultimately saving approximately 40,000 cubic yards of landfill space.
Materials
Plastics

: Empty plastic jugs, bottles and tubs, plastic bags

Paper

: Shredded papers, phone books, mail, mixed paper, catalogs, magazines, newspaper and inserts, clean take-out boxes, corrugated cardboard, boxboard, cereal boxes and frozen food boxes.

Metal

: Clean metal food cans, empty aluminum cans, clean aluminum foil wrap and pans, aerosol cans and pots & pans

Glass

: Empty glass jars and bottles
Frequency
Residents' recycling is picked up curbside on a weekly basis, and must be placed on the curb no later than 7 a.m. the morning of pickup. To find out which day to put your bins out, take a peek at this
handy map
.
Other programs
Bulkier items such as furniture, appliances and large household appliances can also be placed on the curb for pickup. However, residents should call 817-317-2000 before scheduled recycling day to insure items are picked up. Residents can recycle items deemed hazardous waste, including paint, oil, chemicals and other volatile substances, at the City's Environmental Collection Center. These items should not be placed on the curb or in standard recycling bins. Electronic devices piling up? Arlington residents can drop off old or obsolete electronic devices at their local Best Buy or Staples to ensure they are responsibly recycled. From November – February, after all the leaves have fallen and yard waste is piling up, residents can take their leaves to one of five drop-off sites. Find out more information on specific locations
here
.
More information
Visit Arlington's Garbage & Recycling
website
for more information on recycling, special programs and even
free backyard composting classes
.