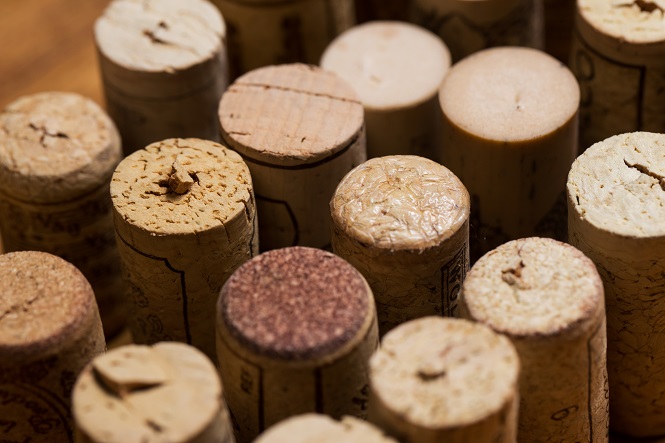 Fine wine fans across the world have seen plenty (and probably struggled with) at least a few corks. These bottle stoppers, derived from tree bark, may be small but they pack an environmental wallop – there are over 13 billion wine corks produced every year. It is estimated that nearly 200,000 hectares of forest are used for harvesting bark. Luckily, cork production is considered generally sustainable due to the fact that the trees are not cut down specially – the bark is just stripped.
Pinot noir fans should not rest easy just yet, though – those corks you toss in the trash could easily be repurposed. Save up your used corks and turn them into cute coasters or DIY stampers. If you are not the crafty type, there are places where you can recycle corks. Keeping old corks out of landfills and lakes is the number one goal here – but making an adorable homemade wine corkboard that will make your friends jealous is a nice bonus.
Check out some these super fun – and easy – things you can do with wine corks.
Bathmat
– This easy project will be a joy for your feet and your guests but it will take lots of corks – so be patient as you save yours up. Use a hot-glue gun to attach halved corks to a piece of vinyl shelf liner. Let it dry and add a touch of vintage country décor to your restroom. Check out a tutorial
here
and save yourself some money on those expensive bamboo mats.
Recycle at Whole Foods
– The organization Cork ReHarvest recently partnered with Whole Foods to bring cork donation boxes to nearly 300 stores across the United States, Canada and the U.K. ReHarvest takes the donated corks to a processing plant where they will be turned into recyclable wine shippers or other post-consumer products. Check out more about this cool program on
this site
.
Magnetic cork succulent planter
– Succulents are small plants that are incredibly easy to look after as they require little sun or water. Perfect for any home, small planters made from cork are absolutely adorable. All you will need are a few corks, very small succulent cuttings, magnets and a few other gardening implements. The idea is to hollow out the corks, fill with soil, plant the succulent and then apply a magnet for easy display. See the full instructions
here
.
Wine cork coasters
– An awesome addition to any wine-loving home,
DIY wine cork coasters
are incredibly easy to make and totally fun. Slice your corks in half and hot-glue them to a round cork coaster (available for practically nothing at most home stores). These handcrafted coasters would make an excellent housewarming or hostess gift – and after guests to your house see them, start expecting requests for more.
Wine cork place card holders – Hosting a wine and cheese cocktail hour? Place card holders made out of wine corks are a great addition to your serving trays – and will certainly impress your guests. Throwing a rustic DIY wedding? Make these holders for your reception to help people find their dinner seats. Check out the full directions
here
.
Cork stamps
– Paper crafting would not be complete with some unique and fun stamps. Make your own sustainable cork stamps in whatever design you want – all it takes is your cork, an X-acto knife and a sharpie. Draw your design on one end of the cork and then very carefully puncture the area around the stamp in order to remove the excess.
This website
has great instructions and will have you making that personalized envelope stamp in no time.
Start a journal
– Want a unique way to display your memories? Start writing on each wine cork you use what the event or occasion was at the time – perhaps that wild girls' night or the dinner party with your neighbors. Save the corks and put them into a shadow box for a neat way to remember nights that may or may not have been a little foggy.
This blogger
has been wine cork journaling for some time now and the results have been fantastic.
Cork trivet
– Probably the easiest craft you will ever do, wine cork trivets are useful and environmentally friendly. Simply glue wine corks together using either a hot-glue gun or plain super glue. Continue gluing until you have met your desired size.
This guide
will show you exactly how to make your trivet – just in case you're stuck for ideas.
Wine cork wreath
– This wreath gives off an incredibly rustic vibe that Martha Stewart couldn't even dream of. By gluing corks to a 12-inch straw wreath, you will quickly have a one-of-a-kind home décor piece sure to impress. Check out
this blog
for a great tutorial on this and other fun and inexpensive craft projects.
Wine cork bulletin board – Bulletin boards are must-haves in every home as they help remind us of important events and contacts that we may otherwise miss. Wine corkboards are a great way to repurpose those corks in a simple yet useful way. This blog post has step-by-step instructions to build a quality and cute bulletin board that will become the new landing zone in your home. Side note: This is another project that requires a lot of corks, so remember to be patient!
Secret USB drive
– This idea – for people who need to keep their sensitive information on the down low – is actually fairly brilliant. Remove your USB drive from its outer shell and carefully insert into a hollowed out wine cork. The end result will be a stealth and sustainable place for all of those personal files you have been hiding at work. Make sure to watch
this tutorial
before attempting to remove your USB from its shell, as it can be a little bit of a challenge.