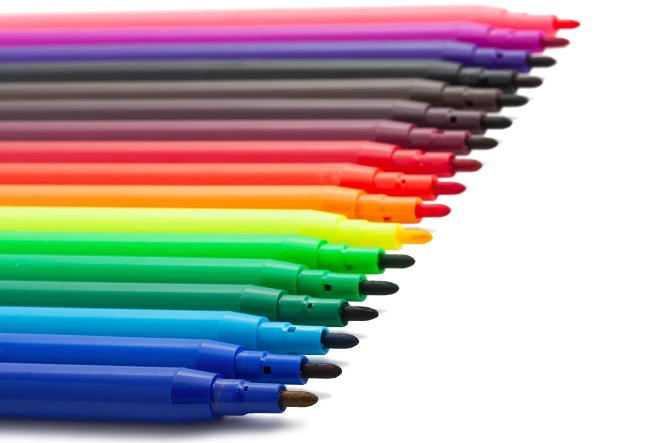 Markers are a wonderful, safe way for kids to express their creativity. Permanent markers help us identify possessions, and white board markers are an essential learning tool. But despite all the good qualities of markers, here is a bad one: they can be challenging to recycle. Used-up markers cannot be tossed in a curbside recycling bin, which means many people are tempted to toss them in the trash. This is doubly true because markers are small, and it's easy to think putting a dozen of them in a landfill will not make a difference. The problem is that Americans throw away a lot of markers every year. Crayola reports that they manufacture around 465 million every year. To make it easier to recycle markers, many manufacturers and recycling companies now have recycling programs. Most require you to mail in a large quantity of markers, so it may be in your best interest to see if you can partner with your child's school or a local art supply store to start a recycling program. It may take a little extra work, but it is a great way to encourage others around you to recycle as well.
What are markers made of?
Markers, also known as felt-tipped pens, were invented by New York resident Sidney Rosenthal in 1953. Rosenthal set up the Speedry Chemicals Products company (later called Magic Marker Industries) to market the product, but he faced stiff competition from other companies. When Magic Marker Industries went bankrupt in 1980, Binney & Company purchased the name and continued to manufacture markers under that name as well as the brand name Crayola. Most of the components in modern markers are plastic. The liquid that makes the markers mark is a combination of pigments and a solvent. Water is the most common solvent in markers (especially those for children), but some contain other types of solvents. Xylene, a petroleum product, is the most worrisome. It is found in certain whiteboard and permanent markers and gives off the unpleasant smell many of us associate with markers. When inhaled, xylene is absorbed into your bloodstream and can cause headaches, nausea and dizziness. The chemical can also irritate your skin if you write on yourself with a marker.
How to extend the life of your markers
One of the best ways to deal with a hard to recycle product like markers is to make sure the ones you have last for a long time. Make sure you (and your kids) always place the caps back on markers so they do not dry out as quickly. The blog
ID Sketching
shares this tip: You can use rubbing alcohol and rubber cement thinner to rehydrate dried-up markers. Check out the post for detailed instructions. It is also possible to buy refillable markers.
AusPen
and
EcoSmart World
make aluminum whiteboard markers that come with a bottle of ink so you can refill them when they begin to dry up. The markers are non-toxic and free of harmful substances such as xylene. Artists might look into refillable markers from a Germany company called
Montana
, which has several distribution centers in the United States.
How to recycle markers
The plastic barrel of a marker is technically recyclable, but you must remove the ink cartridge and felt applicator point first. Then you must find someone willing to take the plastic even though it does not have a recycling number and symbol on it. Given this challenge you are probably better off just shipping markers back to the manufacturer if they have a recycling program. And a couple of them do. People who purchase Crayola products can return their old, unwanted markers to the company via
ColorCycle
. To participate, pack your markers in a box, print a shipping label from the company's website, and send them off via FedEx. Crayola partners with a New York company called JBI, Inc., which breaks the plastic down and transforms it into fuel. Dixon Ticonderoga also has a take-back program for their Prang markers. People interested in participating can request a pre-paid shipping label from the company's
Dixon Recycle website
. The company recommends gathering at least seven pounds of markers (about 250), packing them in a reusable box and sending them off. The company does not say what they do with the markers once they receive them. PaperMate and Sharpie markers can be recycled through a program at
TerraCycle
. TerraCycle only accepts markers in shipments with seven pounds or more (they say that is about 350 pieces), but they will also reward you with points for every package of markers you send. Those points turn into (very small) payments to the school or nonprofit of your choice. TerraCycle says it has recycled about 1.5 million markers to date. The company's Writing Instruments program also accepts mechanical pencils and pens if you are looking for a place to recycle those. If you cannot find a way to recycle old markers, think about other ways to keep them from the trash, such as upcycling them into art projects and other fun crafts.