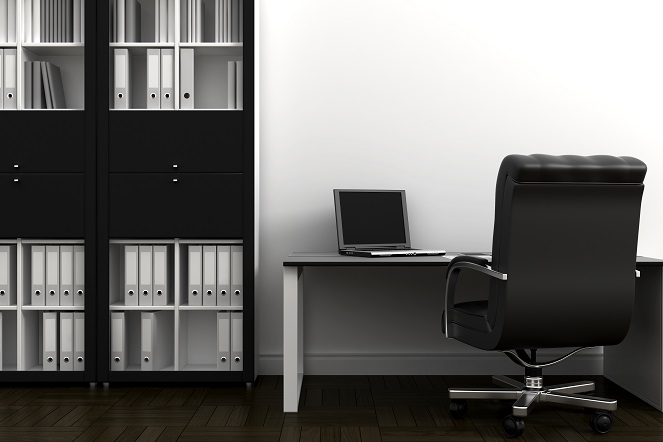 There are plenty of reasons to get rid of your old office chair. They seem to break easily, which can cause a safety hazard. Over time the fabric on the back, seat or arms can wear out, leaving you with an unprofessional looking seat. Using an unstable or poorly designed office chair (or one that is not the right height) can lead to a sore back or aching neck. Many people have switched to yoga balls or desks that
allow them to stand
, meaning they do not need their old office chair anymore. And even office furniture goes out of style over time, so your old office chair may need to go if your company upgrades its furnishings. When it comes time to dispose of an old office chair, what are your recycling options? Unfortunately, there aren't many. Office chairs are made of many different materials that are hard to separate out when the chair reaches the end of its usable life. It is not a very cost-effective process, which is why not many places recycle office chairs. You can always take apart the chair yourself and recycle some of the components. Or, if your chair is in usable condition, you can find a person who would like it for their office at home or work.
How office chairs get recycled
Office chairs are often made with plenty of metal, which is easy to recycle. It can go to a scrap metal dealer who will melt it down and turn it into other products. Most communities will have a metal bin at the recycling center. Everything else in a chair, including the wood, plastic, leather and fabric, is likely to go to a landfill or incinerator. The wood is typically treated or a composite like chipboard, which means it cannot be recycled. The rigid plastics that make up office chairs are one of the toughest categories to recycle, and there is no good way to find out exactly what type of plastic is in the chair. Markets for used waste textile material are few and far between – and again, there's no good way to know if that textile material is cotton, polyester, a combination of both or something else entirely.
Who recycles office chairs
There are a of couple companies out there that recycle office chairs.
Mattress Recycling
in Beaverton, Oregon, takes old office chairs for recycling (along with strollers, weight training equipment and other hard to recycle items).
E-Cycle Environmental
will also pick up and recycle all kinds of office equipment (although many of the materials in office chairs end up going to waste-to-energy plants, which is not really recycling). Entities that recycle office chairs are very tough to find, however. If you really want to recycle your old office chair, you may have to disassemble it and recycle the metal yourself. Most of the other items, including the seat and the back, will need to go in the trash unless you can find a creative use for them (see below).
Sell or donate old office chairs
Assuming your office chair is still in good shape, you can probably find a way to reuse it. There are lots of companies that will purchase used office equipment (including office chairs).
Nationwide Office Liquidators
,
South Coast Auction
in California and
Office Furniture NYC
are a few examples. Some of them sell office furniture as well. Check them out the next time you are in the market for an office chair or any other type of office furniture. If you work for a large institution such as a university, find out if they have an office equipment recycling and reuse program. Many of them will take people's unwanted office furniture and get it to people who are looking for new items. Some thrift stores will take office chairs that are in good shape, but others find them difficult to sell and will turn them down. Check with your favorite local thrift store to find out their policy. You can also try to sell your office chair on your own through a website like Craigslist.
How to reuse office chairs
Keep in mind that you may be able to reuse your old office chair in a creative way. If the only problem with the chair is that the covering is worn (or boring), consider reupholstering it using
these instructions from About.com
. Several people have turned old office chairs into cat toys or cat beds, like this creative person on
Makezine.com
. If the whole chair cannot be salvaged, see if you can repurpose some of the components around the house. A post on the blog
Sew Many Ways
details how the author removed the wheels from an old office chair and attached them to a shelf, giving her a nice rolling cart for storing tools and other supplies. The wheels can be spendy, so getting a set for free is a great deal.